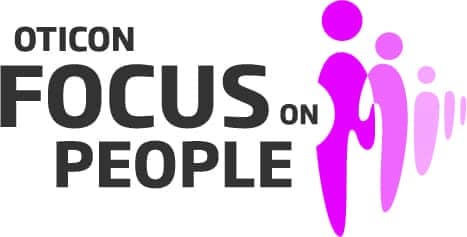 The 2016 Oticon Focus on People Awards celebrates 12 remarkable individuals whose courage, vision and commitment are helping to change the perception of what it means to have a hearing loss. The first place winners in four categories were recognized at a special awards ceremony held at the Oticon Inc US headquarters in Somerset, New Jersey on September 27, 2016. More than 100 hearing care professionals from across the US attended the event.
The individuals honored this year are a diverse group. They range from a gifted musician who opens her music school to students of all abilities and walks of life, including students with cerebral palsy, Asperger's syndrome and hearing loss, to a young girl from East LA who has helped others to see "different" as beautiful and inspiring. Each award winner is a role model, helping to create awareness and change attitudes that can open doors of opportunity for all people with hearing loss.
Created by Oticon Inc in 1997, the national Focus on People awards program recognizes extraordinary people who demonstrate that hearing loss does not limit a person's ability to live a full, productive, and even inspiring life. People from across the US cast thousands of votes to help determine the first, second and third place award winners in the Student, Practitioner, Advocacy, and Adult categories.
"Our 2016 Oticon Focus on People Award winners have demonstrated an unwavering determination to transform their special circumstances into lives that make a positive difference for many," said Sheena Oliver, vice president of marketing for Oticon Inc. "Each has a unique story and has made a unique contribution to changing negative perceptions of hearing loss.  We are both humbled by their accomplishments and inspired by their ability to make a meaningful difference for people with hearing loss."
This 2016 First Place 'Focus on People' Winners are:
Student Category – When other students told Jacqueline Guzman of East Los Angeles that her hearing aids made her "different," she was determined to prove that experiencing "different" people and things could open a world of possibilities. This daughter of Mexican immigrants became an active volunteer in community service projects and emerged as a leader at school and a mentor to struggling students.  This fall, she entered the University of California, San Diego, one of the first in her family to attend college.
Adult Category – Anne Rosato, owner of Chosen Chord Music School in Palm Harbor, Florida, was diagnosed with hearing loss at age 4.  She dreamed of pursuing a career in music. When her professors discouraged her because of her hearing loss, she found her voice in music education. Today, her music school embraces a diverse group of students and no one with a love of music is ever discouraged or turned away.
Practitioner Category – Catherine Clark, AuD of Rochester, New York actively promotes and serves as a positive role model for diversity, pluralism and inclusion. She established the Cochlear Implant program at the National Technical Institute for the Deaf that is accessible to more than 430 students. An active volunteer for community programs, she was recently honored by Visions Global Empowerment for her service trips to Ethiopia where she provides audiological services and hearing aids.
Advocacy Category – Elizabeth Booth of Sun Lakes, Arizona is a retired reading specialist who still volunteers full time to educate and inspire. She is the co-leader of two Hearing Loss Association of America chapters and serves on the Hard of Hearing Task Force for the Arizona Commission for the Deaf and Hard of Hearing.  Booth, who wears a cochlear implant and hearing aids, is a mentor for cochlear implant patients and a frequent volunteer for research studies at Arizona State University.
Outstanding Achievement – This year, Oticon presented a special achievement award to Emma Conn of Nashville. Sixteen-year-old Emma uses her hearing loss to fuel her determination to excel at school, in her community service endeavors and most recently, in the public eye. As Miss Junior Teen Tennessee and 2nd runner-up for the national title, she chose "Hearing Matters" as her platform. Through her advocacy platform and numerous community service initiatives, Emma aims to help other students with hearing loss receive the accommodations they need to succeed in school.
In addition to a $1,000 prize, first place winners received a $1,000 donation from Oticon Inc to the non-profit organization of their choice. First place winners in the Adult, Student and Advocacy categories also received a pair of advanced technology Oticon hearing aids.
There are eight second and third place winners in the program's four categories:
Student: 2nd Place – Alex Mussomeli (Westport, CT); 3rd Place – Ian Lilienthal (Bourbonnais, IL)
Adult: 2nd Place – William Rodman Shankle, MD (Newport Beach, CA); 3rd Place – Kerry Thompson (Malden, MA)
Practitioner: 2nd Place – Nimet Adam, AuD (Delray Beach, FL); 3rd Place – Thomas Goldman, PhD (Cincinnati, OH)
Advocacy: 2nd Place – Stephen Frazier (Albuquerque, NM); 3rd Place – Daniel Carione (Massapequa, NY)
To read the stories of all 12 of the 2016 Oticon Focus on People Awards winners, visit the Oticon Focus on People website.
Source: Oticon
Image credits: Oticon