Dogs for the Deaf are trained to provide an extraordinary level of guidance, security, and companionship to appropriate human candidates.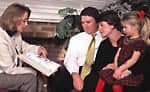 Not all hearing technology consists of plastic and circuit boards—some of it is made up of flesh and blood and driven by a heart, not an algorithm. The Central Point, Ore-based Dogs for the Deaf Inc has been providing its living assistive hearing devices for more than a quarter century to hearing-impaired people all over the United States, Canada, and, most recently, Puerto Rico. Working with a yearly budget of slightly under $1 million, the nonprofit Dogs for the Deaf has been able to place more than 800 hearing and "change of life" dogs with its human clients. Currently, it has between 300 and 400 working teams around the country.
Though similar to the more familiar seeing eye dog, the hearing dog has some distinct differences. "Hearing dogs are vastly different from guide dogs for blind people, although the end result is the same—increased independence, self-confidence, and security. However, the means to get there is different because the need is different," says Robin Dickson, president and CEO of Dogs for the Deaf. "Our people can obviously see, so they don't need that kind of guidance; what they need is to be alerted to sounds."
1976
Roy Kabat assists the American Humane Association in training a hearing dog for a deaf woman in Minneapolis.
1977
Kabat receives a $25,000 grant from Jackson City, Ore, to start Dogs for the Deaf, which is officially registered as a nonprofit organization in the state.
1978
The first hearing dog is placed in Grants Pass, Ore.
Jeremiah becomes the first Dogs for the Deaf demonstration dog.
1979
The Good Sam Club, a national recreational vehicle enthusiasts' club, adopts Dogs for the Deaf as its official charity.
1980
Dogs for the Deaf makes an appearance on Good Morning America.
Oregon Granges begins supporting Dogs for the Deaf.
1981
Kabat's daughter, Robin Dickson, joins the staff of Dogs for the Deaf.
1983
Dickson is named assistant director of Dogs for the Deaf.
1984
Demonstration dog Jeremiah runs in the Olympic Torch Run with Good Sam ambassador Ken Cooper in Portland, Ore.
1985
Dogs for the Deaf receives its first large bequest, which is eventually used to purchase the organization's current headquarters in Central Point, Ore.
Hearing Dog Nacho receives the Stillman Award from the American Humane Association for sacrificing her life to save her people's lives.
1986
Kabat dies on October 30.
Dickson becomes president and CEO of Dogs for the Deaf.
Jeremiah performs his last demonstration and retires to the Royal Neighbors of America Supreme Camp in Portland, Ore.
1987
Dogs for the Deaf purchases the property that serves as its current headquarters.
Dogs for the Deaf marks its 10th anniversary.
1988
Construction begins on the new training facility.
1989
The new facility opens its doors.
1990
In addition to certified hearing dogs, Dogs for the Deaf begins placing home hearing and special needs dogs.
1992
With landscaping completed at the Central Point facility, building is completed.
1995
Dogs for the Deaf has placed hearing dogs in 47 states.
1997
Dogs for the Deaf celebrates its 20th anniversary.
The first Dogs for the Deaf book is published and made available to the public.
1999
Dogs for the Deaf holds its first pet expo, a joint fundraiser with the Southern Oregon Humane Society.
2000
The first applicant video is produced to help better educate applicants on what to expect when their hearing dog arrives.
2001
Dogs for the Deaf does its first placement in Puerto Rico.
2002
Two staff members from Guide Dogs for the Blind visit Dogs for the Deaf to learn about temperament testing of shelter dogs.
The organization was founded by Dickson's father, retired Hollywood animal trainer Roy Kabat, in 1977, after he helped the American Humane Association to train a hearing dog for a woman in Minneapolis. After that experience, he began developing the idea that eventually became the framework for Dogs for the Deaf. The American Humane Association operated its own hearing dog program for several years, but has since discontinued it, making Dogs for the Deaf the oldest and largest hearing dog organization in the country. In addition to Dogs for the Deaf, there are several other organizations scattered throughout the country who also place hearing dogs—many just in their local communities.
Dogs for the Deaf's bucolic Central Point headquarters boasts 35 kennels and employs 18 staff members. In addition, there are 30 local volunteers who help with office duties, interview prospective clients, and groom the dogs.
Choosing the Canines
Unlike the stereotypical German shepherd seeing eye dog, any breed can be a hearing dog. What Dickson and her staff look for are factors other than breed. "First of all, we're looking for two easy things, age and size," she says. "We want to get the dogs when they're 3 years old or younger, because we want to be able to get the maximum number of years of working out of each dog. We predominantly look for small to medium-sized dogs. Our preference is to stay sheltie size or smaller because that's what most of the applicants prefer. We've trained everything from little 5- to 6-pound Yorkies up to 90-pound golden retrievers. The third thing we look for is a little bit harder, and that's where we get into temperament testing. We want a dog that's friendly, a dog that's bouncy and energetic, that loves to play with toys. The trainers will take the dog out and spend some time with it, see how playful it actually is, see how much it likes attention, and contact, and petting. We want a dog that is very people oriented, a dog that is nonaggressive, and we want a dog that really loves the toys and tennis balls and things like that because that's what we reward them with." All the dogs are rescued from area dog pounds, so, for Dickson; it becomes a win-win situation, helping both the animals and people.
Though they become a part of their human family, the dogs are more than pets. They are working animals with a very defined purpose. "There's a real fine line," says Dickson. "They're not pets that have no responsibility, but they are still a part of the family, they are still loved, they're still played with, and cared for just like pets, but they are working dogs and they have responsibility. The people, when they get the dog, have the responsibility to continue the training, to reinforce the training."
Training is the core of the Dogs for the Deaf program. All of the dogs are trained to hear sounds in a playful way. "They are trained so that when they hear a sound—like a smoke alarm, a doorbell, a baby's cry, someone calling the person's name, an oven buzzer, whatever it is—to go to the person and make physical contact," says Dickson. "They have to put one or both front paws on the person's leg. Regardless of what the person is doing…they have to make that physical contact, and then they have to take the person to that sound. If somebody knocks on your front door, the dog makes contact with you and runs to the front door, and you are trained to follow wherever the dog takes you; when the dog gets to the sound, you have to reward the dog for working. It becomes a game for the dog." Treats can be anything from food to a special toy. Every dog, whether or not it ultimately becomes a hearing dog, undergoes a 5- to 6-month training course, which includes obedience, socialization, and sound training. The cost to train a dog is $20,000. Dogs for the Deaf trains about 40 dogs a year.
And, because the program is designed to help individuals with hearing loss, the prospective hearing dogs must develop a high level of independence, but be obedient at the same time. "The biggest difference [in our training methods is that] we are teaching obedience and we're teaching them skills, but we're also teaching them to have the assertiveness to basically not to wait for commands, to think on their own," says Lori Ramey, a trainer who has worked for Dogs for the Deaf for the last 13 years. "They are taught to think for themselves, so when they hear a sound, they have to stop whatever they're doing and on their own volition get up and alert their person."
Not every dog is cut out to be a hearing dog, but that does not mean that Dogs for the Deaf gives up on them. They continue receiving the same training. These "career change" dogs can take on a variety of roles from being therapy dogs to household pets. No matter their destiny, the goal is the same, says Ramey. "Our goal is to make sure that the dogs find a permanent home," she says. "We don't see the 'career change' dogs as failures. They're a huge part of the program. We hear from those owners too, and the emotional benefits they get from these dogs gives you shivers."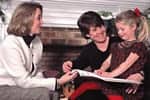 Dog trainer Lori Ramey is lead to the phone by Blondie.
For those dogs that do make it as hearing dogs, not every one will have the same level of function. Some have a wider array of sounds they can react to than others. "We match the dog with the person's needs," says Dickson. "Some of these hearing dogs have public access rights, some of them we recommend for use strictly at home."
And though the goal is to place a dog in a permanent home, not just anyone is entitled to one of Dogs for the Deaf's canines.
Choosing the Humans
Anyone requesting a hearing dog from Dogs for the Deaf must undergo a stringent interview process that covers a variety of criteria including a desire for a hearing dog, the time and energy to care for and interact with the animal, a lifestyle conducive to having a dog, and if family members live with the candidate family support and assistance. "A lot of our dogs are pretty high energy," says Ramey. "They have to be in order to be able to work, so we want to make sure that we're putting the dog in a home where it's going to release that energy and put it to a constructive use."
Candidates must also submit to an in-home interview and provide a current audiogram to Dogs for the Deaf. "We have to screen the applicants very, very carefully, and we're the first to say that hearing dogs are not for every deaf person," says Dickson. "We do in-home interviews, where we talk to other family members who live in the house, and we interview the person, we find out what their expectations are." Currently, there is about a year-long wait to receive a dog.
If it is found that an applicant is not a right fit for a hearing dog, Dogs for the Deaf will make other recommendations, which could include hearing or other mechanical aids.

Dog trainer Carole Wilson teaches Daisy Mae to alert her to a crying baby.
Like the dogs themselves, the humans range across all demographics and age ranges from 10 to 95. On average, a human-dog team can expect to have a 10- to 12-year working relationship. Those who have had a dog already are put at the top of the list if and when they need a replacement.
Though the dogs are provided free of charge, there is a $25 application fee and a requirement to provide a $100 deposit. The deposit is refunded after a year and serves an important purpose. "Both of those fees are just to make sure that people are serious about this and that they really want a dog and that they have access to enough money to care for a dog," says Dickson.
The dogs' human companions are not the only important people involved in the Dogs for the Deaf process. The training staff plays a key role in the continued success of the program.
Specialized Staff
Trainers serve a 2-year apprenticeship with Dogs for the Deaf and they learn more than just dog training. "Some of [the trainers] have come to us with quite a bit of dog training experience, and some with not a whole lot," says Dickson. "And that really doesn't matter because we train them in the 2 years in what we want them to do with the dogs. They also learn how to do the placements, how to work with the people, how to work with the media."
After the dog is trained and ready to be placed, the trainer spends a week working with the new team. "They work on all the sounds, they get the dog used to the environment, get the person trained in what to do and how to keep the dog working," says Dickson.
During the months of training, bonds form between trainer and dog. Occasionally, the trainers even take a dog home, acting as a kind of foster parent to the canine. For Ramey, sometimes her job is a mixed blessing. "We just have to remind ourselves that we can't keep them all, and in a lot of cases the dog's going to be better off with this other person because they're going to be together more than if I were to keep the dog and it would be home alone all day long," she says. "What I'm doing is better for the dog and better for the person. It hurts when you first say good-bye. You feel you got this dog to trust you and you're not going to abandon it like everybody else did, yet you do, but for a good cause. We do keep in touch, so we know that they're okay and that they're protected. And then we have to make room because there's always another one waiting for us when we get back here."
Placement of an animal does not end Dogs for the Deaf's work with it. The nonprofit group has a support system in place for its teams. "We are there for support as long as that team is together," says Dickson. "We have one person on staff whose total job is communication with our clients, and she spends all of her time communicating [with and] supporting the trainers." In addition, the group does follow-up visits to check on the team.
Making an Impact
Dickson's view that the rescue of the dogs from shelters and helping the hearing-impaired is a win-win situation has been borne out by the feedback over the years, because though working animals, the dogs fulfill a need far beyond just helping their human companions interact with the world.

Robin Dickson, president and CEO of Dogs for the Deaf, shares a moment with Mia.
The impact Dogs for the Deaf makes has to be measured in emotional terms that are not easily replicable in a debit and balance ledger. "About a year or so ago, I was with one of our teams for a couple of days and the woman said, 'You know, the sound work is great…I love it and it's wonderful, but the best thing about having a hearing dog is I can relax,'" says Dickson. "Someone who is deaf is always on guard—whether they're in their house or whether they're out in public—they're always looking, they're always watching, they're always checking. And she said, 'Harley lets me relax. I can just go about doing things.' It's the little everyday stuff of first of all giving the dog a good life, and at the same time giving the person a life where they can be more independent, they can have more self-confidence, more freedom, and they can relax and be more productive."
There have also been more dramatic success stories that have seen the dogs save their companion's life from fire and violent intruders, even at the expense of their own.
Though stories like this are typical, unlike the more visible seeing eye dog, Dogs for the Deaf is yet to be a household word. This is something the group is working to change.
Spreading the Word
Every time a dog is placed in a local community, the trainer alerts the area media, making themselves and the new team available for photos and interviews. "It helps us because it gets word about us out, but it also helps the client because at that point the local community knows about this and [the client] is going to get fewer questions when they take the dog out into public," says Dickson.
The group is completely supported by donations from a variety of individuals and organizations, such as the Good Sam Club, which has made Dogs for the Deaf its official charity. In many cases, these organizations assist in raising awareness about the group.
Dogs for the Deaf also works with audiologists, providing them brochures free of charge. "We're always looking for good clients," says Dickson. "We're always wanting to spread the word and get [dogs] to people who need them the most."
Chris Wolski is associate editor of Hearing Products Report.