A leading research scientist for Unitron, Henry Luo, PhD, has won the David E. Mitchell Award of Distinction, presented by the Ernest C. Manning Awards Foundation. Dr Luo, who works at Unitron headquarters in Kitchener, Ontario, and the other 2013 Manning Award winners will be honored at a gala evening with leaders from across Canada in government, business, and academia including Manning Laureates on October 16 in Calgary, Alberta.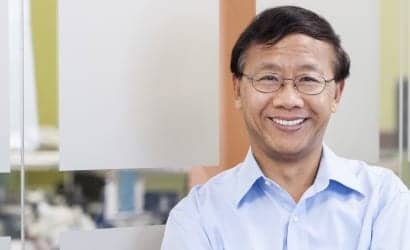 Henry Luo, PhD
One of Canada's most prestigious annual award programs, the Ernest C. Manning Awards Foundation has celebrated the achievements of more than 200 exceptional individuals with the "imagination to innovate and the stamina to succeed." Drawn from fields as diverse as medicine, technology, industrial processes, engineering, and social entrepreneurship, the men and women recognized with Manning Awards have helped to change the way Canada competes, manufactures, communicates, and sets standards for social behavior.
Dr Luo's invention, a technology called AntiShock™, is reportedly a patented, industry-first innovation that instantly detects and controls sudden, harsh noises—such as the shatter of a glass on a ceramic floor or a car door slamming—that cause acoustic shock and discomfort for hearing aid wearers. AntiShock uniquely combines two technologies—one for shock prediction and the other for instantaneous shock detection—enabling Unitron's hearing instruments to reliably detect acoustic shock and mitigate its effect before the sound becomes audible to the listener, and most importantly without impacting their ability to clearly hear speech and conversations, according to the company.
"I am humbled and honored to be recognized with a Manning Innovation Award and I am grateful for the recognition this award brings to Unitron," says Dr Luo. "Simply put, innovation is my life's work. It challenges me and my success in this field provides me with endless happiness. It is even more rewarding as an innovator to know that the scientific advancements I am able to make in the field of hearing healthcare will positively impact the lives of people with hearing loss. It is that knowledge that truly makes all the difference."
AntiShock is now integrated into all of Unitron's hearing aids, as well as those of another leading hearing healthcare manufacturer, reports Unitron. More than 5 million hearing aids sold to date incorporate AntiShock technology, providing millions of hearing aid wearers with a more comfortable hearing experience, while improving their satisfaction with their hearing aids.
"We have an extraordinary culture of innovation at Unitron, and we are honored to have Dr Luo and our AntiShock technology recognized by the Ernest C. Manning Award Foundation," says Ara Talaslian, vice president of Research & Development, Unitron. "The AntiShock technology has had a significant impact on the lives of people with hearing loss, allowing them to move through their lives and changing sound environments with ease and comfort. We are fortunate to benefit from Dr Luo's commitment to amplification research; his scientific curiosity; and his extraordinary track record of innovation."
Source: Unitron