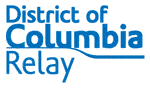 Starting this month, Hamilton Relay is the new provider of Captioned Telephone Relay Service (CTRS) for the District of Columbia. Hamilton Relay, a division of Hamilton Communications and provider of Telecommunications Relay and Captioned Telephone Service, began offering CTRS to residents in the District of Columbia on October 24, 2014. Hamilton had begun providing traditional Telecommunications Relay Service (TRS) to the District in July 2014.
DC CTRS, a program of the Public Service Commission of the District of Columbia, provides 24/7 service designed for individuals who are hard of hearing or have difficulty hearing on the telephone. Through the use of a uniquely designed captioned telephone, CTRS users speak directly to the other person and listen while reading captions of what the other person says throughout the conversation. Behind the scenes, a specially trained captioning assistant generates the captions through a state-of-the-art voice recognition software. Captions appear on the phone's display screen nearly simultaneously to the spoken word, helping users communicate on the phone with friends, family and businesses with clarity and confidence.
"Captioned Telephone has the power to enhance the quality of life for individuals with hearing loss," said Dixie Ziegler, vice president of Hamilton Relay. "Being able to communicate over the telephone is extremely important, and we look forward to providing the residents of the District of Columbia with CTRS service."
There is no cost to use the DC CTRS service, although equipment and long distance charges may apply. Captions are available in English or Spanish.
For more information about the service, visit www.DCRelay.com or contact DC CTRS Customer Care by calling 1-866-560-1452 (Voice/TTY) or emailing [email protected].
Source: Hamilton Relay