Rexton's success in the marketplace lies in the company's product confidence and customer commitment.
Helping people hear clearly and precisely is the goal of all hearing aid manufacturers, so it is difficult to stand out on the basis of the quality of a company's products alone. This is why, for its nearly 50-year history, Rexton has relied on a formula that marries quality hearing products with a commitment to customer service. "When I have meetings with our sales staff, I [tell them,] "Guys, everybody basically has the same type of components, the same products out there—what can we do [to stand out]?" says Tom Cutting, Rexton's director of sales. "Nowadays, if you just come in there from a product standpoint and [the customer] doesn't get the kind of satisfaction that they thought they would get from that product, they're on to company B very quickly."
Only One Chance
This commitment has turned all 130 employees at the Plymouth, Minn-based company into de facto members of the sales team, according to Robert Eastman, president of Rexton. "You really have only one chance with the customer in a lot of cases," he says. "A company like Rexton can get technology that is as good and, in many cases, better than the majority of other major manufacturers and it really is coming down to who cares the most. It's not just the salesperson, but it also goes to manufacturing, it goes to the whole company top to bottom. Anybody who is in touch with the customer has to care." And this emphasis on customer service is not just a marketing tool, it defines the way the company is run. Every manager at Rexton, including Eastman, takes customer calls and all staff members are empowered to solve customer problems.
But customer service is designed to avoid problems before they occur. "We believe in doing it right the first time," says Eastman. "There isn't an instrument that comes out of here whose quality is compromised in order to meet tight turnaround times. The instrument has to be right. We don't correlate value with quality—the technology is phenomenal—and it's just that you're getting the product at a better value. That has nothing to do with the type of service you're going to get." All Rexton hearing instruments sold in the Americas are manufactured in Minnesota and are tracked at every stage of production, allowing employees to pinpoint the hearing aid anywhere in the production cycle. The company's Web site includes a feature that allows a customer to track their order directly without having to even call a customer representative. If a customer does need to speak to a Rexton employee, most issues—from order tracking to training to trouble shooting—can be solved on the phone. Among the customer service staff is a cadre of audiologists.
When a customer does experience a problem, for example a defective or damaged hearing aid, that cannot be resolved over the phone, the company moves to fix the device "as quickly as possible," according to Eastman.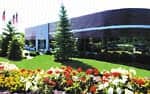 Rigorous Specifications
Fundamentally, Rexton's products—though they are manufactured to rigorous specifications—are secondary to its commitment to its customers. "We really look at the customer not as a number, but as an individual," says Dave Oberg, director of marketing and inside sales. "We strive to provide a quick turnaround time; we try to provide our customers with an avenue to reach anybody here that they would like to contact, and we really don't want to put our customers in a situation of telling their customers that they don't have an answer or that they don't know what happened."
According to President Robert Eastman (inset, left), all 130 employees of the Plymouth, Minn-based Rexton (above) are "de facto" members of the sales staff.
And this commitment to its customers has translated into customer loyalty and a solid bottom line.
Customer service is not the only reason Rexton has been successful. Another is its position in the market. Rexton offers a full range of hearing instruments to serve every need from body aids to digital completely-in-canal models. And unlike companies that specialize in the cutting edge, Rexton takes a different tack with technological innovations. "We listen to our customers and try to deliver products that answer the customers' needs," says Oberg. "[Other companies] have launched some products that haven't been altogether successful relative to the customer's desires. That's the nature of development. We don't release a product until we are confident it will meet the needs of the customer. Once a product is released, we listen to the customer's opinion of the product. This helps us to refine the product or the software."
There are 28 million Americans who need hearing instruments, but only about 6 million people are wearing them—primarily because of the stigma associated with wearing a hearing aid, says Eastman. To help its audiologist and distributor customers reach this untapped 22 million, the company has developed a marketing program. Typically, Rexton sales representatives evaluate the goals, demographics, and growth potential of the practice. Based on that evaluation, appropriate advertising materials, direct mailing pieces, and community awareness programs are developed. "If we don't as a company take it to that degree when we develop this plan, then in the heat of activity in the day-to-day process we have found it very difficult for those offices to follow through on those things they need to, so we'll develop a timeline on a calendar year," says Cutting. Customers also receive training via one-on-one contact with company representatives, clinics, and conferences sponsored by Rexton.
Reaching a New Generation
It is a message that has to reach a new generation of hearing aid users with different expectations. "[Baby Boomers] are going to want something different because I think they've seen some negative things happen with their parents' generation and the real frustration that maybe their parents have had to deal with," says Cutting. "I think that digital is going to allow us to have a lot more flexibility and be more precise, so for this younger generation we can do a much better job fitting them for their particular needs. They're going to demand more; they're educating themselves on hearing loss and on hearing aids. We're finding our consumers are much more educated than ever before."
Because Baby Boomers are more educated and technologically savvy than their parents, Oberg predicts that more downloadable hearing aid features will be available over the Web and, because of the prevalence of cell phones and their earpieces, the stigma of wearing hearing aids will wane. Although Rexton still provides its customers with analog products, Eastman predicts that the entire industry will be digital. The company now offers three digital products and expects to add a few more in the next 6 to 9 months.
More Than 40 Years of Service
Founded over 40 years ago as a Swiss company, Rexton moved its headquarters to Minnesota about 20 years ago. It has been in its present 27,000-square-foot, state-of-the-art facility for about 2 years. Rexton instruments are sold all over the world. Manufacturing for its overseas market is handled by a company facility in Germany. And mirroring its customer loyalty is Rexton's employee loyalty. The company has low employee turnover, which aids in building long-lasting personal relationships with customers. "We're constantly adapting the company to what's going on; we're trying to be proactive in meeting our customers' needs," says Eastman. "We have a very good workforce here. I think it reflects on our customer base, too. In many cases, it's hard to build loyalty. Customers have a lot of choices, and everybody makes mistakes out there—our customers do and so do we—and that relationship helps to get you through some times when maybe things aren't as good as they should be."
Underlying the commitment to providing high-quality hearing devices at an affordable price and providing high customer service is a simple mission. "We're trying to simplify our customers' lives," says Eastman. "We just want to make it easy and simple to do business with us."
Chris Wolski is the associate editor of Hearing Products Report.