ZPower, a developer of rechargeable, silver-zinc miniature batteries, will feature its Rechargeable System for Hearing Aids at AudiologyNOW! 2016, April 13th – 15th in Phoenix, Ariz.
AudiologyNOW! is hosted by the American Academy of Audiology (AAA) and is considered the world's largest gathering of audiologists. This annual conference provides participants the opportunity to attend four days of educational sessions, explore the latest in hearing technology, and network with colleagues from around the world. ZPower will exhibit in booth #629.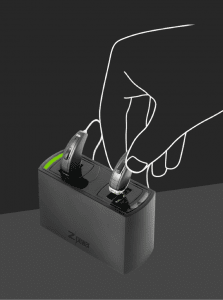 Recent industry studies show that rechargeable batteries and rechargeable hearing aids are among the top features sought by hearing aid users. ZPower responded to this information by developing the Rechargeable System for Hearing Aids, which is said to offer patients the ability to make many new or existing hearing aids rechargeable. This new product earned ZPower a 2016 CES Innovation Award for outstanding design and engineering in consumer electronics. In addition, ZPower was recently named a 2016 Edison Awards Finalist in the Vision & Hearing category.
ZPower President & CEO Ross Dueber will participate in a panel discussion titled, Hearing Care in America: Diverse Panel of Thought Leaders Discuss Today and the Future, at 10:00 AM on Friday, April 15. Also, ZPower will lead a number of educational sessions during the convention, which include the following:
Thursday, April 14, 10:45 – 11:45 AM: Rechargeable Batteries – An Advanced, Green Power Solution for Hearing Aids
Friday, April 15, 11:00 AM – 1:30 PM: Giving Patients and Clinicians What They Want: All-day, Affordable and Accessible Rechargeability
Friday, April 15,   3:00 – 4:00 PM: Battery Life: Counseling Patients about the Power Consumption of Wireless Streaming Hearing Aids
ZPower encourages AAA attendees to join the ZPower team in booth #629 to learn more about the Rechargeable System for Hearing Aids and to participate in the many fun booth activities that ZPower has planned.
Source: ZPower