At the 2019 International Congress of Hearing Aid Acousticians (EUHA) in Nuremberg, Germany, Sonova announced the presentation of a "wide spectrum of new hearing solutions from all its product brands."
CEO Arnd Kaldowski introduced the key highlights, and showed how customers can enjoy benefits from Sonova's innovation and technology.
"At this year's congress, we are launching a range of innovative products which meet the individual customer's needs. These products will let our customers hear the world and actively participate in life. Our brands Phonak, Unitron, Hansaton, and Advanced Bionics are presenting a wide range of standard-setting hearing solutions. A key highlight will be the presentation on Marvel 2.0, which builds on the success of Phonak's Marvel platform launched almost a year back. The expanded offering adds even more choice and functionalities. Unitron has expanded its family of hearing instruments on the Discover platform. Hansaton presents two new color combinations from the Exciting Design Edition. Advanced Bionics builds on the unique collaboration with Phonak having introduced the Naida CI Connect receiver. Hands-free phone calls and direct audio streaming are a part of everyday modern life that cochlear implant wearers should benefit from too. Building on the success of our latest products as well as our full pipeline of innovative new solutions and technologies, I am confident that we will continue to capture the potential of the growing hearing care market. The following brief overview of our brands' product innovations looks at the specific news in store for our customers."
Marvel gets even better now—more hearing performance, more connectivity, more choices
Phonak presents Marvel 2.0, the new generation of Marvel technology. According to Sonova, it is specifically designed to offer hearing instrument wearers more hearing performance, more connectivity and app features, and more choices. Every day anew with the "well-known advantages:" clear full sound; direct connection to smartphones, TV, and much more; lithium-ion battery technology, and smart apps.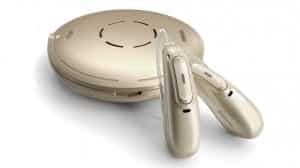 With Marvel 2.0, Phonak introduces RogerDirect for all Marvel hearing aids and helps enable hearing aid wearers to overcome two of the biggest challenges still facing them: Understanding in noisy environments and at a distance. This enables the Roger signal to be transmitted directly to Marvel hearing aids without the need for an external receiver.
In addition to RogerDirect, Marvel hearing aids can now also be connected to two Bluetooth-compatible audio devices. A further advantage when talking on the phone, says Sonova: With Marvel hearing aids, wearers can make hands-free calls, while the smartphone remains in the pocket. Contrary to other hearing aids, Marvel can be connected directly with iOS, Android, or other Bluetooth-enabled devices.*
Marvel 2.0 offers new products to meet the expectations of even more hearing instrument users and enable hearing care professionals to offer even more Marvel solutions.
Phonak Audéo M-RT is the "only hearing instrument in the world" that offers direct connectivity to iOS and Android smartphones as well as a T-coil and battery technology in one device.
Phonak Bolero Marvel is "the world's first behind-the-ear (BTE) hearing aid" to stream audio directly from iOS and Android devices. It also has a built-in rechargeable lithium-ion battery that is designed to last for at least six years and provides the wearer with a full day of hearing performance with a single charge, streaming included, announced Sonova.
The Sky M range has been developed for children with mild to profound hearing loss and is available in a range of colors and sizes. Sky M features a customized automatic operating system designed specifically for children, better speech understanding in noisy environments, and "maximum access to all speech sounds," according to Sonova. The rechargeable battery is said to last all day.
Unitron expands its Discover platform family by new form factors and telecoil
Unitron has expanded its family of hearing instruments on the Discover platform. The new products, Stride P R (BTE) and Moxi Jump R Receiver-In-Canal with telecoil are reportedly "easy to use and very convenient." They help enable hands-free calling, video calling, and media streaming in both ears with Apple and Android phones. A lithium-ion rechargeable battery technology helps provide peace of mind, according to the company. A virtual coach uses the Remote Plus App to give the hearing aid wearer tips on how to care for and maintain the hearing aids, helping to ensure that they are quickly familiar with the new devices. In addition, the wearer can use the app to control important functions of his hearing aids.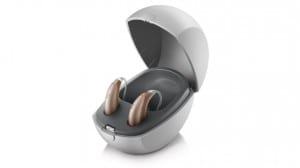 EXCITE – Hearing systems inspire from the very first moment
In addition to a design features, Hansaton's EXCITE hearing aids "impress above all with their brilliant sound from the first moment of wearing as well as their practical functions that make everyday life easier," Sonova says. The hearing system can be used to make phone calls with your smartphone, listen to concerts or talk shows via radio apps, or broadcast television programs.
Thanks to Bluetooth, these helpers become wireless headphones that enable hands-free and secure use of many end devices such as telephones, tablets, or computers**. Two new color combinations from the Exciting Design Edition are also available.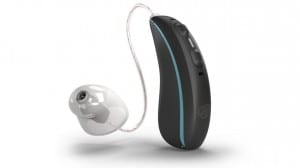 Advanced Bionics and Phonak: A win-win-partnership
Advanced Bionics (AB) builds on the collaboration with Phonak having introduced the Naida CI Connect receiver. Sonova says that hands-free phone calls and direct audio streaming are a part of everyday modern life that cochlear implant wearers should benefit from too. Naída CI Connect, the most recent innovation Advanced Bionics developed together with Phonak, is a design-integrated solution which turns the Naída CI Q90 sound processor into a Bluetooth wireless headset.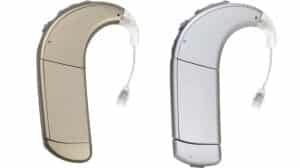 With built-in microphones and compatibility with Bluetooth-enabled phones, tablets, laptops, and MP3 players*, the Naída CI Connect helps allow cochlear implant wearers to take hands-free phone calls and stream audio directly, according to Sonova. Additionally, AB received approval by the US Food and Drug Administration (FDA) and German TÜV for their Active Insertion Monitoring (AIM) System, a solution for implant surgery and post-op, enabling the monitoring of the surgical procedure in real-time.