The Academy of Doctors of Audiology (ADA) and AudBoss jointly announce that they have partnered on an 'Audtoberbest' double- discount deal for two events taking place in October.
Related article: AudBoss 2020 Private Practice Summit Held in Denver
Register for the AudBoss Private Practice Summit (Virtual or Live) taking place on October 4-8, 2021 and the ADA 2021 AuDacity Conference (Live) taking place in Portland, Oregon on October 25-27, 2021, and receive a combined discount of $300 on registration! Act fast—according to the organizers, this limited-time offer is only guaranteed through January 31, 2021, when you register for both events.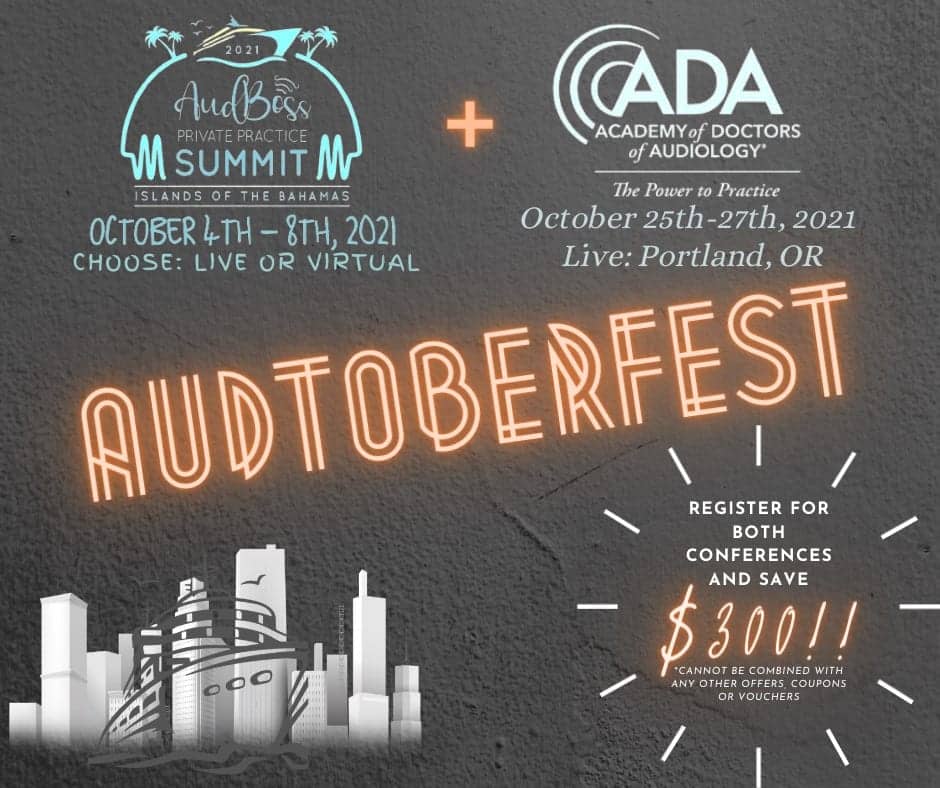 Registration
Register for AudBoss 2021 here: https://www.decibels180.com/audboss-2021-private-practice-summit-islands-of-the-bahamas/ (VIRTUAL or LIVE October 4-8) and receive $150 OFF with Code: AUDTOBERFEST1. If already registered with a voucher, skip this step. Follow the instructions to reserve your cabin on the Navigator of the Seas, ASAP. If VIRTUAL, skip this step.
Register for AuDacity 2021 here: https://audiologist.site-ym.com/event/audacity2021 (LIVE October 25-27) and receive $150 OFF with Code: AUDTOBERFEST2.
Book your room at the Marriott Downtown Waterfront Hotel in Portland, Oregon by clicking here: https://book.passkey.com/gt/218117810?gtid=836b1d2f1f6a4b22a61dd9a8c0e4eda1&fbclid=IwAR3uaSZPVrQu1heY38J7MnrhsCvUDdZ5Yaoja5MIOVtCrClCV2NeFUmxOsY)

For more information, contact Stephanie Czuhajewski (ADA) at: [email protected] or AudBoss at: [email protected].

*Discounts cannot be combined with any other offers, coupons, or vouchers. 
Source: ASA, AudBoss