The organizers of the AudBoss 2020 Private Practice Summit announce that their event—now in its second year— sold out all 250 openings! They report that while "most conferences are moving or have moved to a virtual platform due to the COVID-19 pandemic," the AudBoss Private Practice Summit has "moved forward with a unique, hybrid approach." Dr Amit Gosalia and April and Mark Royan hosted 70 private-practice owners, in-person, in Denver, Colo between September 30 and October 2. For the 180 participants who chose not to travel, they were able to participate remotely and access 19 hours of content, including 17 hours of CEUs, sponsor lists, and a lot of other useful information.
Related article: Inaugural AudBoss Summit Held in Naples, Fla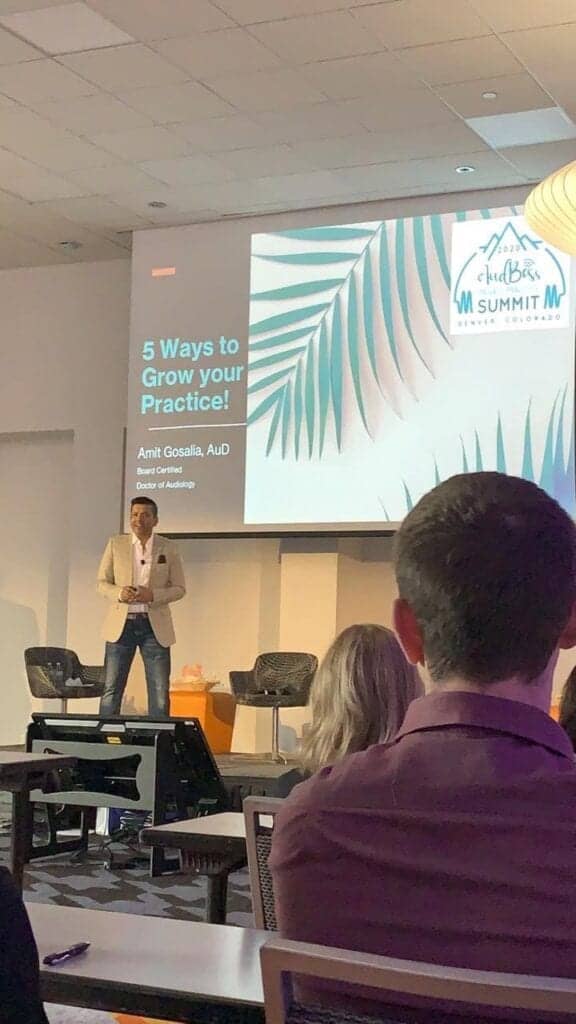 Working with the City of Denver & the State of Colorado, safety was a priority, the organizers said. Attendees were required to follow all the local and legal guidelines, including seating participants six feet apart and requiring masks at all times (aside from eating/drinking).
With a focus on growth and impact, the Summit featured presentations on mindset, philanthropy, cognitive screenings, modern solutions for patients, best practices, tinnitus, and techniques and systems to grow attendees' businesses.
"AudBoss2020 has been amazing. I've gotten so many great ideas from such a variety of different ways. I can improve my practice and my mind is blown. I can't wait to sort through all the information I've gotten and really put it to good use," said Dr Katie Gamerl, Norfolk Audiology owner.
Even with strict safety regulations in place, the event organizers report that attendees had the opportunity to socialize, participate in mastermind breakouts, meet 11 in-person sponsors, and enjoy the social events. 
The AudBoss 2021 Private Practice Summit was also announced and will cruise on the Royal Caribbean Navigator of the Seas between October 4–8, 2021 with a maximum of 250 private-practice attendees. Within one hour of announcing, over 100 attendees had signed up, the organizers report.
To learn more or register, visit: https://bit.ly/2I76mxc.
Source: AudBoss
Images: AudBoss