WS Audiology (WSA) recently hosted a tour of its Americas Manufacturing and Distribution Center (AMDC) in Tijuana, Mexico, where the hearing aid manufacturer produces produ​​cts for Signia, Rexton, TruHearing, and hear.com.
Hearing Review Associate Editor Andy Lundin participated in the tour, which was led by Robert Walesa, VP of operations – Americas, along with other experts at WSA and hearing care industry professionals.
"The entire WS Audiology team worked hard to design, engineer, and open a state-of-the-art, 95,000 square-foot manufacturing facility that sets new operational standards for the hearing aid industry," Walesa says. "Its success is a testament to the commitment, passion, and ingenuity of literally hundreds of team members across three continents."
Walesa provided a detailed yet concise tour of the AMDC facility, which officially opened in November 2022. The tour covered the gamut of its overall production workflow, which included manufacturing, distribution, and warehousing. The AMDC facility has a staff of more than 600 employees.
"We centralized all production and distribution across the United States, Canada, and Latin America in a new facility to best support the long-term business needs of partners and their patients," Walesa says. "The events of the last three years have demonstrated that production localized in the markets served is the best way to ensure protection against future unforeseen developments that can impact long-distance-based logistics and supply chains."
Hearing Aid Shell Production
A highlight of the AMDC tour included a look at its small batch shell and earmold lab, which utilizes the latest digital manufacturing tools to create high-quality custom earmolds, earpieces, and custom hearing aid shells, according to WSA.
"The process takes 3D print files which are created from each patient's ear impression and turns them into custom earpieces that fit an individual ear with high resolution and detail," Walesa says of the operation. "AMDC uses a variety of soft and hard materials that can be customized for patient comfort and color preference."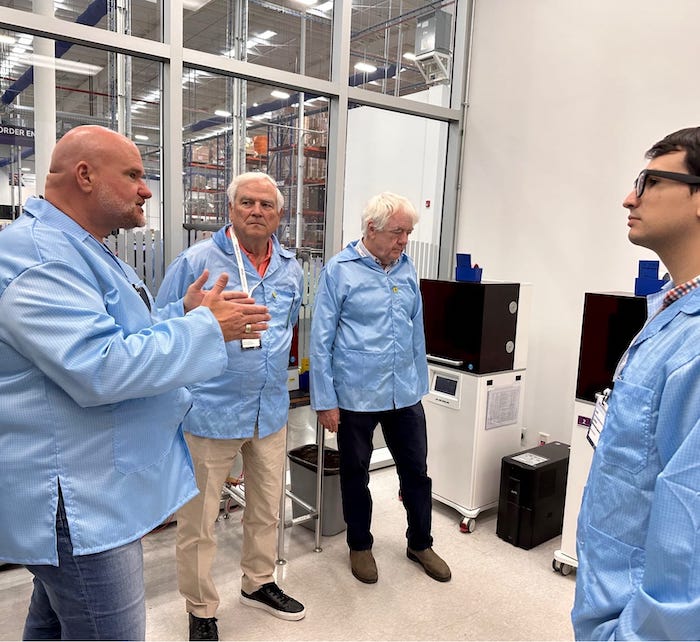 WSA follows a philosophy of producing small batches by using more digital printers in their process so they can be more dynamic and responsive to the actual daily intake and reduce waste.
WSA Sustainability Goals
Walesa's tour of the AMDC facility began with him providing of overview of WSA's corporate sustainability initiatives. One such initiative is to have electricity consumed at all of the company's locations in the world be 100% green by the year 2025.
"To that end, AMDC has implemented an ambitious waste management and recycling program that reduces waste throughout the manufacturing, warehousing, and distribution process," Walesa says. "In fact, we are committed to recycling over 95% of our non-hazardous waste materials – which is critical to protecting our planet and allowing us to become the world's most environmentally friendly hearing aid company."
The company is also working on an initiative to create a solar panel station that will help power the AMDC facility and drive other upcoming sustainability projects.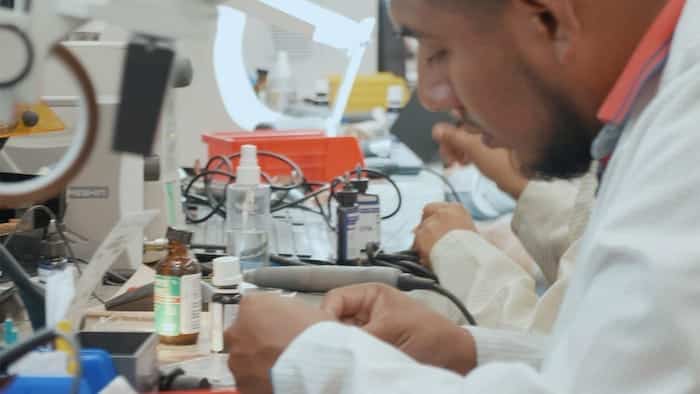 A SMART Manufacturing Process
Walesa also highlighted the organization's SMART Lean global manufacturing process during the tour, which is implemented at all WSA manufacturing sites.
Inspired by the principles of the Toyota Production System (TPS) for the automaker's vehicle production, the utilization of the SMART Lean process at WSA hearing aid manufacturing facilities helps promote the flow of value to the customer using a combination of technological innovations and continuous improvements of processes, Walesa says.
"The overarching goal of SMART Lean is achieving zero loss – which includes zero incidents and accidents; zero delays and breakdowns; zero stoppages; and zero defects for our people, processes, machines, and final products," he says. "All of this is achieved through the implementation of Total Quality Control (TQC), Just in Time (JIT), Total Productive Maintenance (TPM), Lean and Six Sigma."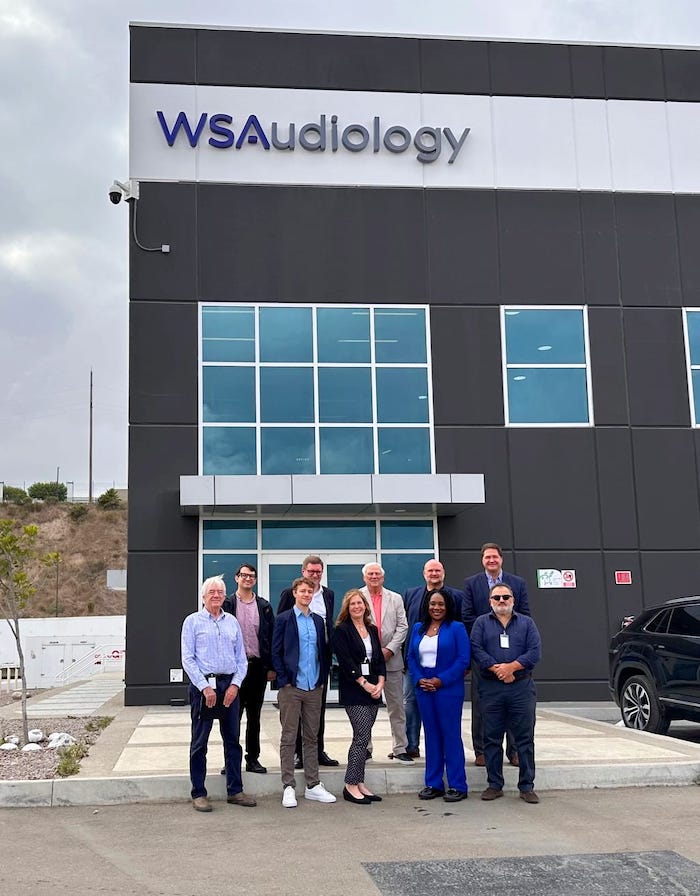 WSA Expert Insight
Aside from the tour were talks from several key figures at WS Audiology. The first of these included Carsten Buhl, president of WSA, Americas, who provided an overview on the state of the company's global production, including a focus on the goals of the AMDC facility.
Afterward, Ziad Miaki, head of Global Industrial Operations & the Smart Lean Program, spoke on the topic of operational excellence at WSA, further detailing how the company's SMART Lean global manufacturing process has positively impacted production at the AMDC facility, as well as its other production facilities, globally.
Following this, Sheena Oliver, AuD, MBA, chief marketing officer, U.S. and head of Marketing, Americas, detailed the significance of service excellence at WSA and what that means for the various areas of the organization including manufacturing, its offices, and retail stores.
Further reading: Signia's Integrated Xperience Platform Pinpoints Multiple Speakers in Real-Time
Finally, Leanne Powers, AuD, MS, senior director of Professional Education, spoke on the topic of product innovation and highlighted a new technology for the Signia brand called Integrated Xperience that enables hearing aid wearers to hear all speakers in noisy group conversations clearly. Signia Integrated Xperience is introducing a hearing aid that identifies and locks on to the voice of every person in a conversation, enhancing their speech and reducing background noise, according to WSA.
Photos: WS Audiology