This article was submitted to HR by Carsten Trads, president of Clarity®, a Division of Plantronics Inc, Chattanooga, Tenn. He is responsible for directing the strategic and financial direction of Clarity's global initiatives and oversees all aspects of the company's daily operations, product development, and sales and marketing activities. Formerly, Trads served at GN ReSound, a manufacturer of hearing aids and audiological measurement equipment, as president of North American operations. Correspondence can be addressed to [email protected] or Carsten Trads at .
For the millions suffering from hearing loss, amplified telephones play a vital role in improving quality of life by making phone calls clearer, crisper, and easier-to-understand. Although they may not permanently replace comprehensive hearing loss solutions, such as hearing aids or cochlear implants, the hearing care industry is moving in the right direction by supporting amplified telephones as a supplementary option. And now that people experience hearing loss in greater numbers and at younger ages, the role of the amplified telephone is even more important.
In recent years, vast improvements in technology have moved amplified telephones to center stage as a popular assistive listening device (ALD), most notably for people who are not ready for long-term solutions. It is this segment of society, largely made up of Baby Boomers, that faces a growing danger of early onset hearing loss. Traditionally, they have held an "all or nothing" view of hearing loss solutions—either wear a hearing aid or don't. But fortunately, they are discovering that amplified telephones are a happy medium.
The Needs of a Burgeoning Hearing Loss Population
Over the 20-year span from 1971 to 1991, Americans ages 45 to 64 reported an unsettling 26% increase in hearing loss, according to the National Health Interview Survey.1 This same survey taken several years later showed another 17% increase from 2000 to 2006 in the number of adults in the United States with hearing loss.
Clarity, a provider of amplified telephones, has also looked into trends in hearing loss and found equally disheartening results. Our main research,2,3 conducted in conjunction with the nonprofit organization The EAR Foundation, focused on the ubiquitous Baby Boomers and corroborated previous studies about the dire state of hearing loss across the country and the need for hearing loss solutions.
FIGURE 1. The Clarity C4230 5.8 GHz cordless amplified phone.
We discovered that nearly half of the 76 million Baby Boomers (ages 40-59) experienced some degree of hearing loss, even though many of them considered themselves too young to have a problem. Over one-fourth (27%) of the surveyed group said their hearing loss was so severe that it interfered with their earning potential. As for the older population, the US Department of Health and Human Services identifies one in three people over 65 as having a hearing problem. This ratio will only grow as Baby Boomers overflow into the 65-plus age bracket, contributing to the steady increase in hearing loss that we've seen over the past several decades.
This escalation in hearing loss lends itself to a demand for hearing aids and other ALDs. Despite advancements in technology, only 22% of individuals whose hearing loss could be treated with a hearing aid actually use one, according to a report by MarkeTrak. Cost is the most common reason for not purchasing hearing aids. The average price ranges from $900 to $2,000,4 and most people require two devices—doubling the cost. This is why amplified telephones, which cost $250 to $350, become such an attractive alternative.
In addition to cost, Baby Boomers also avoid hearing aids because of the negative stigma often associated with the devices. Parents would rather struggle through conversations with their children than wear a hearing aid. Business executives constantly ask co-workers to "speak up" during meetings rather than walk around the office wearing a device.
These are real fears. And the growing demand for adequate solutions in the period between discovering hearing loss and actually seeking permanent solutions is just as real. Amplified telephones have proven to be a comparatively inexpensive, accessible, and subtle ALD.
Evolving Technology
Clarity built its first amplified telephone handset in 1975. This development led the way for a myriad of other hearing loss solutions including the traditional corded amplified telephone, cordless amplified telephones, portable telephone amplifiers, and telephone accessories like optional ringer amplifiers and bed shakers. When talking with loved ones at home, work associates at the office, or friends on the road, each piece of equipment plays a specific role to help those with hearing loss understand conversations.
Throughout the life cycles of these products, major advancements in technology gave way to more sophisticated and desirable models and, in turn, improved conversations for those with hearing loss. By far, the most significant development in amplified telephones is the vast improvements in sound processing. Intense research allowed manufacturers to tailor the technology to their users and put amplified telephones on the map as viable devices for people with hearing loss.
Prior to these breakthroughs, people with hearing loss faced three main problems with previous amplified telephones:
Amplified noise. All telephones, amplified or not, have some amount of noise inherent to the system, such as static or other electrical interference. While previous amplified telephones often increased these sounds, new noise reduction software suppresses them, making conversations clearer for people with hearing loss.
Feedback echo. The sound coming out of the earpiece, which is often picked up by the mouthpiece and reprocessed, also posed a problem for early amplified telephone users. This created a feedback loop that listeners noticed as an echo or, in worst cases, squealing. To remedy the problem, acoustic echo cancellation technology is now used to recognize that these sounds have already been processed.
Voice versus background noise. Distinguishing between the voice of the person talking and other sounds in the background has always been a problem for amplified telephones until the use of "intelligent amplification." Instead of struggling to hear the speaker's voice over other competing sounds near the caller, new digital signal processing, similar to that found in hearing aids, can distinguish and amplify the human voice while containing other indirect sounds.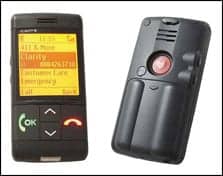 FIGURE 2. ClarityLife is reportedly the first cell phone that also serves as an emergency response device.
Each of these improvements factors into the growing importance of the amplified telephone. Solving the inherent problems in earlier phone designs not only gave people with hearing loss louder amplification, but smarter amplification, too.
As a result of their burgeoning role, the overall design of amplified telephones is also shifting into the modern world. Previously, amplified telephones were extraordinarily basic in design—flaunting silver-dollar-sized buttons and bulky features. For the Baby Boomer, this limited use of the phones to the home in fear of exposing their hearing problem to others.
In contrast, newer amplified telephones have successfully blended into the mainstream marketplace. People now have modern options on their amplified phones, including caller ID, amplified speakerphone, digital answering machine with variable-speed playback, and expandable handsets. These features, often expected as standard for telephones, emphasize the importance of these solutions in the homes and offices of Baby Boomers with hearing loss.
Coming Soon: An Amplified Mobile Phone
This fall, Clarity is preparing to launch the first amplified mobile phone in America dedicated specifically for individuals with hearing loss, called ClarityLife C900. Traditionally not a part of the amplified telephone market, cell phones for people with hearing loss are fast becoming a necessity in today's mobile technology revolution.
Specifically, ClarityLife C900 is targeted at seniors and offers a large display and emergency response capabilities in addition to 50 dB of amplification. This cell phone opens the amplified telephone market to a completely new realm of products, leading the way for more companies to create cell phones with amplification as the number of people with hearing loss continues to increase.
Comprehensive Hearing Care: Moving Forward with Viable Solutions
All over the country, dispensing professionals are recognizing the need to offer ALDs to people who are not prepared to make the jump to hearing aids. Now, amplified phones are offered through various state assistive technology programs, which help individuals with disabilities access and obtain assistive technology devices and services that foster independence. These programs are excellent resources for those who qualify, as they provide easy and affordable (and sometimes free) access to amplified telephones.
Dispensing professionals in private practice are also seeing the amplified phone as an ideal "gateway" ALD for their customers. Whether an hearing care professional has been in business for decades or is just getting started, the phones can help secure new customers who may not be ready for hearing aids as well as generate new business from existing clients.
Of course, hearing aids will always be the dispensing professionals' main focus, but offering amplified telephones widens their spectrum of service to customers. Often customers do not want to make the major step of purchasing a hearing aid, or they cannot afford one. Rather than allowing patients to walk out the door without a solution that addresses their hearing needs, the clinician can help them start down the path towards better hearing with an amplified telephone. Just having the option of an effective, affordable phone may even prompt customers to return for their future hearing needs.
The substantial increase in the number of people with hearing loss, coupled with the earlier age of people experiencing their first signs of diminished hearing, demonstrates the rising importance of amplified telephones. And thanks to the advancements since they first appeared on the market, amplified phones are now affordable, subtle, and—most importantly—effective allies for the millions seeking relief from their struggle with hearing loss.
References
Adams PF, Benson V. Current estimates from the National Health Interview Survey. National Center for Health Statistics, 1991. Vital Health Stat. 1992;10(184).
Trads C. Amplified telephones: past, present, and future. Hearing Review. 2007;14(7):34-36.
Hearing loss significantly impacting work, home life. Available at: /insider/2006-11-30_2568.asp.
Strom KE. The HR 2006 dispenser survey. Hearing Review. 2006;13(6):16-39.