Hearing Aids | December 2013 Hearing Review Products
Does Providing an Instructional DVD to New Hearing Aid Users Reduce Reported Hearing Aid Problems?
By Paul Schneider, MSc, MSHAA, RHAD; Rhys Meredith, MSc; Alice Davies, BSc, Charlotte O'Connor, BSc; and Razun Miah
New study shows that maybe DVDs are not as effective as previously thought for instructing patients.
New hearing aid fitting appointments in UK National Health Service clinics typically take 60 minutes. During that time, hearing aids are adjusted and verified using real ear measurement and the new hearing aid user is given instructions on what to expect from, and how to use, their hearing aids. Some new hearing aid users have difficulty remembering instructions, and this can lead to difficulties successfully adapting to their hearing aids. Studies have shown that providing supplemental information by means of alternative media can improve retention of clinically related information. For example, Houts et al1 showed how pictures improved the retention of medical instructions by students, Delp and Jones2 found that patients discharged from emergency departments with supplementary pictorial instructions were better able to manage their wound care, and Locaputo-Donnellon and Clark3 found that the provision of an instructional DVD improved information retention for new hearing aid users.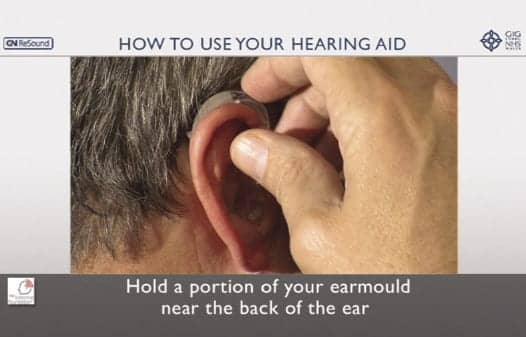 Figure 1. Screenshot of DVD footage showing subtitles.
This study investigates whether the use of instructional DVDs to inform and advise on routine aspects of hearing aid management can improve outcomes, prevent problems, and thus reduce the demand on hearing aid clinics.
Study methods
The DVD. The DVD was a professionally filmed and subtitled video (Figure 1) for use on standard home DVD players. It contained sections to explain how to fit the hearing aid, change batteries, use of controls, getting accustomed to hearing with a hearing aid, troubleshooting, and daily maintenance.
Participants. There were 86 adult patients attending their first hearing aid fitting appointment who were recruited for the study. There were 43 participants in both the study and matched control groups; 38 participants were recruited in Singleton Hospital, Swansea, and 48 participants in the Princess of Wales Hospital, Bridgend (Table 1). All participants were fitted with digital Behind the Ear style hearing aids. As there is a possibility that ownership of a DVD player might be associated with differences in technical or cognitive abilities, only new hearing aid users with access to a DVD player were recruited to both groups.

Table 1. Details of study participants.

Table 2. Number of visits/participant and IOI-HA scores.
1) Adult patient attending a first hearing aid issue appointment;Inclusion Criteria. The inclusion criteria were as follows:
2) Must have a DVD player and be confident in using it, or have a partner able and willing to operate it;
3) Participant and their partner must have no previous hearing aid experience;
4) Participant must have good eyesight or vision corrected by glasses;
5) Participant must have reasonable dexterity; and
6) Participant must have reasonable cognitive function.

Fig. 2a-b.Proportion of participants Fig. 3. Mean IOI-HA results (± 2 sds
who attended a hearing aid problem
clinic

Procedure. Suitable participants were identified during the initial hearing aid fitting appointment according to the inclusion criteria. Study group participants were matched to individuals from the control group in terms of their age and gender. All participants were given the same verbal and written instructions on the use of their hearing aids. However, the study group were also provided with a DVD with no additional explanation other than "…this DVD is useful as it explains some of the day to day management of your hearing aid(s)."
Clinical database records were examined for each participant for the 12 months following the date of their hearing aid fitting. Comparisons were made between the study and control groups with respect to:
1) The number of visits to an open access hearing aid problems clinic,
2) The number of participants who visited the open access hearing aid clinics,
3) IOI-HA outcome measure scores were recorded for participants recruited in the Swansea clinic approximately 2 months after their hearing aids were fitted. It was not possible to make this comparison for the Bridgend participants as the questionnaire was not routinely undertaken at that clinic.
Results
There was no significant difference between the study and control groups for the number of clinic visits or the proportion of participants who visited a hearing aid problems clinic (see Table 2 and Figure 2). There was also no significant difference in the IOI-HA outcome measure between the two groups (see Table 2 and Figure 3).
Discussion
Locaputo-Donnellon and Clark3 reported that the provision of a hearing aid orientation DVD improved information retention for new hearing aid users. However, as stated by Houts et al,4 the retention of information does not necessarily result in its use.
The aim of the present study was to investigate whether an instructional DVD could result in more effective use of the information and advice provided. If so, that may be reflected in an increase in self-rated outcome and a reduction in hearing aid problems. However, no differences were found between the study and matched control groups for either measure.
The methodology of the present study was limited to avoid impositions on the participants. The measures used were possibly insensitive to the underlying benefits of multimedia instructions previously reported. Further investigation may require more subtle and targeted measurements of potential benefit.
Although the negative outcome was disappointing, it is hoped that this does not deter further development of new forms of instructional media as alternatives to paper-based instructions.
Acknowledgements
Thanks to Peter Mellor at GN Resound for organizing the supply of the DVDs.
References
1. Houts PS, Bachrach R, Witmer JT, Tringali CA, Bucher JA, Localio RA. Using pictographs to enhance recall of spoken medical instructions. Patient Educ Couns. 1998;35:83-8.
2. Delp C, Jones J. Communicating information to patients: the use of cartoon illustrations to improve comprehension of instructions. Acad Emerg Med. 1996;3:264-70.
3. Locaputo-Donnellon AE, Clark JG. Hearing aid orientation supplement through DVD instruction. Hearing Journal. 2011;64(3):44-50.
4. Houts PS, Witmer JT, Egeth HE, Loscalzo MJ, Zabora JR. Using pictographs to enhance recall of spoken medical instructions II. Patient
This article was submitted to HR by Paul Schneider, MSc, MSHAA, RHAD, trainee clinical scientist; Rhys Meredith, MSc, consultant clinical scientist; Alice Davies, BSc, audiologist; Charlotte O'Connor, BSc, audiologist; and Razun Miah, chief audiologist, in the Audiology Department at Abertawe Bro Morgannwg University Health Board, Wales, UK. (Paul Schneider has since taken a position at Boots hearingcare in the UK.)
Correspondence can be addressed to Rhys Meredith at: [email protected]
Original citation for this article: Schneider P, Meredith R, Davies A, O'Connor C, Miah R. Does providing an instructional DVD to new hearing aid users reduce reported hearing aid problems? Hearing Review Products. 2013;Winter:14-15.