Innovation is how Audioscan delivers on its promise to help you provide the best possible hearing experience for your clients.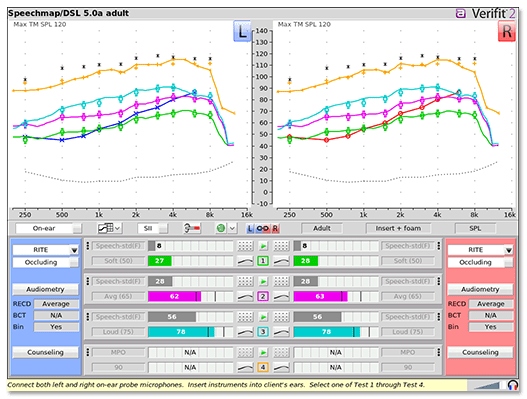 Speechmap's guided workflow makes hearing instrument verification intuitive while offering accurate results using the industry's most advanced tools.
Guided Workflow
Increases verification efficiency and offers ease of use
Audibility Mapping
Verify audibility and listening comfort for amplified signals

Verify to validated, evidence-based fitting formula targets

Accurately assess hearing instrument output relative to dynamic range of the patient
Percentile Analysis
Document hearing instrument compression and accurately assess the provided audibility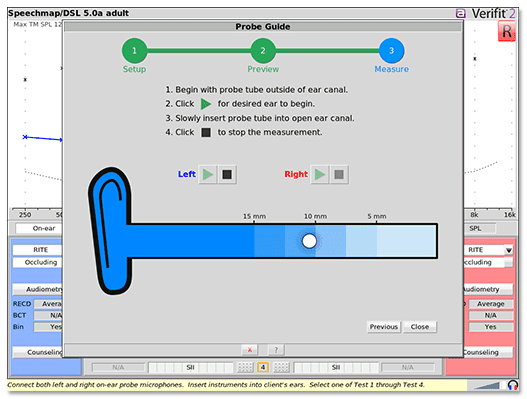 ProbeGUIDE provides real time, software-assisted probe tube placement. Real-ear verification is easier than ever and there is no need for additional hardware, software licenses or complicated techniques.
Real-time Assistance
Constantly tracks the probe tube, giving real-time feedback that enables accurate placement while avoiding patient discomfort from eardrum contact
Supports confident probe tube placement
Algorithm developed using machine learning
Accurate prediction of probe tube tip distance from eardrum results in easier REM and more precise REM results*
Provides reliable REM results across clinicians and clinic locations
Resistant to the ambient noise that can occur in a busy clinical environment
VERIFIT® SKULL SIMULATOR
Objectively verify audibility and adaptive features with bone-anchored hearing devices (BAHDs).
No external power supply required
Easy to set up and use, just plug Verifit Skull Simulator into the coupler jack inside the test box
DSL-BCD targets in Speechmap.
Objectively verify that appropriate levels of audibility are provided for various speech signals
ANSI/IEC, directional, noise reduction testing
Conduct quality control testing and assess the impact of advanced features
No license required
No extra cost for an additional software suite
Verifit
LINK™
Verify and adjust hearing instruments to target automatically through a direct interface with the fitting software.
Ensures an objective verification against clinically-validated targets
Provides accurate target match equivalent to manual methods in significantly less time**
Wideband Measurement
Measure the high frequency amplification of hearing instruments that claim extended bandwidth.
Wideband audiogram entry and hearing instrument verification to 12.5 kHz
Ensure patients have access to valuable speech information above 8 kHz
Obtain the sound quality improvements that accompany wideband amplification
NOAH MODULE (optional)
Quickly transfer audiometry stored in Noah into the Verifit2
Store and retrieve test results electronically, giving you the flexibility to go paperless
Easily generate PDF reports that integrate with EMR systems via shared network folders
REMOTE OPERATION ON PC
Teleaudiology compatible
View/operate Verifit2 from a PC
On-top mode allows hearing instrument measurement and adjustment to occur together on one screen
PRINTING FLEXIBILITY
Multiple printing options: print via the Noah module, a network connected printer, a USB-connected printer, or print-to-file