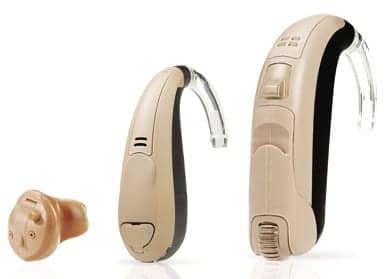 The Sonic Charm mid-level hearing instrument line (above) was featured at EUHA, in additional to the company's new entry-level Pep and mini-RIC Flip hearing aids.
Sonic AG, Bern, Switzerland, showcased Charm, the company's newest family of mid-level hearing solutions, at last week's 2013 European Union of Hearing Aid Acousticians (EUHA) Congress in Nuremberg, Germany. Charm, which was launched in mid-September, was on display throughout the 3-day trade event along with the complete, updated Sonic product offering that includes premium Bliss, mid-range Charm, entry level Pep, and the popular mini-RIC Flip. According to Sonic, the product lines offer a winning combination of features and styles at every technology level and are all built on the Sonic 4S Foundation of sound that's natural, speech understanding in noise, simplicity in everything, and style that stands out.
"EUHA is one of the premier conferences on the international hearing industry calendar, attracting thousands of hearing care professionals from around the world," says Marcel P. Vennik, director of international sales at Sonic. "We were excited to provide conference delegates with the opportunity to hear the simple, easy-to-use Sonic technologies available in our products. Each product family is built on the Sonic Speech Variable Processing platform and provides exceptional sound quality along with benefits like binaural processing and wireless connectivity options."
At the Sonic exhibit booth, conference delegates received a detailed introduction to the new Charm, designed with just the right amount of essential features to please. According to the company, Charm delivers the features consumers value most—Speech Priority Noise Reduction, Adaptive Feedback Canceller, and sophisticated Speech Variable Processing (SVP)—at an affordable price in a solution that fits easily into any lifestyle. With Charm, as with all Sonic hearing solutions, simplicity of operation extends to the fitting process. Proprietary high-speed EXPRESSfit fitting software reportedly makes programming Charm easy. Compact and lightweight EXPRESSlink3 connects easily to USB ports for effortless mobility.
The Sonic international group of 10 sales companies and over 25 distributors were well represented at this year's EUHA where more than 100 companies presented their products and services.
Source: Sonic