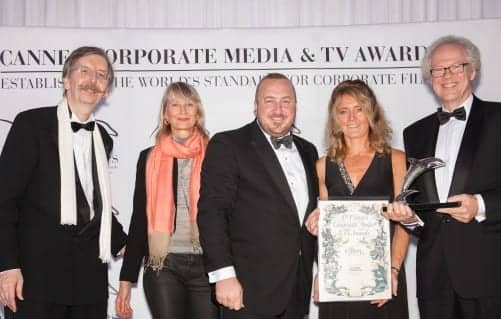 Left to right: Alexander V. Kammel, Festival director; Ingrid Janssen, film director La Cie des Réals and member of Scam; Henrik Madsen, director/founder LeadIT; Rie Soebye, director of marketing for Interacoustics; and Bue Kristensen, director of external affairs for Interacoustics.
Interacoustics has been awarded the "Silver dolphin" for the Wideband Tympanometry video in the category "Medical Film" at the Cannes Corporate Media and TV Awards. The annual awards honor the world's finest corporate films, online media, and TV documentaries, in one of the most important film centers: Cannes, France.
According to Interacoustics, Wideband Tympanometry is a groundbreaking technology that will change the way clinicians look at middle ear diagnostics. It is an expanded version of tympanometry that uses a wideband probe stimulus to assess the middle ear's ability to absorb frequencies across the entire band of frequencies from 226 Hz to 8 kHz, rather than just 226 Hz or 1 kHz. This reportedly makes it easier to differentiate among middle-ear pathologies.
You can see the film at InteracousticsTV on YouTube: http://www.youtube.com/user/InteracousticsTV.
For a quick review of Wideband Tympanometry, see Interacoustics' entry on page 39 of the July HR "How-To" Section, or visit www.interacoustics.com.
Source: Interacoustics