Ear Technology Corporation, Johnson City, Tenn, has announced that EarTech TV Audio is the new name for its digital TV listening system, previously introduced as Clear TV Audio.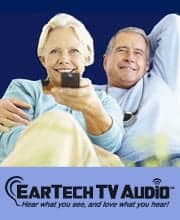 "We launched this system early this year and determined it would be better if we branded this product with a name that was more representative of our company's image for quality and innovation," said Ear Technology Corp President and founder Daniel R. Schumaier, PhD.
Recently a third-party lab's results showed EarTech TV Audio has exceptional clarity as judged by a comparison of all competing premium listening devices, reports the company. According to Ear Technology, the system offers:
Highest SNR on the market—strongest desired signal with the least background noise;
True digital audio RF technology enhances transmission quality for greater distances;
CD-quality sound, even if you leave the room;
2.4 GHz negates interference from other devices;
Works with all types of TVs, stereo systems, and PCs;
Lightweight and comfortable neckloop or stetho-style headset receiver;
Base transmitter can be paired with up to 4 receivers;
Volume and tone adjust to your preference; and
Use without disturbing others.
According to the company, Ear Technology was formed in 1997 to translate innovative ideas into practical applications, products, and solutions for the challenges in hearing healthcare. For 15 years, Ear Technology has been a worldwide leader in hearing instrument care under the banner of the Dry & Store family of drying systems. This past April, the newest addition to the family, Dry Caddy, was voted "Best New Product of 2013" at the American Academy of Audiology (AAA) Conference.
In addition to the Dry & Store family of drying systems, TransEar®, a non-surgical remedy for single-sided deafness, and the ClikEZ® family of hearing aids are also offered by Ear Technology Corp.
For more information or to learn about how to get a free trial of the EarTech TV Audio system, visit www.eartech.com or call (800) 327-8547.
Source: Ear Technology Corp