More than 100 customers and Unitron distributors serving China, India, Hong Kong, Korea, Taiwan, Vietnam and other Asian countries gathered in Ho Chi Minh City, Vietnam for Unitron's Asian summit, Meet Unitron 2015, held November 18-21.
The three-day summit, hosted by Unitron President Jan Metzdorff, focused on topics such as Unitron's strategy and global positioning; challenges and opportunities related to brand growth in Asia; platform and product innovation; and strategies for in-clinic success and patient engagement.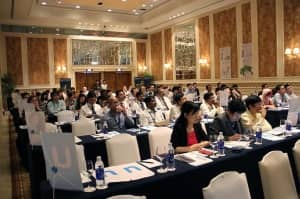 Delegates heard from other Unitron executives as well, including Unitron Chief Scientist Henry Luo, PhD, inventor of the patented AntiShock. Luo spoke about Unitron's collaborative technology development process, in which product management, research and development, and audiology come together as a team to create technologies and product features focused first on meeting real-world patient needs. Delegates also had the opportunity to tour the Vietnam Sonova Operation Centre.
"The Asian region has been a focus of investment for Unitron and we are very pleased to be on the ground in Vietnam to share our vision, technology and platform development philosophy and unique solutions for in-clinic success with our local customers and partners," said Patrick Perler, Unitron's director of international sales and business development.
Source: Unitron