Scott VanBuskirk
Ramon VanBuskirk wore a hearing aid most of his life. Not surprisingly, his BTE instrument gathered moisture, subsequently causing batteries to deteriorate too often. Determined to fight the destructive cycle of sweat, humidity, and airborne grit, VanBuskirk conceived a solution to repel the decaying effects of these natural processes.
He began working on his idea in the late 1980s. By the time the Hearing Aid Sweat Band™ first began appearing in audiologists' offices in 1999, it was a novel item that stood alone as a defensive measure to protect hearing instruments in a discreet, protective cocoon.
Now, nearly 2 decades after VanBuskirk began tinkering with his idea, the Hearing Aid Sweat Band remains a simple yet effective defense against moisture. Worn by hearing aid and cochlear implant wearers, as well as FM device users, the Hearing Aid Sweat Band prevents the sudden loss of hearing due to shorting by moisture, but also preserves components inside devices that are often as costly as they are delicate.
VanBuskirk's son, Scott, owner of VanB Enterprises, the West Valley, NY, manufacturer of the Hearing Aid Sweat Band, spoke with Hearing Products Report about the company's origins and the application of a product he says is used by tens of thousands of hearing instrument owners every day.
HEARING PRODUCTS REPORT: How did the company's niche focus develop?
Scott VanBuskirk: It began with my father as inventor of the product. My dad had no experience in textiles, so he started from scratch. He experimented with all kinds of things, and it took him 5 years to get it right. He worked all the bugs out, and then I joined him to form the company. We've made minor design improvements six or eight times since then.
HPR: What sets the Hearing Aid Sweat Band apart from similar products?
VanBuskirk: The fabric is very loose, and it's easy for sound to travel through it. The beauty of the Hearing Aid Sweat Band is that you can operate the hearing aid's controls and make adjustments while it's being worn. It's easy to operate the controls of a hearing device right through the fabric, compared to a tight, clinging sleeve that creates difficulty in trying to operate the hearing aid while you're wearing it. Also, the Hearing Aid Sweat Band does not trap moisture in; it wicks moisture away.
HPR: What material is used to manufacture the Hearing Aid Sweat Band?
VanBuskirk: It's made from a hypoallergenic material that is soft on the skin. The specially designed fabric primarily sheds moisture, but also secondarily holds moisture away from the aid while wicking moisture away naturally—similar to how undergarments dissipate the moisture produced by our bodies.
Want to know more about VanB Enterprises and its products? Search HPR's
online archives.
HPR: How does the use of a Hearing Aid Sweat Band increase the life span of a hearing instrument?
VanBuskirk: Moisture is always the enemy. Moisture has a corrosive and deleterious effect on the insides of a hearing aid. The Hearing Aid Sweat Band promotes the prevention of moisture and other contaminants from entering the aid. We have plenty of hearing instrument owners calling and telling us their hearing aid still works in high humidity and during times of perspiration; is much cleaner, much drier, longer lasting, free of grime and accumulation; and that battery life is much better. We believe the Hearing Aid Sweat Band offers benefits beyond its originally perceived task of stopping shorting due to moisture.
HPR: Does the Hearing Aid Sweat Band dampen sound?
VanBuskirk: Extremely little. That is a performance benefit that was mostly determined by the choice of the material. It also has an added benefit in that the Hearing Aid Sweat Band reduces feedback from wind.
HPR: How is the Hearing Aid Sweat Band affected by design changes in hearing instruments?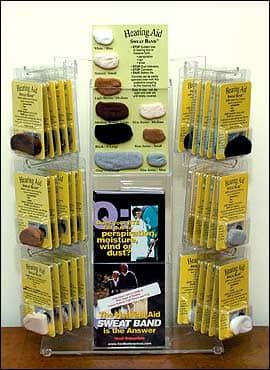 VanB Enterprises' custom display rack holds up to 24 product packages, as well as a color/size board, and a supply of brochures.
VanBuskirk: Design changes on the instruments don't have a profound effect, but we try to accommodate needs that may arise because of equipment improvements and changes. For example, the 5XL is an elongated Hearing Aid Sweat Band that was developed for the FM system boot. We developed that at the request of a hockey mom whose son was having a lot of difficulty with perspiration during his sports activities. The Slim Series was developed for the new, smaller BTEs that have been introduced in the last few years.
HPR: What drove your decision to use the product with cochlear implants?
VanBuskirk: It began in 2002 with a phone call from Cochlear Ltd as a general discussion of "How could we, what could we, why couldn't we?" We went through design exercises for about a year and a half, found we'd come full circle and said, "Just make a hole." We realized it made more sense just to have an end user wiggle a hole through the material with a knitting needle and get the apparatus to penetrate the Hearing Aid Sweat Band. The cochlear link on our Web site explains this procedure with photographs.
HPR: Are there any differences between using the Hearing Aid Sweat Band for a cochlear implant and using it with a hearing aid?
VanBuskirk: When used on a cochlear device, one has to penetrate the fabric with the ear hook and/or wires that exit the hearing aid. It's not puncturing, but it's more like wiggling your way through the knit fabric. Once the user goes through a couple of exercises of using the Hearing Aid Sweat Band, it gets easier to use.
HPR: How is your new Hearing Aid Sweat Band line, the Slim Series, different from the Standard Series line?
VanBuskirk: The Slim Series was designed as a response to some of the very small hearing aids that have been developed. We followed suit and developed this smaller Hearing Aid Sweat Band to fit a little nicer around those small hearing aids. It is made from the same material and performs in the same way as the rest of our products. The Slim Line is available in three colors—natural, light brown, and gray; and three sizes—mini, small, and medium.
HPR: How much use can hearing instrument owners expect from a Hearing Aid Sweat Band?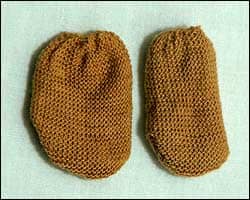 The new Slim Series Hearing Aid Sweat Band™, which is narrower than the Standard Series, is designed for the new makes and models of smaller, narrower BTEs.
VanBuskirk: Generally, people enjoy multiple uses. They are thought of as disposable after they become too loose or lose the ability to shed moisture after many uses. A woman in Texas told us she actually got a year and a half out of a pair. I've had other folks who say they put it on and take it off twice a day, and they're getting 3 to 8 weeks' use. Everyone has a different threshold. It depends a lot on the usage and if [wearers] are very careful putting them on and taking them off without snagging the material. You can launder a Hearing Aid Sweat Band if it gets dirty—it can be hand washed with a mild detergent or put in a laundry bag in the washer, then dried in your dryer, or air dried overnight. Or it can be left on your hearing aid and go right in the dryer box overnight.
HPR: How does your normal distribution channel work?
VanBuskirk: The major portion of sales is through distributors who provide accessories to dispensers and hearing aid dealers. The best place for an end user to buy a Hearing Aid Sweat Band is directly from their dispensing audiologist or hearing aid dealer. Audiologists, hearing aid dealers, and hearing instrument specialists can purchase the Hearing Aid Sweat Band from a distributor where they may currently be purchasing other hearing-related products and accessories.
HPR: Do you assist audiologists who want to market the hearing Aid Sweat Band?
VanBuskirk: Yes! We are very interested in trying to accommodate audiologists. We have a newly developed retail display for audiologists that they can request by calling our [company]. It is a compact counter-top rack that attractively displays packages of Hearing Aid Sweat Bands, including a very handy color and size indicator board for sizing, plus brochures, all making it more convenient for an audiology office to offer and raise awareness of the product and allow customers to see the choices available for the Hearing Aid Sweat Bands. If they prefer, the rack is also available to them through their distributor.
Frank Long is associate editor of Hearing Products Report. For more information, contact VanB Enterprises at (866) 644-2500, or visit their Web site at www.vanbenterprises.com