Advanced Bionics announced that it has been recognized with a Hearing Technology Innovator Award for its SKY CI M sound processor by Hearing Health & Technology Matters for its technological innovation and achievement in the hearing industry.
"We're honored to be recognized with this industry award. Advanced Bionics' SKY CI M is a cochlear implant industry first which acknowledges that children are not small adults. Children's listening needs, wearing requirements, and daily listening situations are different from those of adults," said Victoria E. Carr-Brendel, PhD, GVP, Sonova Group and President of Advanced Bionics.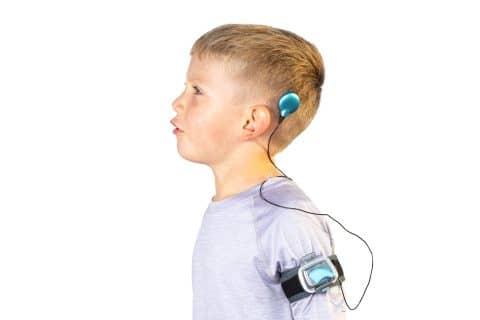 Sky CI Marvel is "the world's first dedicated sound processor for children that combines proven AB sound processing with the established Marvel platform from Phonak." AutoSense Sky OS 3.0 operating system is a machine-learning algorithm designed for a child's typical listening situations, providing "excellent sound quality and performance wherever the child goes."
Offering a variety of wearing options, child-preferred colors, and waterproof accessories, Sky CI Marvel offers "flexibility for a growing child's adventures, whether at the pool or in school."
Its integrated Roger technology help kids hear their teachers and conversation partners in classrooms, cafeterias, and auditoriums directly in their ears, bypassing noise in the environment, according to the company. Plus, direct smartphone connectivity via Bluetooth and the AB Remote app help kids stay connected with the world around them throughout their day.
"Hearing technologies being developed by companies like Advanced Bionics are helping set the standard for innovation in the industry," said Kevin Liebe, Hearing Health & Technology Matters President and CEO.
About Advanced Bionics
Advanced Bionics is a company developing hearing solutions for individuals with severe and profound hearing loss who no longer benefit from hearing aids. Founded in 1993 and a subsidiary of the Sonova Group since 2009, AB develops cochlear implant technology that "helps allow recipients to hear their best."
Source: Advanced Bionics
Images: Advanced Bionics, Business Wire