Cochlear Limited (ASX: COH), a manufacturer of implantable hearing solutions, announced the upcoming release of the Nucleus® Smart App for Android™ in the United States and Canada, offering what is said to be "greater connectivity than ever before" for people with hearing loss and a cochlear implant. Cochlear implant recipients with the Nucleus® 7 Sound Processor can now control their hearing with the Nucleus Smart App* from a compatible Android device, which is designed to allow them to monitor and adjust their settings, view personalized hearing information, and even locate a missing sound processor, all from the convenience of their smartphone, according to Cochlear's announcement.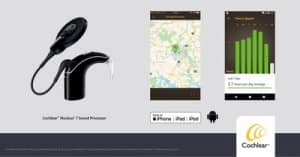 "Embracing digital technologies that enhance the experience and hearing performance for our customers is a key focus of our product innovation," said Tony Manna, president, Cochlear Americas.
"With the launch of the Nucleus 7 Sound Processor last year, we were the first in our industry to introduce a Made for iPhone cochlear implant sound processor; still the only one to offer direct streaming to a compatible Apple device. Now we are pleased to offer Android users the ability to use the Nucleus Smart App to track their hearing and access new features. We are committed to giving people who are living with disabling hearing loss greater choices when it comes to controlling their hearing experience."
Along with the release of the Nucleus Smart App for Android, Cochlear has also added a control feature called ForwardFocus*** available to compatible smartphone users of the app. The user-activated control feature is designed to allow the wearer to hear better in a challenging listening environment such as a noisy restaurant.
The Nucleus Smart App, which is exclusively compatible with the Nucleus 7 Sound Processor, offers a range of features for users, that include: locating a lost or misplaced sound processor using the "Find My Processor" feature; tracking progress with the "Hearing Tracker" feature; and reducing noise from behind with the "ForwardFocus" feature.
"We live in a world where consumers expect to be easily connected to technology, and consumers should expect to get innovative, accessible technology out of their medical devices too," said Patricia Trautwein, AuD, Vice President, marketing and product management, Cochlear Americas.
"At Cochlear, we are proud to be the first in the hearing implant industry to provide convenient monitoring tools and direct connectivity to smartphones. We want our recipients to be able to take control of their hearing performance like they may do already with their fitness and health and how they are accustomed to connecting with their other consumer electronics," said Trautwein.
In addition to the new connectivity and performance features, the Nucleus 7 Sound Processor will be available, reportedly for the first time, to people with a Nucleus 24 Series Implant (CI24R/CI24M).1 
This year the Nucleus 7 Sound Processor received international acknowledgement from leading design and technology award bodies, including a Red Dot for Product Design 2018 and a Good Design Award® Best in Class in the Product Design category for outstanding design and innovation, according to Cochlear.
Availability of the Nucleus 7 Sound Processor differs from country to country. The anticipated availability of the Nucleus 7 Sound Processor for Nucleus 24 Series Implant recipients, Android compatibility with the Nucleus Smart App, and ForwardFocus in the United States and Canada, is late summer 2018.
Reference
Cochlear Limited.D1224199-1, NEO-XS Extensions System Project Version 7.0 RC1 System End to End Verification Report, 1.D. 2017, May; data on file.
* The Nucleus Smart App is compatible with iPhone 5 (or later) and iPod 6th generation devices (or later) running iOS 10.0 or later. To use the Nucleus Smart App for Android, your device will need to run Android 5.0 (Lollipop) or later and support Bluetooth 4.0 or later. For a list of verified devices, visit http://www.nucleussmartapp.com/android.
** The Nucleus 7 Sound Processor is compatible with iPhone X, iPhone 8 Plus, iPhone 8, iPhone 7 Plus, iPhone 7, iPhone 6s Plus, iPhone 6s, iPhone 6 Plus, iPhone 6, iPhone SE, iPhone 5s, iPhone 5c, iPhone 5, iPad Pro (12.9-inch), iPad Pro (9.7-inch), iPad Air 2, iPad Air, iPad mini 4, iPad mini 3, iPad mini 2, iPad mini, iPad (4th generation), and iPod touch (6th generation) using iOS 10.0 or later.
*** ForwardFocus can only be enabled by a hearing implant specialist. It should only be activated for users 12 years and older who are able to reliably provide feedback on sound quality and understand how to use the feature when moving to different or changing environments. It may be possible to have decreased speech understanding when using ForwardFocus in a quiet environment.
Source: Cochlear
Images: Cochlear