The 58th International Congress of European Hearing Aid Acousticians (EUHA) was held last week from Wednesday to Friday (October 16-18) in Nuremberg, Germany. As arguably the hearing industry's most important international trade show of the year, EUHA continues to draw an extremely diverse crowd of professionals—with heavy influence, of course, from Germany, the world's second-largest country in terms of hearing aid unit volume (Germany makes up about 9% of worldwide hearing aid unit sales, all of Europe about 38%, in comparison to about 31% for North America).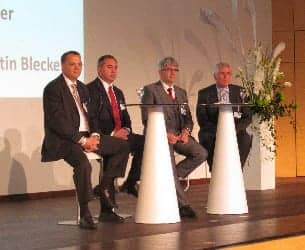 (l to r) Marcus Nissen, Eric Bayer, Martin Blecker, and Jürgen Kiessling listen to an audience member's comments in the discussion seminar, "Customized Earmolds—More Than Just Earplugs?"
EUHA's educational component was made up of a series of more than 21 short lectures by researchers, academics, clinicians, and industry experts from Germany and abroad (with translation headsets thankfully available). The conference also featured numerous special workshops, award presentations, meetings and events for EUHA members, and an entertaining keynote by author Hermann Scherer who spoke on the topic of how to seize opportunities that might otherwise be missed.
European reimbursement changes: the good, bad, and ugly. Country-by-country reimbursement changes were high on the list of things being discussed at this year's EUHA. This is partly due to the fact that, in November 2013, Germany will be raising its flat-rate hearing aid subsidies to 740 Euros ($1020) per hearing aid from 420 Euros ($580) —a 76% increase. For dispensers and the industry, this would appear to be very welcomed news, as some complain that the current reimbursement rate drives consumers away from premium hearing aid options (which they can obtain only with a significant out-of-pocket expense) and toward mid- and economy-level lines. However, there is quite a bit of ongoing discussion about how much influence the new 720 Euro compensation rate will have in spurring consumers toward high-end devices. Some dispensers fear that the larger chains will initiate marketing campaigns promoting "free hearing aids now at even better quality" that end up restricting premium-level sales opportunities for independents. It also appears that all dispensers will now be required to conduct specific fitting procedures, including speech intelligibility measures—a good thing.
The German reimbursement changes come on the heels of other major reimbursement changes during 2012 in Denmark, Holland, and Norway—all of which affected dispensers and the industry in no small way. From my admittedly limited understanding of each country's system—and without getting into the finer details—the Danish government slashed its 2012 hearing aid reimbursement rates considerably, sending industry revenues for Denmark into a tailspin to the point where some dispensing outlets have closed while others are in threat of being shuttered. The Netherlands created an even more complicated system than its previous one that involves the sorting of hearing aid tenders into four hearing loss/use categories which is said to restrict upsell opportunities. And Norway implemented a "consignment system" in which hearing aids are still fully subsidized by the government, but the dispenser and manufacturer are not paid until the consumer indicates they have actually received the device, and that they are "satisfied" with the aid. This has caused considerable cash-flow and balance-sheet side-effects. In general, even minor changes to hearing aid subsidies can have major (intended and unintended) effects, so the changes taking place in Denmark, The Netherlands, Norway, and Germany (starting in November), are being closely monitored.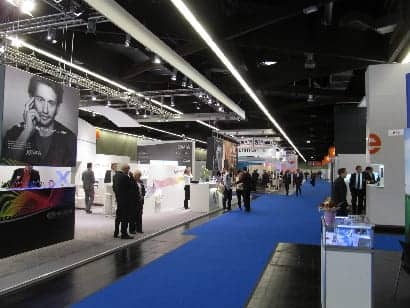 So, what was the big product buzz at EUHA 2013? EUHA's international trade show consisted of more than 110 exhibiting companies, so any attempt at summarizing all the new offerings is futile. But, much like last year, the probable winners in terms of buzz from the show floor from dispensers, analysts, and media had to do with wireless technology and connectivity—most notably using the 2.4 GHz carrier frequency—along with IIC, pediatric, and mid- and economy-level hearing aid lines. So…here's a very quick look at what only a few hearing aid manufacturers were featuring (more will be featured on our Web site and in next week's The Insider):
Attracting a lot of attention was GN ReSound's announcement of its new "Made for iPhone" (MFi) hearing aid, LiNX™, a 2.4 GHz premium wireless hearing aid system that links directly to an iPhone (but not Androids or other popular phone models) and does not require any external intermediate device to communicate with the iPhone. The extremely small LiNX RIE will be available in a limited rollout in December and be fully available sometime in Q1 2014. At a presentation for analysts and media, GN's Morten Hansen showed how the hearing aids could stream audio from iTunes, FaceTime, phone calls, video, and virtually any other iPhone app with exceptional sound quality. I would anticipate the launching of GN's new ear scanner, based on 3DM ear scanning technology, sometime in 2014, as well.
Sonova's (Phonak, Unitron, and Advanced Bionics) new Roger 2.4 GHz wireless system also created a lot interest, even though it was initially launched during April's American Academy of Audiology (AAA) meeting. Roger is designed as an open platform, compatible with all hearing aids and cochlear implants, and now features the Roger Pen which has a built-in accelerometer (ie, the same type of device that an iPad uses for screen orientation) that helps it understand how it's being utilized, as well as a the Roger Clip-on Mic. When placed in their docking/recharging station, both can be used as an efficient TV listening system, as well. The company also featured the new Phonak DECT CP1 cordless phone that transmits conversation to both hearing aids. Sonova Group VP Marten Barmentlo told me that the object of Roger is to give Sonova companies the best digital wireless accessories to combine with what he says are the best hearing aids.
Oticon A/S introduced its new mid-level hearing aid, Nera, which was launched on September 17 via a virtual Internet broadcast from both Oticon USA in Somerset, NJ, and Kongebakken, Denmark. Nera is designed to leverage the performance and personalization features found in the Inium platform for a mid-level hearing solution. Oticon also launched its newest pediatric product line, Sensei, which features a large list of new features compared to Oticon's previous Safari pediatric line, ranging from wireless connectivity, to strategies for preserving natural speech cues (Speech Guard E), and a variety of new tools for pediatric audiologists, parents, and caregivers. During an analysts/media presentation, Oticon A/S President Soren Nielsen detailed many of audiological features of Sensei, as well as its research at prestigious universities including Vanderbilt, Western University (Ontario), and the University of North Texas. He also pointed out how the company offers true ear-to-ear binaural processing that he says only a couple other manufacturers are currently capable of implementing.
Oticon Medical will be launching its next generation of bone conduction sound processors in November that are based on the Inium platform to the European market, and pending FDA approval, these should make their way into the US sometime soon—assuming they're not held up by any more Congressional budget battles. Oticon Medical President Jes Olsen also noted in a presentation how surgical techniques are improving cosmetics for bone anchored solutions.
Bernafon introduced Carista, a mid-level hearing aid available at two price points in all form factors. Additionally, they have implemented an algorithm that takes into account the soft level inputs of certain languages (particularly in Asia) which has been detailed in HR by Marshall Chasin.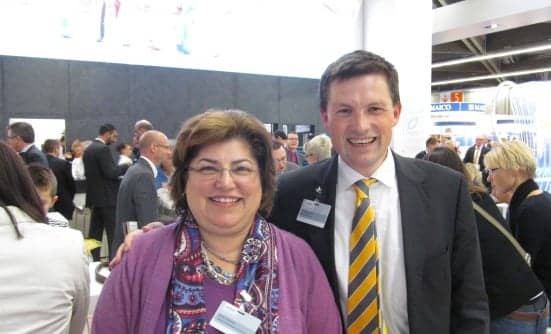 Siemens Hearing Instruments' Alina Urdeneta and Thomas Lotter
Siemens Hearing Instruments announced the extension of its micon platform to super-power (Nitro micon BTE and ITE) as well as an Insio invisible in the canal (IIC) hearing aid, plus expanded the existing micon portfolio to more performance levels. The Motion micon line was also extended to the mid- to economy-level. Nitro offers a slimmer design with moisture resistance, and delivers up to 82 dB of gain with superior component stability, allowing for higher gain in lower frequencies and smarter feedback cancellation system. Siemens' Alina Urdaneta and Thomas Lotter demonstrated for me how efficient the directional system is and its precise control within a very narrow dynamic range.
Widex previewed its Widex Cross and Widex Bi-cross systems, slated for introduction in Q1 2014, for people with unilateral hearing loss. HR will be publishing a wide-ranging interview next week with outgoing CEO and Widex co-owner Jan Topholm and incoming CEO Jörgen Jensen.
Phonak launched its Sky Q pediatric product line expanded range of wireless accessories with the new Roger technology and the significantly improved fitting software Junior mode within Phonak Target. The Sky Q line features four different models, including a size 13 RIC, across three performance levels. Two new products, the Baseo Q15 BTE and Tao Q15 ITE, in a very low-priced category for fully subsidized markets like those of Germany and Asia (particularly China) were also announced. Sonova CEO Lukas Braunschweiler hosted a presentation in which he showed how the Quest platform now forms a complete range of solutions for virtually every hearing need, including cochlear implants (AB's Naida CI Q70). Likewise, he showed how Sky Q provides a dedicated solution that combines the hearing aids with the new wireless Roger devices, new Junior Mode fitting software, and new online resources for parents and caregivers.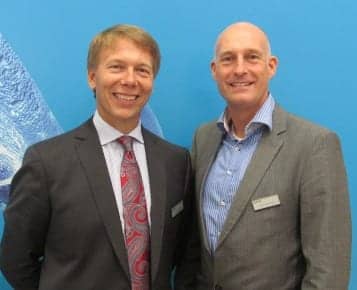 Unitron's Bruce Brown and Andre de Goeij
Unitron introduced its next-generation Moxi2 and Quantum2 on the Era platform, incorporate features designed to deliver the ease of listening and clarity of speech necessary to create a best first-fit experience and overall increased patient satisfaction. The product families are available in new styles, including the new robust Moxi2 Dura as well as a new BTE— both are available in Flex:trial and Flex:upgrade, as well. In a conversation with Unitron's Bruce Brown and Andre de Goeij, they talked about the impact of Flex on attracting new first-time users, streamlining first-fittings and inventory, and even the potential for Flex within global markets involving subsidized hearing aids.
Starkey Hearing Technologies offered its all new 3 Series custom aids in CIC, ITC, and ITE products, billing them as the company's smallest, smartest, and most reliable custom wireless products ever. The new products are compatible with Starkey's SurfLink Mobile devices. Also launched by Starkey was the SoundLens 110 IIC.
Stay tuned to HR's webpage for more updates on new product launches and technologies from the EUHA convention. —KES