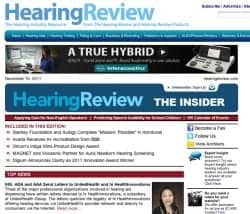 TOP NEWS and HEADLINES
BHI Issues Consumer Warning About DIY Hearing Care
UH Enters Market: HR Interviews hi HealthInnovations CEO Lisa Tseng, MD
IHS, ADA, and AAA Send Letters to UnitedHealth and hi HealthInnovations
New Stem Cell Therapies Being Developed for Hearing Loss
New Esteem Cochlear Device from Envoy Medical Goes Viral on YouTube
MTV Launches Reality Show Featuring Deaf Students of Gallaudet Univ
Noise-related HL May Occur Long Before Patients Perceive the Loss
AMA News Profiles UnitedHealth's Hearing Aid Business and ENT Reactions
NFL Players Association Signs Deal with EarQ
Obituary: Kenneth Dahlberg, Founder of Miracle Ear
US Hearing Aid Sales Show Slow but Stable Growth in Third Quarter
Audigy Group Holds First AGX Tech Summit in Phoenix
Sonic Innovations Launches New Branding Strategy
IHS, AAA, ADA send letters to UH/hi HealthInnovations questioning legality of online sales.
Three of the major professional organizations involved in hearing aid dispensing have directed letters to hi HealthInnovations, a subsidiary of UnitedHealth (UH) Group. The company announced in early October its plans to market hearing devices via UH's provider network and directly to consumers via the Internet (see November 3 and 10 HR Online News).
In a "cease and desist" letter to hi HealthInnovations CEO Lisa Tseng, MD, dated October 26, International Hearing Society (IHS) General Counsel John Paul Hessburg said that IHS believes hi HealthInnovations is not in compliance with FDA regulations in the company's online marketing of hearing aids due to the lack of provision of a User Instructional Brochure, labeling/warranty requirements, and steps to ensure "red flag" medical conditions are identified prior to dispensing a hearing aid. He also believes the company is in violation of most, if not all, state licensing laws because most states "expressly prohibit the sale of hearing aids to consumers in their State by individuals who are not, at a minimum, licensed in their State."
In particular, California, Florida, Kansas, Missouri, Nevada, New York, Oregon, Texas, Washington, and West Virginia have laws that ban mail-order sales or only allow these sales when there has been face-to-face contact, a prior fitting, or otoscopic examination by an individual licensed by that particular state, according to Hessburg.
An October 31 letter from American Academy of Audiology (AAA) President Theresa Walden, AuD, and Academy of Doctors of Audiology (ADA) President Bruce Vircks, AuD, was sent to Dr Tseng and Rhonda Medows, MD, chief medical officer/executive VP of UH Group. Walden and Vircks said that, when taking hi HealthInnovations' At-home online test, the softest sound heard by a normal-hearing listener resulted in a recommendation to seek a hearing device for each ear. They also requested clarification about whether the hi HealthInnovations device is a hearing aid or a personal sound amplification product (PSAP). As with IHS, they noted "statutory licensing requirements for dispensing hearing aids as well as the current regulatory requirements of a physical examination of the patient prior to a hearing aid purchase," and reminded UH that hearing aids are only one part of a comprehensive treatment and management plan in overcoming hearing loss.
Responding to HR's request for comment, Dr Tseng replied, "We look forward to continuing to work with hearing health professionals to improve the lives of people with hearing loss in new and innovative ways, and continuing to comply with applicable federal and state requirements as we do so."
See www.hearingreview.com/news/2011-11-04_02.asp for details.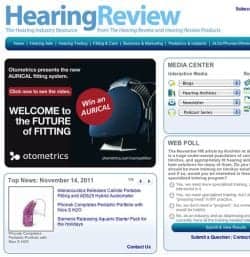 Get Your Weekly Edition of THE INSIDER
Every week The Hearing Review sends out THE INSIDER, a weekly FREE e-newsletter devoted to the top hearing-related news, research, product introductions, fitting topics, and marketing research stories that are influencing your business or practice, as well as the industry at large. [register]Sign up for your free subscription[/register].