By Karl E. Strom, Editor-in-Chief
On September 7, 1983, White House Spokesman Larry Speakes announced that President Ronald Reagan was wearing hearing aids. It was the fitting heard round the world. A barrage of public press coverage concerning hearing healthcare and hearing aids ensued, ranging from TV coverage and interviews to full-page articles in Time and Newsweek.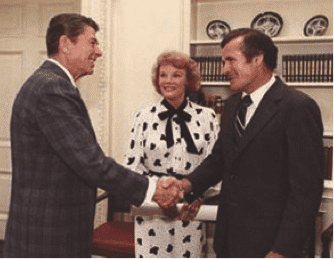 President Reagan and actress Nanette Fabray met with Better Hearing Institute Director Joe Rizzo in the White House in 1983.
Even better for the hearing industry, Speakes and the White House deftly spun the President's hearing loss as being anything but age-related. When asked by a reporter if the hearing loss wasn't a sign of the President's age (he was the oldest president to take office), Speakes quickly answered, "What's age got to do with hearing?" The President, age 72, said that his hearing loss dated to his early Hollywood days when a .38-caliber blank was fired close to his right ear on the set of the 1939 film Code of the Secret Service. At the time of the initial announcement, the President was fitted with Starkey INTRA hearing aids, although some believe he may have first used hearing aids as early as when he was governor of California. Several Washington correspondents were aware of, and at least one had previously brought up,1 Reagan's hearing loss and the problems it was causing.
Consistent with President Reagan's political career, the timing of his 1983 announcement was impeccable. The hearing industry had been adversely impacted by the country's worst recession (mid-1981 through 1982) since the Great Depression and the country had seen historic highs in unemployment (10.8% in November 1982) that rivaled even those of our more recent "Great Recession."
The fitting of the Commander-in-Chief encouraged a widespread acceptance of hearing aids among the general public—particularly seniors—resulting in increased sales throughout the industry. Private sector hearing aid sales, which had seen 3 years of double-digit growth from 1979 to 1981, had slumped to just 2.4% in 1982. After the President's acknowledgement of hearing aid use, unit sales soared by 30% in the fourth quarter of 1983. In fact, 1983's year-on-year growth rate of 20.5% represents an all-time record in sales, according to Hearing Industries Association (HIA) statistics.
Was President Reagan the reason? Like anything even remotely related to politics, it's debatable. Several factors probably play into what has become known in the industry as the Reagan Effect. One is the previously mentioned strong unit growth during this period and unusually weak sales of 1982 (thus magnifying 1983 sales statistics). Intertwined with this is the coming-of-age of dispensing audiology, which followed the June 1979 decision by ASHA to change their Code of Ethics that prohibited audiologists from engaging in the retail sale of hearing aids. According to circulation statistics from Hearing Instruments magazine, the number of dispensing audiologists increased fourfold from 912 in 1980 to 3,930 in 1987 (oh, for those types of numbers again!). Another important point is that the Hearing Industries Association (HIA) revised its statistical program following 1982—and apart from 1982, sales from 1979 to 1987 appear to follow a linear track.
Regardless, there is little question that President Reagan made a substantial impact on hearing care awareness and served as perhaps the US hearing industry's most influential ambassador. While in office, President Reagan made a Presidential Proclamation, officially declaring May 1986 as "Better Hearing and Speech Month."2 Likewise, his April 1988 public service announcement on behalf of the National Council on Better Speech and Hearing Month, a group made up of 20 organizations including the Better Hearing Institute (BHI), was nothing short of a wonderful and heartfelt endorsement of hearing healthcare and amplification (click here in our digital edition to see it).
President Clinton would follow with his announcement of hearing aid use on October 3, 1997, which also set off a similar flurry of press reports about hearing loss and hearing aids. HR reported that in the first 3 days following the announcement, there were 178 TV broadcasts (a huge number then, albeit modest by today's standards) about the President's hearing loss and amplification. However, the Clinton Effect did not bring about an explosive growth in sales—although he certainly did serve as a wake-up call for his peers in the Baby Boomer generation to take positive action on their hearing loss.3
For a personal recollection of fitting President Reagan, see the article by Siemens Hearing Instruments Vice-president of Audiology Thomas Powers, PhD, in this month's Hearing Review Products, which is polybagged with this edition of HR. —KES
References
1. Sellinger MB. Thanks to modern electronics, the President's hearing seems to be right on the button. People. 1984;22:8. Available at: www.people.com/people/archive/article/0,,20088476,00.html
2. The American Presidency Project. Proclamation 5486—Better Hearing and Speech Month, 1986 [May 21, 1986]. Available at: www.presidency.ucsb.edu/ws/?pid=37315
3. Kochkin S. Where is the Clinton Effect? Hearing Review. 1998;5(2):6,15.
---
Looking Back…
E.J. Mynders receives an award for his high-profile advertising in the Saturday Evening Post by SHAA President Thornton Zanolli. Featured speaker Aram Glorig is seated.
.…60 Years Ago to September 1953
The National Hearing Aid Show, a 3-day joint convention of the International Hearing Aid Association (IHAA) and the Society of Hearing Aid Audiologists (SHAA), was convened at the Commodore Hotel in New York City. The featured speakers were Barry J. Anson of Northwestern University who presented "The Development of the Ear and Temporal Bone" and Aram Glorig of Walter Reed Army Hospital.
....50 Years Ago to September 1963
Danavox introduced a new eyeglass instrument, the 650, which was said to permit instant removal and replacement from the temple housing. This was reportedly the "first time in the design of modern transistor hearing aids that this technique has been totally successful in the field of sub-miniature electronic hearing aid design." A BTE model (the 645) with the same features was scheduled for later release.