According to statistics generated by the Hearing Industries Association (HIA), net hearing instrument unit sales increased by 3.5% to 1.22 million units during the first half of 2007 compared to sales of 1.18 million units in the first half of 2006. Private sector dispensing of hearing aid units increased by 2.2%, while the Department of Veterans Affairs (VA)—which accounted for 13.9% of all hearing aids dispensed in the first half—increased by 12.1% at the midway point of the year.
Looking at the first two quarters of 2007, total hearing aid sales during the first quarter were 1.1% over 2006 sales, and the second quarter was significantly better with a 5.9% increase. Private dispensing offices saw sales increases of 0.07% and 4.5% in Quarters 1 and 2, respectively, while the VA saw sales increase by 8.8% and 15.4%, respectively. The mid-year numbers may be somewhat stunted due to last year's strong first-half sales: private sector hearing aid sales had increased by 8.1% at the mid-point of last year (compared to 2005 sales), while VA dispensing activity had increased by 5.5%.
Digital sales accounted for 92.2% (private sector: 91.0%, VA: 99.6%) of all hearing aids sold, up nominally from 91.7% for all of 2006. Close to market saturation (ie, more than 9 of 10 aids dispensed are digital), the digital hearing aid market share has been relatively static for over a year.
More interesting has been the surge in popularity of BTEs. At mid-year, BTEs constituted 50.2% of all hearing aid sales (private market: 52.0%, VA: 38.8%), driven largely by the popularity of mini-BTE open-fit and receiver-in-the-ear (RITE) technology, as well as the increased use of directional systems and perhaps other hearing aid features that could favor BTE use (see figure). Ten years ago, in 1997, BTE market penetration was only18.8% (339,000 units). HR predicts that BTE use will continue to increase, approaching 55% by year's end. However, in the long term, they will not come close to matching the levels seen in Europe. For example, BTE market penetration is estimated at 83% in France and 89% in Germany.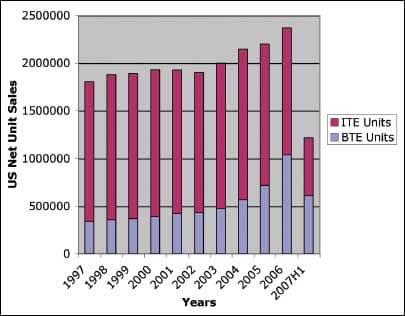 There were 1.22 million hearing instruments dispensed in the United States during the first half of 2007, a 3.47% increase over the same period last year. BTE hearing aid sales in the first half constituted 50.18% of the market and have already surpassed the number of BTEs dispensed in all of 2004. Source: HIA
Although it may seem like somewhat slow industry growth, the 3.5% overall industry growth rate is actually on the high end of predictions by HR that the 2007 market would see unit volume increases between 2% and 5%. Given the current growth rate of the market, hearing aid sales would approach 2.5 million units by the year's end.
On the manufacturing level, HR statistics suggest that the unit gains are extremely unbalanced, favoring a limited number of large hearing instrument manufacturers. Several smaller-volume hearing aid manufacturers have witnessed significant sales declines in the past 9 to 12 months, according to these same figures.
Karl Strom
Editor-In-Chief