If you missed the AAA show in Boston this year, here's a summary of some of the new products featured by various hearing care manufacturers and services.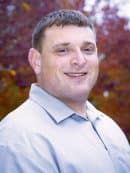 AUDBLING
AuDBling's latest products include a necklace, charm, and wrist band using the company's signature heart and theme "Hear with Your Ears~Listen with Your Heart." AuDBling products are beautiful and a natural "conversation starter" that may lead to an open discussion about hearing loss and the benefits of treatment, a discussion that is important not only to audiologists and their current patients, but also to those who are living with untreated hearing loss. The company's goal is for "cochlea jewelry" to become a symbol of the importance of receiving treatment for hearing loss.
www.AuDBling.com
(941) 320-6167
---

AESCU TECHNOLOGY INC
Cube 4 is an all-in-one wireless hearing system for people with reduced hearing. It can be easily used in different listening situations where amplification is required, such as having conversations, watching television, listening to radio, and talking on the telephone and on the mobile phone. Cube 4 uses advanced digital and wireless technologies, including 4-Channel WDRC, adaptive feedback cancellation, and noise reduction to bring users a clear sound experience. A specially designed headset provides bilateral listening.
www.aescutechnology.com
+886-2-2795-6019
---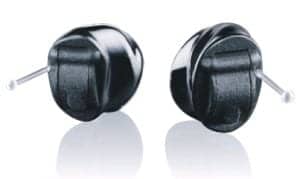 AUDIFON
elia pico is audifon's new miniCIC with a discreet design that is both functional and reportedly performs to the highest standards. With its black faceplate, elia pico disappears almost completely in the shadow of the ear canal. Discerning customers also may enjoy the simplicity of elia pico, which features Sound Dynamix automatic situation recognition. elia pico also needs no special impression technique, and therefore is easy to fit for hearing care professionals and their customers.
www.audifon.com
(800) 776-0222
---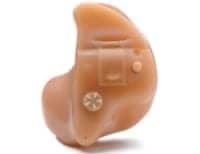 BELTONE
Beltone introduced the Wireless True Optima 2000 full shell, designed for patients who desire a Beltone True™ custom wireless product and need a larger device due to dexterity issues. The product is available in three technology levels and is protected by HPF 80 Nanoblock coating. The instrument's wireless functionality makes it compatible with Beltone's Direct Line™ of wireless accessories. Additional options include data logging and the unique Auto-Phone option.
www.beltone.com
(800) 621-1275
---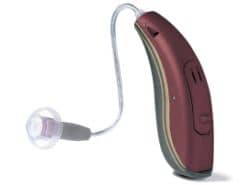 BERNAFON
Swiss manufacturer Bernafon presents the Chronos Nano RITE at AAA 2012. The receiver-in-the-ear model completes the Chronos product family, which now includes five BTE and six ITE instruments. Small and compact, the Chronos Nano RITE combines performance with style. The new M and P speakers are available in four lengths, while the large number of acoustic options widens the fitting range enormously. Features also include Audio Efficiency™ technology, comprising ChannelFree™ signal processing; high performance Adaptive Feedback Canceller Plus; and Bluetooth® connectivity with Bernafon's SoundGate device.
www.bernafon.com
(888) 941-4203
---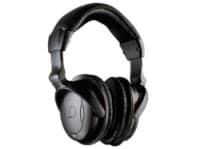 CLEARSOUNDS COMMUNICATIONS INC
ClearSounds Communications Inc launches their newly redesigned Infrared TV Listening System. The ClearTV features a comfortable over-the-ear headset with sound that is controlled with an easy-to-use volume wheel. The transmitter's built-in digital to analog converter is designed for easy TV connectivity. The system also features a stylish look for design-conscious consumers.
www.clearsounds.com
(800) 965-9043
---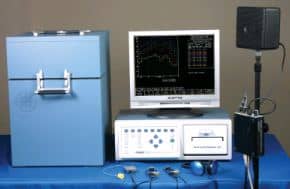 FRYE ELECTRONICS
Frye Electronics demonstrated the FONIX 8000 Hearing Aid Test System with its latest software that features the ISTS (International Speech Test Signal). In the ISTS noise test, a standardized speech-like signal is presented and a third octave analysis is performed. Results are displayed as the LTASS and the 30th, 65th, and 99th percentile. Other updates to the FONIX 8000 software include improvements to the directional polar and directional difference tests. These measurements have been split into two different screens and the 2D-DI directivity index measurements have been added.
www.frye.com
(800) 547-8209
---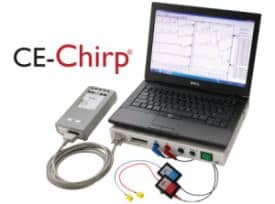 GRASON-STADLER INC
CE-Chirp® is a new broadband stimulus available on the GSI Audera from Grason-Stadler Inc (GSI). CE-Chirp optimizes the stimulus, so energy from the stimulus reaches all regions of the cochlea at approximately the same time. This change in the stimulus presentation offsets the mechanics of the cochlea's traveling wave and results in an Auditory Evoked Potential (AEP) waveform that is significantly increased in amplitude. According to the company, the AEP response to the CE-Chirp is 1.5 to 2 times greater than a traditional click stimulus, decreasing test time, improving waveform detection, and increasing clinical confidence.
www.grason-stadler.com
(800) 700-2282
---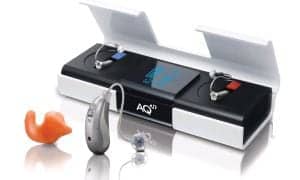 HANSATON
Hansaton showcased its AQ rechargeable RIC at AAA. The new AQ X-Mini Rechargeable RIC combines Hansaton's rechargeable systems with the functionality, design, and ease of use of a receiver-in-the-canal instrument. The 20 hours of operation per charge AQ X-Mini uses the same patented inductive charging technology as the AQ Custom Hearing Systems, adapted to a BTE case design, ensuring ease of use. Slip the instrument into the charging station, and the charge cycle is initiated automatically.
www.hansaton-usa.com
(888) 984-7432
---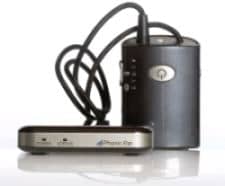 HARC MERCANTILE LTD
HARC Mercantile Ltd has introduced Hearit Media, a Bluetooth communication amplifier from Phonic Ear for both TV and mobile phones. Hearit Media has a transmitter that connects to a TV or audio source to transmit sound via Bluetooth to the receiver. The amplified receiver, which also can be paired to receive Bluetooth transmissions from a mobile phone, has a neckloop for people with hearing aid telecoils to wirelessly receive the TV audio, and also a headphone connection for those without telecoils. Phone calls can be answered directly through Hearit Media, even while watching TV.
www.harc.com
(800) 445-9968
---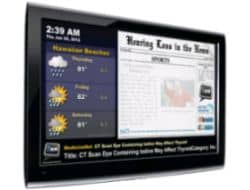 HEARING NEWS NETWORK INC
Hearing News Network Inc (HNN) introduces a new series called "Hearing Loss in the News" by the Better Hearing Institute (BHI). The Hearing News Network brings customized digital content directly to hearing professionals' waiting rooms. Our new feature will take informative BHI articles and bring them to life as visually engaging news pieces combining text, images, and video. This approach can captivate viewers' attention and educate them about hearing loss and your practice. Bring education, new product launches, and staff biographies directly to life for your patients.
www.hearingnewsnetwork.com
(877) 999-4483
---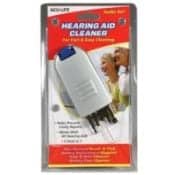 HEALTH ENTERPRISES INC
Health Enterprises Inc introduced the Audio Kit™ hearing aid cleaner for fast, easy, and effective daily cleaning. All five tools needed for daily cleaning are built into a comfortable, easy-to-hold handle that works on all types of hearing aids. The brush and pick help clean and remove wax from small openings in the hearing aid, while the tube and vent cleaner keeps tubes and vents clear of debris. The battery door opener makes it hassle-free to open the battery door, while the battery replacement magnet also makes replacing batteries easier.
www.healthenterprises.com
(800) 633-4243
---
MED-EL
MED-EL featured the new OPUS 2XS, which the company says is the world's smallest and lightest audio processor. Designed to provide improved hearing performance in real-life listening situations, the OPUS 2XS was developed for small ears, measuring 10 mm shorter and 25% lighter than the OPUS 2 with a standard battery pack, so that it fits children's ears comfortably and safely. Adults also may appreciate a hearing solution that is small enough to be worn discreetly. Enhanced insulation makes OPUS 2XS extraresistant to dirt, dust, and sweat.
www.medel.com
(888) 633-3524
---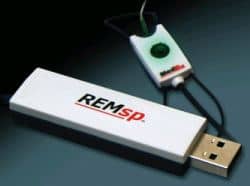 MEDRX INC
MedRx is highlighting their New Live Speech Mapping, Real Ear Measurement System, the AVANT™ REMsp. The system features DSL and NAL-NL2 Targets for Live Speech Mapping and is designed for open fit testing. Input levels can be viewed in either LTASS or peak hold mode, and include built-in sound files (MP3). The AVANT REMsp also features a hearing loss simulator for third-party demonstrations. The REMsp is USB powered and is approximately 1 x 3 inches in size, and therefore lightweight and portable. Standard accessories include a powered speaker, USB extender cable, and custom carrying case. AVANT REMsp is also NOAH™, SycleNet, and TIMS® compatible.
www.medrx-usa.com
(888) 392-1234
---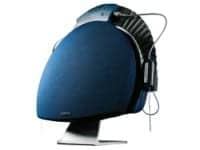 OTOMETRICS
Otometrics showcased ICS Impulse, the Video Head Impulse Testing (vHIT) device, a new addition to their premium balance portfolio. ICS Impulse is reportedly the first and only vHIT system to be approved by Drs Michael Halmagyi and Ian Curthoys, who brought HIT to the attention of the world in 1988. The vestibular function of both ears can be assessed and documented in less than 10 minutes from patient entry to reporting. ICS Impulse is currently FDA pending.
www.icsimpulse.com
(800) 289-2150
---
OTOVATION LLC
Otovation expands its product line with the OTOSphere® clinical audiometer. OTOSphere is a portable, two-channel audiometer that is designed to offer the flexibility of multiple headset configurations, high-quality free-field speakers, built-in amplifier, USB PC connectivity, and seamless integration with NOAH 4.0. OTOSphere is controlled by the company's Symphony NOAH Module, allowing users to work with patient information and results from a variety of equipment platforms through NOAH.
www.Otovation.com
(866) 686-8284
---
PANASONIC CORP
Panasonic highlighted its R1-W Series open-fit RIC, a digital hearing instrument designed for people with mild-to-severe hearing loss. Offering a compact size and curved shape, the device fits comfortably and discreetly behind the ear. The Hearing Hub allows users to wirelessly connect to Bluetooth®-compatible mobile phones, landlines, and Panasonic's Audio Transmitter, enabling sound to automatically transmit into the hearing device. This accessory also lets users record voice memos, allowing for up to five 2-minute and 40-second recorded files. The R1-W also features a battery management tool that protects the battery by preventing drainage when placed in a dehumidifier, helping power to last approximately 300 hours.
www.panasonic.com/hearing
(888) 422-6309
---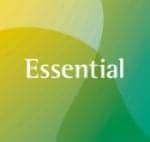 PHONAK
Phonak introduced the new performance level "Essential," based on Spice+ technology. This competitive offering includes a new product family named Phonak Dalia with a broad range of three custom and four behind-the-ear (BTE) styles, as well as an entry-level model of the award-winning Audéo S SMART I and Naída S I. Essential is designed to meet the needs of end users who are seeking value without compromising on latest technology and state-of-the-art features.
www.phonakpro-us.com
(800) 777-7333
---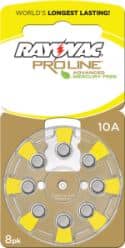 RAYOVAC
Rayovac is providing another solution for hearing health practices, adding free 24-hour shipping, guaranteed. The added benefit is offered exclusively to its ProLine Business Builder Program. Available on qualifying orders, this new service saves ProLine customers both time and money, providing Rayovac ProLine batteries shipped direct when practices need them. Along with this service, ProLine Business Builder provides tools developed specifically to grow hearing care practices.
www.thepowerofhearing.com
(800) 356-7422
---
RESOUND
ReSound launched ReSound Vea™ at AAA. The new budget hearing instrument is designed to deliver superior sound quality and speech understanding in noise. Vea features Adaptive Directionality with Integrated Wind Noise Management, Soft-Switching, Warp processing, Noise Tracker II, and Dual Stabilizer II technology for clearer sound and greater performance in dynamic listening situations. Vea also is treated with iSolate nanotech, the same level of durability and protection available on high-end ReSound models. Vea will be available in seven different models and allows for fitting flexibility with customization of the gain to the patient's individual hearing loss.
www.gnresound.com
(800) 248-4327
---
SONIC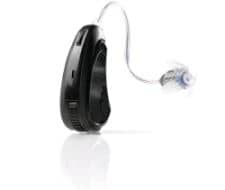 Sonic is showcasing the new miniRIC. Despite its compact size, Flip includes popular features desired by patients, such as a long-lasting, easy-to-handle size 13 battery, fumble-free operation, and wireless device connectivity. Flip also features Sonic's sound quality, a new adaptive feedback canceling system, and noise management features. Flip was also designed to make it easy for hearing care professionals to fit and patients to use.
www.sonici.com
(888) 423-7834
---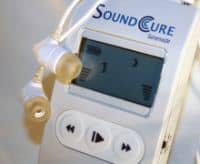 SOUNDCURE
Serenade® is a new sound therapy system for the relief of tinnitus. Simple to use and customized to each patient, Serenade's digital signal processing system is based on the relationship between specific tonal algorithms and their effects. Serenade combines multiple sound therapy approaches in one device, offering three types of soft treatment sounds. It includes S-Tones®, novel, temporally patterned sounds customized to each patient; SleepAssist, for relief while sleeping; independent left/right volume controls; and data logging records of patient usage.
www.Soundcure.com
(408) 938-5745
---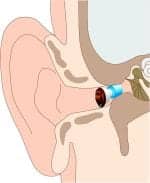 SIEMENS HEARING INSTRUMENTS INC
Siemens introduced Eclipse XCEL, a new CIC designed for comfort with minimal occlusion that includes XCEL, Siemens' new generation of its BestSound™ Technology. With Eclipse XCEL, an almost invisible new CIC, Siemens says that it is delivering an ultradiscreet device that minimizes the occlusion effect typical of CICs and IICs. Featuring a special soft dome that sits in the bony portion of the ear canal, Eclipse reportedly enables a very deep, yet very comfortable fit, very close to the eardrum for a more natural sound. Siemens also designed the Eclipse for hearing care professionals by not requiring a special, deep-fit impression. Instead, a standard impression will suffice.
www.usa.siemens.com/hearing
(800) 766-4500
---
STARKEY HEARING TECHNOLOGIES

Starkey is featuring Wi Series™ custom products at AAA 2012, including the Secret Ear completely-in-canal (CIC), in-the-canal (ITC), and in-the-ear (ITE). Starkey's proprietary Comfort Fit process allows for smaller, more comfortable custom wireless products. All styles offer full wireless functionality, including wireless media streaming and programming, binaural spatial mapping, ear-to-ear communication, and synchronized user controls. Additionally, Wi Series custom products include Spectral iQ, Voice iQ2, PureWave Feedback Eliminator, Hear Clear™ with HydraShield®2, and Self Learning, along with volume control, program switch, directional microphone when available, automatic telephone response, and telecoil.
www.StarkeyPro.com
(800) 328-8602
---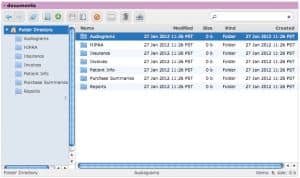 SYCLE.NET
Sycle.net is introducing its new electronic document management system, Sycle.net eDocs, a service that allows Sycle.net users to manage, store, retrieve, and distribute all of their patient documents electronically. eDocs will allow clinics to electronically capture patient documents via upload or scanning and attach them to a patient summary in Sycle.net. Users are able to create unlimited folders to organize their patient records however they see fit, and access documents from anywhere in the world with an Internet connection.
www.sycle.net
(888) 881-7925
---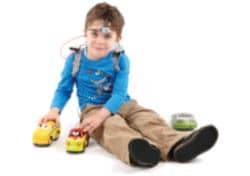 VIVOSONIC
Vivosonic has announced the newest release of Integrity™ for advanced hearing diagnostic testing. Highlights include: new and improved Amplitrode®, choice of OAE probes for pediatric use, better battery performance, ABR recording enhancements, easier wireless connectivity, and more. Integrity uses Kalman Weighted Averaging and patented technologies that enable better handling of myogenic artifact, better immunity to electromagnetic interference, and convenient wireless capabilities. Integrity offers nonsedated ABR, OAEs, noninvasive ECochG, and fully automated ASSR.
www.vivosonic.com
(877) 255-7685
---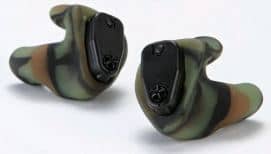 WESTONE LABORATORIES
Westone is introducing DefendEar® at AAA 2012, the latest edition to its hearing protection product line. DefendEar Digital 1 and DefendEar Hunter electronic hearing protection feature CENS digital technology. Both models are designed to protect hearing from gunfire, while allowing low level speech to be understood. A modular design allows DefendEar to incorporate the CENS electronic design with Westone's maximum attenuating Style #40 hearing protector.
www.westone.com
(800) 525-5071
---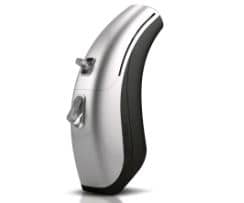 WIDEX USA INC
In addition to their recently expanded premier product lines of CLEAR 440/330/220 and FUSION 440/330/220 models, Widex will present their new SUPER line of hearing instruments, which introduces RITE technology to the super power segment. SUPER offers a small compact housing, a convenient 675 battery for long battery life, and a choice of power and super power receivers, designed flexible solutions, and improved sound quality. SUPER supports front-back sound orientation with features such as a unique IE compression system and digital pinna. SUPER will also include Widex's Audibility Extender feature and be available at two levels of technology, 440 and 220.
www.WidexPro.com
(800) 221-0188