Oticon's Delta Adventure
Bold is beautiful—at least in the world of audiology. A decade ago, behind-the-ear devices or BTEs represented less than one-fifth of the hearing aid market: 18.8% in 1997, according to the Hearing Industries Association (HIA).1 In 2007, HIA found that open-fit devices had grown to capture slightly more than half or 51.4% of the overall US market.1
The increase in popularity is related as much to new design as to new technology. "They look good, but they also work well in the situations where they need to," says George Lindley, PhD, AuD, manager of distance learning for Oticon Inc, Somerset, NJ, of open-fit models.

Oticon's Delta Fairway
That functionality is due to advanced technology, which some feel has enabled the innovations in design. "The introduction of receiver-in-the-canal (RIC) devices was not a departure in design but technology," says Thomas Powers, PhD, vice president of audiology and professional relations at Siemens Hearing Instruments, Piscataway, NJ. RIC hearing aids use canal receiver technology (CRT) and may also be referred to as receiver-in-the-ear (RITE) devices.
THINK DIFFERENT
Powers credits advanced circuitry that improves feedback, noise reduction, and occlusion with facilitating new designs, and he expects that as manufacturers work with their second- and third-generation feedback systems, new departures in design may occur. "Is there something new and different we can do with the design given that we have a different circuit?" Powers asks.
Oticon asked itself what it could do differently while developing Delta, its unique mini-BTE, which employs RIC technology. "It is not shaped triangularly just to look different. The way it sits on your ear maximizes the noise reduction feature and the performance of the directional microphones," Lindley says. The triangular shape does not resemble a typical hearing aid, and the company prefers to refer to it as a hearing "device." As such, Delta is an ideal solution for those Lindley refers to as "hearing aid resistant."
Bill Christman, marketing manager, with Unitron Hearing US, Plymouth, Minn, thinks the fact that newer devices, such as RICs, look less like hearing aids is also appealing to people who have put off obtaining amplification. "Hearing aids today don't look like their grandfather's hearing aids," Christman says.
This is true across all categories, including BTEs. Patients with more hearing device experience may be willing to exchange more features for one of these larger devices. The tiny size of micro-devices limits their capabilities; they often do not, for instance, feature volume control or a telecoil. BTE devices, both traditional and RIC, may be slightly larger, but they have more room for additional features while still providing a cosmetic option.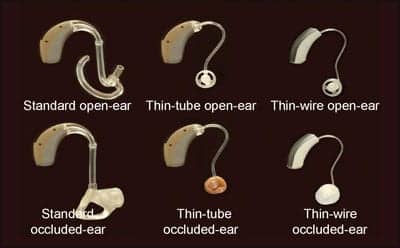 George Lindley, PhD, AuD
MILES OF STYLES
In addition, new colors—both those that blend better with hair and those that stand out as fashion statements—make the devices more attractive stylistically. Delta's shell comes in 16 colors, including silver, purple, leopard, flowers, and faux golf ball dimples. Siemens Hearing's Active RIC products can offer up to 13 color options depending on the model.
Hearing Products Report took a look at what is on the market in the open-fit category and summarized them below. Most companies offer a range of products from the simplest and most economical to the most advanced and expensive. Many devices now come in a range of colors, and each product family often offers a traditional BTE as well as an RIC model—see the sidebar for the newest RIC offerings.
HANSATON
Hansaton Hearing Instruments, headquartered in Hamburg, Germany, offers open-fit technology in its Leonardo, Style, SoundManager, RELAXX, Fresh, Activo, and Dynamic lines. One of the company's most advanced products, Leonardo, offers intelligent communication, data logging, and optimized feedback management. SoundManager features two RIC devices with minor differences (such as four versus eight channels). RELAXX provides situation control digital speech detection and feedback management. Entry-level digital device Fresh has a "good price-performance ratio" while Activo offers the "best price performance ratio," according to company marketing materials. And Dynamic is the high-power variant designed for those with severe hearing loss.
OTICON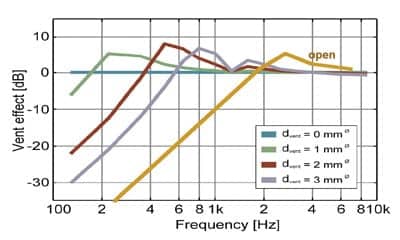 Phonak's Exélia BTE
Delta is Oticon's most popular open-fit product, according to Lindley, but it is not the company's only offering. The new Epoq line also features an RIC as well as a BTE model (see sidebar for more information). Established lines, such as Syncro, Safran, Tego and Tego Pro, Sumo DM, and Go Pro also feature open-fit models. In some instances, a BTE can be transformed into a slim tube, open fit with a device called Corda that replaces the traditional ear hook and mold with a thin tube and dome (similarly, it can adapt open-fit models to custom molds).
The Syncro and Safran lines feature artificial intelligence that automatically adapts to the environment and advanced sound processing technology for speech enhancement and noise reduction. Tego and Tego Pro use the DecisionMaker technology to keep speech clear and reduce unwanted noise with many adjustments made automatically. Sumo DM is the company's power BTE, appropriate for patients with more severe hearing loss, particularly in the lower frequency range. And Go Pro is the company's economic line.
PHONAK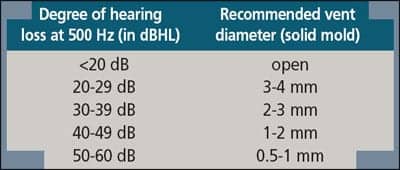 Thomas Powers, PhD
Exelia is the newest product family of Phonak Inc, Warrenville, Ill, to feature open-fit models, but Audeo, Savia Art and Savia, Perseo, microPower, Eleva, Valeo, Supero, extra, Una, MAXX and PowerMAXX, Claro, and Aero all also have open-fit options.
Exelia has incorporated the company's most sophisticated technology and has features such as SoundFlow, which optimizes the device settings to the environment; VoiceZoom, which uses 33-channel high-resolution microphone directionality to target speech and reduce background noise; technologies that reduce or block feedback, echoes, wind, and background noise; SoundRelax to suppress transient sounds; Real Ear Sound to accurately judge the direction of sound; and Zoom Control, which is used to focus hearing.
Audeo is another of the more advanced hearing aids from Phonak and features technologies such as CrystalSound, which improves clarity with optimum amplification and an extended high-frequency range, and Digital SurroundZoom, which automatically senses and selectively suppresses multiple noise sources in 20 separate channels. Supero is a BTE designed for patients with severe to profound hearing loss. And the remaining products fill out additional lifestyle and pricing options.
SIEMENS HEARING INSTRUMENTS
Open to Open Fit
Most patients are open to open-fit hearing devices because they leave the ear unoccluded, "maintaining the natural acoustics of the ear," says Bill Christman, marketing manager for Unitron Hearing US, Plymouth, Minn. In general, open-fit devices are BTE (behind-the-ear) products that feature two options: the receiver-in-the-aid (or RIA, the classical BTE offering) or the receiver-in-the-canal (RIC, also known as receiver-in-the-ear or RITE).
RIA models use a slim tube to carry the sound through the air down into the patient's ear. The RIC delivers sound through a wire electronically. "With the RIC, you tend to have a smoother frequency because the receiver is in the ear," says George Lindley, PhD, AuD, manager of distance learning with Oticon Inc, Somerset, NJ.
Another difference is the size of the devices. "BTEs with the receiver in the canal tend to be smaller since we've taken that component out," says Thomas Powers, PhD, vice president of audiology and professional relations for Siemens Hearing Instruments, Piscataway, NJ. Similarly, the earpiece of an RIC will be bigger and may restrict use in patients with smaller ear canals, such as very young children.
Open-fit products are generally more suitable for patients with mild to moderately severe hearing loss, which generally falls into high-frequency ranges. Attached custom moldings, however, can expand usability. "We now see people using open-fit products, whether the receiver is in the instrument or the canal, combined with a custom-type mold to give the device a tighter fit and retain some low-frequency amplification," Powers says. So even more patients can be open to open-fit.
Siemens Hearing Instruments offers two groups of products in the open-fit category: Life, which is a traditional open-fit BTE model, and Active, an RIC device. They are available in most of the company's product families, including its premium line Centra.
Centra models feature Siemens Hearing's most sophisticated technology: SoundSmoothing tackles transient noise, reducing the disturbance of sounds such as clinking silverware and rustling papers; DataLearning is an intelligent volume control system; and e2e wireless enables two hearing devices (ie, the left and right ears) to communicate and keep signal processing in sync.
Artis, one of Siemens' mid-level lines, also includes e2e wireless. It traditionally includes digital noise reduction and speech enhancement in 12 independent channels as well as an automatic, multichannel adaptive directional microphone system and DataLearning.
Cielo 2, Siemens' other mid-level line, features an adaptive TwinMic directional microphone system, six frequency and compression channels, feedback cancellation, noise reduction, and wind noise reduction.
STARKEY LABORATORIES
Starkey Laboratories Inc, Eden Prairie, Minn, offers a number of models and features within the Destiny family of products. Advanced technology includes Active Feedback Intercept (AFI), a feedback canceller; environmental adaptation, designed to seamlessly transition from one sound environment to the next; directional speech detection; automatic telephone response; self-check to test the device's function; and data logging, for use by the audiology professional in fitting the device. Styles include a BTE, available in 13 standard colors and 16 deluxe colors, and an RIC, with three color options.
UNITRON HEARING
Siemens's Centra
Unitron Hearing has a large range of open-fit products designed for every lifestyle and price point. These include eight models of Moda, an ultrasmall open-fit BTE; eight models of standard BTEs (using a 13 battery) that can also be used as open fits by coupling them to a slim tube; and five models of the Moxi CRT product (a newer hearing device).
Moda devices range from slim tube open to standard ear mold fittings and are ideal for patients with high-frequency mild to moderate hearing losses. The style is available in a wide range of colors and features U:fit fitting software. Features vary with the product family.
BTE features also vary with family and are available in the Indigo, Element, Converse, Unison, and Breeze product lines. Indigo is Unitron's premium line and offers innovations that include AntiShock (reduces the shock of sudden noises), MyMusic (enhances music listening), and speech enhancement LD. The Element 16, Element 8, and Element 4 models grow in complexity, with 16 offering the most advanced features, including the AntiShock and speech enhancement technologies. All three feature three manual listening programs; Element 8 adds autoMic, which intelligently switches between omni and directional microphone strategies, and Element 16 features autoPro2, two distinct listening destinations within one automatic program. Conversa, Unison (with three lines), and Breeze offer fewer features but provide a more affordable option for some patients.
WIDEX
Widex, Vaeloese, Denmark, also features a wide range of hearing aids. Passion is the company's RIC model and comes in 12 shell colors. The open-fit Elan is available in many of the company's product families, including Inteo, Aikia, Senso Diva, Senso Vita, and Bravissimo. Inteo is a premier model and features a dynamic integrator, a high-definition locator system, multipoint microphone matching, multidirectional active feedback canceling, customized listening programs, a speech enhancer, automatic performance, and high-definition sound analysis. The Bravissimo is Widex's economic option; it uses three-band and three-channel sound processing as well as an automatic feedback manager.
Additional details on all of the products mentioned in this story may be found online.
The Latest and Greatest
As open-fit hearing devices have reclaimed a large share of the market, manufacturers have developed more options in this category. "RIC [receiver-in-the-canal] devices went from a niche style to a very common approach. Only a few companies were doing RIC technology a year and a half or 2 years ago. Now, just about everyone is offering a product," says George Lindley, PhD, AuD, manager of distance learning for Oticon Inc, Somerset, NJ.
Oticon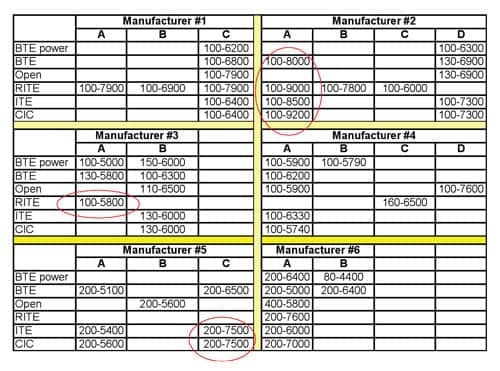 Oticon's Epoq
Oticon's newest line Epoq features an RIC model in addition to a BTE, ITE (in-the-ear), ITC (in-the-canal), and CIC (completely-in-canal) (Delta is currently the company's best-selling RIC device, see full story for more details). Epoq incorporates the highest level of technology that Oticon offers and provides solutions for conversations in noisy environments, sound location and spatial awareness, a crisper soundscape, and mobile phone usage. This latter feature is accomplished using the Epoq Streamer, a body-worn device that enables signals from modern communication devices.
Siemens Hearing Instruments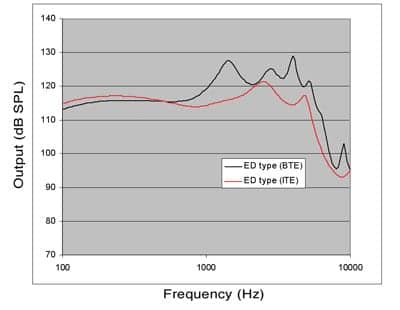 Siemens's Centra HP
The newest RIC device from Siemens Hearing Instruments, Piscataway, NJ, is the Active, available in the Centra and Cielo product lines. Centra is the more advanced line with SoundSmoothing, DataLearning, and e2e wireless. Cielo features data logging, speech and noise management, an automatic and adaptive directional microphone, a feedback cancellation system, wind noise reduction, and the ePocket remote control.
All Active models sport a nanocoating that protects against water and corrosion as well as C-Guard, which offers a defense against cerumen and humidity, resulting in enhanced reliability.
Unitron Hearing
Unitron Hearing US, Plymouth, Minn, introduced its newest open-fit products, including the Yuu Moda II and Yuu Moxi, this past fall. One of Yuu's biggest innovations is the Comfort-Clarity Balance technology that gives patients real-time control over adaptive speech enhancement and noise reduction to emphasize clarity or comfort in various situations. Other features include LearnNow (intelligent or self-learning technology), a feedback manager, data logging, and AntiShock.
OnBoard control enables the hearing aid user to change volume control or programs with the push of a button located in the battery door. This feature is a response to surveys that have shown that patients like control, "even if they do not use it on a regular basis," says Bill Christman, marketing manager for Unitron Hearing US.
The Yuu Moxi features these advances as well, but the device is also available within the company's other product families Indigo and the three Elements. A power xReceiver extends capabilities to severe hearing loss, while an automatic telephone solution includes an easy-t and telecoil.
---
Renee Diiulio is a contributing writer for Hearing Products Report. For more information, contact [email protected].
Reference
The Hearing Review. US hearing aid units rise by 2.3% in 2007. January 25, 2008. http:www.hearingreview.com/news/2008-01-25_02.asp. Accessed February 25, 2008.