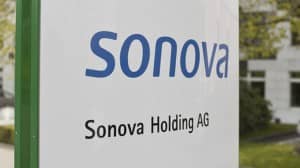 Sonova Holding AG announced that it is holding its fourth annual Investor & Analyst Day on October 13, 2015. Sonova reports that senior management will explain the value creation potential of the company's strategy, and its new products in both hearing instruments and cochlear implants. The company will also provide an insight into the development of its next generation 2.4 GHz wireless technology platform, which enables compatibility and flexibility in terms of future direct communication and connectivity solutions. The event is expected to attract significant interest from the international investor community with over 80 participants slated to attend the day at the headquarters in Stäfa, Switzerland.
"We are very pleased to once again share our growth oriented innovation strategy with such a large group of investors and analysts", said Lukas Braunschweiler, CEO of Sonova, in the company announcement. "Our confidence in the future growth potential of our business is underpinned by the continued global expansion of our sales and distribution network and by the success of the Phonak Venture and Unitron North product platforms. We continue to harvest the synergies between Advanced Bionics and Phonak as evidenced by the upcoming introduction of the new Naída CI sound processors. This, combined with our expanding eSolutions business model, will enable us to keep delivering attractive returns to our shareholders."
According to Sonova, a series of new products across all of the company's businesses will be presented today and subsequently showcased at the EUHA congress starting on 14 October.
Among Sonova's highlights are:
The new custom Phonak Virto V, the latest addition to the Phonak hearing aid portfolio based on the Phonak Venture platform. Running on Phonak's new AutoSense OS automation and Binaural VoiceStream Technology, Phonak Virto V is said to deliver 15-30% better speech intelligibility in noise. The new Floating Antenna enables devices with the full Venture performance to be built with a 25% smaller visible surface area than the previous generation. The new design features a faceplate with nano-coated battery doors, new volume controls and a push button which provides 20% better usability. Available in four performance levels, Phonak Virto V offers an clearer and more natural sound quality as well as up to 30% less battery consumption than the previous generation of custom hearing aids.
Following the introduction of Unitron's latest generation of RIC (receiver-in-canal) Moxi hearing instruments based on new product platform North back in April 2015, it is rounding out its offering built on North with Stride, a family of BTE (behind-the-ear) and ITE (in-the-ear) hearing instruments. The Unitron Stride family of BTE hearing instruments provides natural sound and enjoyable conversations in all listening environments paired with Unitron's patient-centric design philosophy aimed at achieving a mix of aesthetics, comfort, and functionality. Customized for comfort, the Stride ITE family offers the benefits of the North platform in a small package, ranging from the tiny IIC (invisible-in-canal) to full-shell super power instruments. Stride is paired with unique, industry-first solutions such as Flex and Log It All. Log It All enhances Flex by allowing hearing care professionals to gather information from a patient's experiences wearing hearing instruments to create evidence-based conversations about their lifestyle and technology level choices. The new Unitron Stride products are available in late October in five performance levels.
In the coming months, Advanced Bionics will launch its new, comprehensive Naída CI Q Series. With new sound processors, Advanced Bionics combines AB's technology with Phonak's most popular features for better hearing in all situations. The Naída CI Q90 processor offers new advancements in automation and microphone technology for focusing on speech. New and current Naída CI Q70 recipients can also benefit from some of the advanced new Q Series features, including those that automatically reduce obtrusive sounds and improve hearing in difficult environments. Designed to meet the needs of certain select markets, the Naída CI Q30 offers technology that helps with hearing in noise. Also new to the Q Series are PowerCel battery advancements that reduce size and improve battery life.
The slides of the Investor & Analyst Day presentations are available on the Sonova website on 13 October, 2015 starting at 9:00 AM CET.
Source: Sonova; Hear the World