The companies helped transform the old single-brand dealership system into today's modern, independent, multi-brand system
Sixty years ago, Harold Spar and Henry Meltsner—better known as "Hal" and "Hen" to the hearing industry—were discharged from the Navy as radio and radar technicians. Using the $200 they each received upon their discharge, the two men opened a business in a small $27-a-month office in the Bronx. Within a year, Hal-Hen would start supplying receiver cords to the hearing industry, with many more products to follow. Ten years later, in 1956, they would go on to establish Widex USA. It was the beginning of a long and prosperous journey.
This is the story of how two young men came home from World War II to start two unique manufacturing and distribution companies that relied on their backgrounds in electronics and radio technology. It is a story of how two American and two Danish families were brought together by an industry pioneer from England, and all would go on to help change hearing industry history. It is a story about how multi-line dispensing in the United States was transformed in part by their maverick way of thinking. It is a story of a technology leader that helped introduce digital products to the hearing care market. And, in some ways, it is also a parable about why nice guys really don't finish last.
Hal-Hen and Widex, after 60 and 50 years respectively, have gone on to become the dominant supplier of hearing care products and one of the top-six largest hearing aid manufacturers in the world. The companies have earned a reputation for fostering close, personal relationships with hearing care providers, and leveraging their experience and technical know-how to provide high-tech hearing solutions. They have done this through the hard work and hands-on approach of co-founders Hal and Hen, and also in large part through this same dedication to the field by their sons, Ron Meltsner and Eric Spar, who have succeeded them in running the businesses.
"In some ways, we're really the opposite of other companies," says Widex USA President Ron Meltsner. "We have a lot of experience here. We're not in the world of public companies, and our management is not going to be changing. People know that Eric and I are always going to be here, and they can always count on us."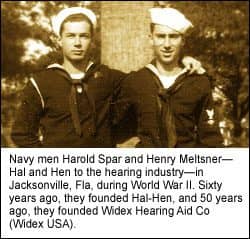 Hal-Hen and Widex have also earned a reputation for knowing the market and coming out with innovative technology. "Both of us have this business in our blood," says Widex USA Vice President Eric Spar who also serves as the president of Hal-Hen. "And, in our view, it all begins and ends with a successful patient fitting."
War Heroes and a Business Idea
You don't find many friends who are as close to each other as Harold Spar and Henry Meltsner—in fact, you don't find many brothers who are as close. Now just north of their 80th birthdays, the two have witnessed a lot of history. Anyone can instantly recognize the bond that the two men share, as they've worked, sold products, and told stories together for more than 60 years; they finish each others' sentences and quickly move to reinforce and enhance each other's stories.
"[After high school] both of us worked during the day, and I also went to school at City College at night," says Henry. "I wanted to be an electrical engineer until World War II broke out. I enlisted in the Navy the week after Pearl Harbor, and by that time, Hal had already been in the New York State Guard. Because I was always interested in flying, I put in for Aviation Radio Gunnery School."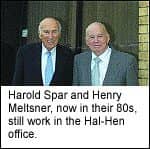 "Henry kept in touch with me when I went into the State Guard," interjects Harold. "After receiving a letter from Henry encouraging me to join the Navy, I did. Eventually, I took a course in electronics in order to become an aviation radio serviceman. I was soon assigned as a radio serviceman at a Naval base in Suriname [Dutch Guyana, on the northern coast of South America] where I would ultimately spend 2 years. Our base helped protect the convoys going over to Europe which were essential in the war effort."
Henry was sent to Jacksonville, Fla, to attend the Navy's Aviation Radio Gunnery School. Soon after starting class, he was struck ill, forcing him to wait until the next training session. This turned out to be a stroke of luck; his former classmates all ended up flying deadly dive-bombing missions in the South Pacific. Henry and the servicemen with whom he graduated were instead assigned to a PBY squadron (versatile aircraft that looked like large flying boats) in Jacksonville. By coincidence, it was during this time that Harold's squadron, which was enroute to Dutch Guyana, stopped there, and that's where the picture of the men in their Navy uniforms was taken.
But fate conspired to bring the two young men together once more during the war. "One day," says Henry, "my chief petty officer approached me and said, 'We want one man in the state of Florida to go to a special electronics school, but I can't tell you what the school is.' Of course, I had my eye on flight training and was reluctant to volunteer. But he said to me, 'Look, you go to this school.' So I did. Well, it turned out to be radar school—and radar was top-secret and the state-of-the-art in electronics at that time." Henry spent 80 weeks in an advanced radar training program at Chicago, Texas A&M, and other bases.
"At that time," interjects Harold, "you weren't even allowed to say the word 'radar' because it was top secret. We were all advised that this was the most secret subject for the Allied countries." The technology played a pivotal role in winning the war.
Henry finished his last training course in Corpus Christi, Tex, and by another stroke of luck, Harold's PBY squadron arrived there for refurbishment of their planes. "We met for a couple of days," says Henry, "and we talked about what we were going to do when we got out of the service. Hal said, 'Let's go into business together.' Now, at that time, we were just two kids, and we didn't know anything about business. But that's really where the idea of our partnership came from."
Electronics & Hearing Aids
The two made good on their resolution. "In truth," says Henry, "our service background didn't help us much at first, although we did repair radios for awhile." However, it was clear that radio repair wasn't going to be their main business.
Spar and Meltsner were interested in the growing electronics industry and saw the field as the future. Their first products were colored lightbulbs, as the War Department had restricted Westinghouse and General Electric from making these products. They also repaired radios, and were always on the look-out for unique opportunities in the electronics industry.
Harold's cousin was involved in the American Earphone Co, a manufacturer of hearing aids during WWII. The body-worn hearing aids in those days were at least twice the size of a pack of cigarettes, and had a wire extending up to a receiver on the ear. The company was looking for someone to make cords for their hearing aids.
Spar and Meltsner made their first hearing aid cords for the company. "As Hal and I spoke to dispensers around the country," says Henry, "we realized that each dispenser carried only one brand of hearing aid. That meant, if you were traveling and wanted to purchase a replacement cord but happened to be in a place that didn't offer that brand of hearing aid, you were out of luck. So we got the idea of making cords for all brands of hearing aids…At the time, there wasn't a company in existence that took care of the hearing industry with supplies. [The cords] are what gave us the idea to expand on this idea of a company offering products that applied to all the hearing aid dispensers." The two men marketed their replacement cords for each make and model of hearing aid, traveling the entire country. In their conversations with dispensers, they were constantly searching for other market niches for Hal-Hen to fill.
Many products followed. The company provided Dri-Aid kits for controlling the moisture in hearing aids. These were originally adapted from WWII desiccant pouches that kept maps and important papers dry. Hal-Hen modified and refined them for hearing aids, and they are still offered in a modern formula and packaging as Super Dri-Aid. Likewise, Hal-Hen developed a hearing aid stethoset that reduced teachers' hearing aid checks in classrooms from 90 minutes, in some cases, to less than 15 minutes. It too remains on the market today in an updated form.
In the early 1950s, Harold received a phone call about a future bride who wanted to hide the cord of her hearing aid so that it would not detract from her wedding gown. He designed a cord that was disguised as a pearl necklace. It became a huge hit. From that point onward, it was easier for women with hearing loss to wear the off-the-shoulder fashions that were popular at the time.
It was these kinds of opportunities that made Hal-Hen prosper. However, in 1952, Raytheon introduced the junction transistor, paving the way for hearing aids that used only the A-battery pack. In the two years that followed, Maico, Microtone, RadioEar, Unex, and others started introducing all-transistor hearing aids. The first ear-level hearing aids began to appear around 1955, replacing body-worn aids with BTEs and ITEs.
"Early in the 1950s, Hal and I saw the future, and we recognized that it would not include hearing aid cords—which was our main line of products!" says Henry. "So we got together and started discussing the possibility of getting a hearing aid line."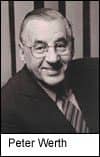 Fortuitous Partnerships
Enter Peter C. Werth. PC Werth of London was among the first independent hearing aid dealerships in Great Britain, and Werth is credited with establishing the first independent hearing aid supply source for UK dispensing practices. Werth had also co-founded the Society of Hearing Aid Audiologists of Great Britain (SHAA, later known as BSHAA) in 1954.
"Peter Werth was a man who traveled the world and called on everybody in the hearing aid business," explains Henry. "He came to the US and contacted Hal and I, asking if he could meet with us. We quickly became very close friends, and we did a lot of business together."
Meltsner and Spar mentioned to Werth that they were thinking seriously about getting into the hearing aid business. "He told us to wait 6 months," says Harold. "He knew two young men who were going into business, and Peter thought we would make a perfect match." It turned out to be a very good suggestion, as this special relationship between four families (as well as the late Werth and his son, Lawrence) has produced a half-century of success in the hearing care field.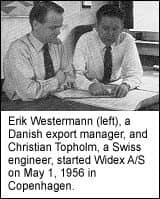 In 1956, ten years after Meltsner and Spar had established Hal-Hen, Christian Tøpholm and Erik Westermann formed Widex A/S in Copenhagen. Like their American counterparts, Tøpholm and Westermann were classic entrepreneurs: they started their ideas on a kitchen table, and worked in a garage to develop their first hearing aid, the Widex 561, a body-worn aid that incorporated a telecoil—an innovative product for its time.
Spar and Meltsner became the fledgling company's US distributor, creating Widex USA. "Harold and I sent the check for $21 to Tøpholm and Westermann for the first hearing aid," says Henry. One advantage Hal and Hen had was that few people knew how to repair hearing aids, and with their background in electronics, they were able to make hearing aid repairs themselves.
Helping Break Down the Barriers of Single-Line Dispensing
"We had one bookkeeper," says Harold, "and Henry and I took care of the rest of the business." All of the sales and marketing fell upon the two men—and North America is quite a large sales territory to cover. "When we had a new hearing aid, each of us would go throughout the country and present it to dispensing offices, trying to convince them to take on our line. At that time, each office represented only one manufacturer. Beltone offices sold only Beltone; Qualitone, Acousticon, and Zenith offices sold only their brand of hearing aids. It was our objective to convince dispensers to take on another line—which [due to the franchise system] was very difficult at first. But, finally, there were businesses that started to become independent offices."
"I think everyone now recognizes that there isn't just one hearing aid that fits everyone," says Henry. "As time went on, we had more professional people dispensing hearing aids, including audiologists and hearing instrument specialists, all of whom were better informed and who could analyze a hearing loss and then fit the patient appropriately. The field became far more professional in all disciplines."
"Now, when you visit dispensing offices throughout the United States," says Harold, "you'll generally find them carrying several brands of hearing aids. We were really among the first to break the barrier on single-line dispensing, and in some senses, that was the start of today's modern, independent dispensing office."
But the road was far from easy. "It took us at least a couple of years to break down the barriers," says Henry. "But we persevered."
A Philosophy of Independence
The company's origins have formed the basis of its character and philosophy. "Since we introduced the first digital ITE hearing aid, it's been interesting to see how fast the company has grown" says Widex Vice President of Sales and Marketing Lee Frankel. "We've had to hire many more staff members to support the audiology and dispensing professionals, and it has been exciting to see how everyone has been integrated [into a dynamic organization]…I feel fortunate that we're blessed with such good people and products, and we're able to concentrate on marketing the products and growing the company."
"This is a special anniversary year for Hal & Hen, and their overall philosophy still sets the tone for us today," adds James Cola, Director of Marketing. "They have a strong, old-fashioned work ethic. They also had 'vision' in that they knew, even in their early years in business, that the best future for this industry involved encouraging hearing care professionals to educate themselves about a multitude of products. They essentially said 'You're the professional, and you should recommend whatever product is best for your patient.' We still believe in their vision that it's more advantageous to the consumer when an independent professional provides them with the best hearing aid for their specific needs. And we also do our best to help get the word out there in the media about breakthroughs in hearing technology that can benefit millions of adults and children."
The Hal-Hen and Widex philosophy is also championed by Henry and Harold's sons, Ron and Eric, and Harold's son-in-law, Lee. Ron has been with Widex for over 30 years, and Eric and Lee for over 20 years. "If it wasn't for them, Widex would not be where it is today," says Harold. "They took over at a point where Henry and I couldn't continue to do business in the same way, and they really developed the company."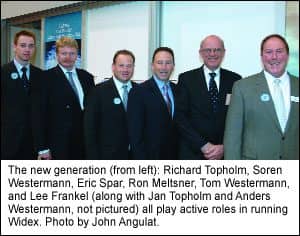 "We're very proud of everything here," says Eric. "We've had a great opportunity given to us by our fathers." As teenagers, Ron and Eric worked summers and had part-time jobs at the company, doing everything from shipping to odd jobs. "We did anything our fathers needed to have done and wanted us to do," says Ron.
Ron attended the University of New Mexico, and upon graduating, expressed interest in representing the company in the Southwest. "There was only one sales representative for the company at that time, so it was the perfect opportunity," says Ron. "I was able to stay out West, and I started calling on dispensers, clinics, and audiologists in the Southwest and California in 1974." He purchased a pick-up truck with a converted camper on the back, and he quickly learned the business from his father and from the many hearing care professionals that he encountered "on the road." He was also periodically accompanied on his travels by Tom Westermann in the mid-70s, who visited Widex USA for an extended period of time to learn more about the American market. In the mid-80s, Eric Spar began accompanying Ron on this travels, as well.
Eric received a degree in finance from the University of Albany, and also took various audiology classes. He began working for Hal-Hen in 1986 and soon became the company's president. He was named vice president of Widex in 1995. "Ron and Eric have a special relationship much like Henry and I do," says Harold. "They rely on and help each other, and they appreciate it."
Both men point out that their fathers played key roles in teaching them the business. "It was really important how much confidence my father had in me," says Eric. "He felt it was important to give me responsibility, and he had the confidence that I would learn from mistakes. Everyone is going to make some mistakes, but the key is to learn from them. I think the fact that he invested so much confidence in me gave me a lot of confidence in myself."
Ron agrees: "Our fathers have always had confidence in our abilities, and they really showed us the important facets of the business," he says. "My father is very good at working with people. He taught me how to go around and demonstrate the products to hearing care professionals, and how important it was not only to be a good 'explainer,' but also to be a good listener. He taught me why it's so important to try to develop, not just a good business relationship with people, but also real friendships. In other words, you should genuinely enjoy what you do and care about the people in the field."
The two men also say they've been fortunate to have a close relationship with their Danish counterparts. "Widex in Denmark is also [composed of] two close families," says Ron. "Eric and I and the Westermann's and Tøpholm's have almost grown up together. I would say that the nature of our relationship is very special, because it goes beyond just being a business relationship; we have a very, very personal relationship that has lasted for [our lifetimes]. I think it's one that's pretty unusual to have in both generations, and it's certainly unusual in the business world."
Philosophy Dictates Practice: Leadership in the Digital Age
Like their fathers, Ron and Eric have also witnessed dramatic changes in hearing industry structure and technology since starting their careers. According to Ron, the first major change occurred just as he was entering the field in the early 1970s, when audiology started getting more involved in recommending, then prescribing, hearing aids. This marked the gradual decline of single-line dispensing in favor of independent, multi-line offices. However, in view of today's reliance on a single brand in many dispensing offices as well as the recent gains made by corporate retailers, he now sees the pendulum swinging back the other way. "In some respects," he says, "we started with authorized dispensers dedicated to one product brand, and we are now—not necessarily going back to manufacturer-authorized dealers, but rather to publicly traded companies [that are heavily involved in retail chains]—where the system appears to provide less product choice for the patient."
Similarly, the two company leaders also believe that, in order for the hearing care field to expand and grow as the independent, professional resource for hearing-impaired consumers, there is an urgent need for larger numbers of practitioners to enter the field, start their own businesses, and dispense hearing aids. "We have a lot of very smart and talented people who have an excellent opportunity to become successful entrepreneurs," says Eric. "But the reality is that too few are being given the confidence to go out and start new businesses on their own." He says that dispensing audiology was founded on an entrepreneurial spirit, and more emphasis should be placed on persuading young people to enter private practice, fulfilling the needs of the 31.5 million people who need hearing help.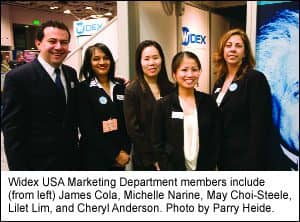 "Our company has always had a commitment to the independent dispenser," says Eric. "They're a vital part of our industry. We've tried to support independent dispensing audiologists and independent hearing instrument specialists, and give them the products and tools they need to succeed."
Beyond its role in the independent dispensing movement, Widex has also been a leader in modernizing hearing aid technology by helping usher in the digital era. "Of course, the biggest landmark for our company was in 1995 with the introduction of the first digital ITE hearing aid," says Ron.
The Senso hearing instrument was one of the most successful products in the history of the hearing industry. For many practitioners, the Senso's proprietary programming box—which used an easy-to-use system of low, mid, and high-band frequency and HTL test controls—also served as their "bridge" to fully computerized digital hearing aid programming. "I think Senso revolutionized the whole industry in a way we could never have even imagined," says Ron. "It was at that time that we experienced extreme growth."
Cutting-Edge Technology
Widex has a long history of offering unique products, including digital in-situ fitting systems that employ longer attack and release times, lower compression thresholds, and the development of CAMISHA, which represented the first system for electronic laser-produced earmolds.
Its most recent product, Inteo, also features several firsts, including a new frequency transposition method and the SoundTracker simulated real-ear system. At the heart of the device is a novel 15-channel noise-reduction algorithm, called the Speech Enhancer, that is designed to optimize the speech intelligibility index (SII) in any noise environment. It takes into account the user's hearing loss, then chooses among 15 quadrillion combinations of gain settings to optimize speech understanding.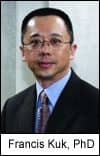 Leading the Widex Office of Research in Clinical Amplification (ORCA) located in Lisle, Ill, is Director of Audiology Francis Kuk, PhD, who has worked at the company for 10 years. Kuk and his Danish counterpart, Carl Ludvigsen, MS, manager of audiological research, have been at the forefront in educating dispensing professionals about the company's digital processing strategies.
"Widex is constantly challenging the status-quo," says Kuk. "For example, everyone else talks about fast-acting compression; we talk about slow-acting compression…We often challenge the status quo, not so much because we enjoy challenging people, but rather because we have some unique views on why things can be done in a different way. And I think it's good that we do this so dispensing professionals can be exposed to a broader range of opinions and choices regarding digital processing.
"It should be noted," adds Kuk, "that many of our ideas have ultimately been widely accepted or incorporated by researchers and our competitors. So we feel this is a valuable contribution that Widex makes beyond just our products; if everyone is looking at doing things only one way, there won't be [true product differentiation or consumer choice]."
Kuk says that this attitude is also instilled by the company's history of embracing creativity and change. "Once we know that an idea has a good audiological foundation, we are not afraid of telling the world and, in many cases, taking on [conventional ideas]…So, although these arguments are sometimes uphill battles, they are battles that Widex is willing to fight because it gives people important options—and, of course, we believe we have the data that supports why our products yield better results."
ORCA is tasked with documenting the efficacy of the products, as well as generating educational materials used in professional training. Each year, Widex selects two important seminar topics, then conducts several hundred sessions on each topic across the country. "I think this also distinguishes us from our competitors," says Kuk. "I don't believe anyone else does this many on-site seminars." The seminars focus on technology, fitting rationales, fitting experiences, and the hot topics of the day. Similarly, this year's Fourth Widex Pediatric Congress featured the perspectives of researchers like Yvonne Sininger, Michael Gorga, Theresa Ching, and Robert Harris, along with other world-renown audiologists. In general, the Congress made little specific mention of Widex products. "It's obvious that we, as a company, want to sell hearing aids," says Kuk. "but we also believe that it's important to serve the profession."
Hal-Hen and Widex USA have also thrived on a people-oriented management approach which has yielded a wealth of staffers who now have more than a decade of experience with the organization. "I love working for this company," says Rita Reiter who has served as the stock/supply supervisor for 24 years. "In so many ways this company has grown. Now, when I speak with Mr. Meltsner and Mr. Spar, we marvel at its success. And their sons, Ron and Eric, as well as all of our staff, do a terrific job…Cooperation has to be fostered by the supervisor, and you see this from the top-on-down here. I like being involved with it, and seeing all of the new, good things coming out. If I had a chance to go back in time, I wouldn't change a thing."
"This is a company that has a commitment to honesty and integrity," says Marge Weber, who has served as an administrative assistant for nearly 30 years.
In many ways, this goes back to the original philosophy of the Hal-Hen and Widex founders. "We don't run our companies like some other companies are run," says Ron Meltsner. "We believe in giving people responsibilities and possibilities, and in allowing them to be creative." It's a philosophy that has worked for 50 years at Widex—and 60 years at Hal-Hen—and it has substantially changed the hearing industry.