Advanced Bionics (AB), a cochlear implant technology company under the Sonova Group brand, has announced the launch of two new iPad® device applications (apps) as part of its growing "rehab" range of rehabilitative and educational tools for people with hearing loss. The creative interactive apps have been specially designed for caregivers or therapists to guide the development of listening and language skills in children with hearing loss ages 4 to 10.
Cochlear implants are sophisticated medical devices that can restore hearing for people with significant hearing loss. To take full advantage of this highly advanced technology cochlear implant recipients need to devote time and effort to rehabilitation exercises. The new apps are intended to encourage greater compliance by making practice fun and engaging for younger recipients.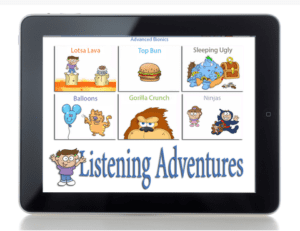 AB Listening Adventures provides children with a fun way to practice listening for words in sentences. It features:
Six different story-based games
Focus on listening for multiple elements plurals pronouns or minimal pairs
More than 100 sets of words
Fun sound effects and character voices
Many opportunities for teaching vocabulary and sentence structure
The colorful VocAB Scenes app is designed to help children learn common vocabulary and question forms through listening. The app features:
Six different scenes (outside water fun, beach, pet store, swimming pool, camping, and winter fun)
Twelve different drag and drop items for each scene
Three different games for each scene to promote listening and language development
"AB is committed to creating the most effective engaging rehabilitative and educational tools possible" says Carissa Moeggenberg, senior manager of education training and rehab at Advanced Bionics. "These unique new apps are great additions to our innovative rehAB line."
AB's rehAB range of tools include apps, websites, toys, games, and exercises—all conceived and designed by professionals educators with years of experience creating effective rehabilitative learning tools. The new apps are appropriate for children with no links to sites that take them out of the app and no in-app offers for sale of any other products or services. They are available to download from the iTunes.
Source: Advanced Bionics