Phonak introduced the new Phonak Audeo Q and Phonak Naida Q portfolio, based on the Quest platform launched 6 months ago. Both product families feature Phonak's Binaural VoiceStream Technology™ and are available now.
With the introduction of Audeo Q and Naida Q, Phonak further expands the Quest platform with two new product lines and now offers targeted solutions for all degrees of hearing loss.
Audeo Q, the new RIC solution for mild to severe hearing loss, is designed for first-time users. A new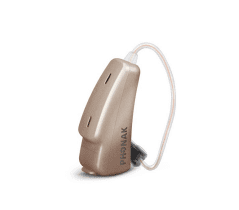 Phonak Audeo Q-10
generation of compact receivers result in an increased fit rate of up to 53% and improved comfort. The natural sound quality, supported by the Quest precalculation, enhances the spontaneous acceptance significantly. The Binaural VoiceStream Technology features allow for improved understanding in noise even with an open fit.
The Phonak Tinnitus Balance Portfolio, with Audeo Q at the core and supported by the Tinnitus Balance noise generator and Phonak's Tinnitus Balance App, covers tools to support hearing care professionals in their individual tinnitus management philosophies. The Tinnitus Balance noise generator is now available in every Audeo Q at all performance levels.
With StereoZoom and Speech in Wind features, Naida Q offers power users premium performance in challenging situations and significantly improves speech intelligibility for less hearing effort. The proven SoundRecover technology enables access to high frequencies even with significant hearing loss. The Naida Q portfolio, including an RIC model, is available in four performance levels and a diverse color palette. In addition, the unique Power SlimTube significantly reduces visibility while worn on the ear.
All models based on the Quest platform are compatible with the entire range of Phonak wireless communication products, including a selection of remote controls, streaming devices, and unique Dynamic FM products. The new Phonak RemoteMic, combined with the Phonak ComPilot, takes the strain out of conversations in noisy places by streaming voices, up to 20 meters away, directly into the hearing aids.
"We are very satisfied with the positive market response to our Quest platform," says Maarten Barmentlo, group vice president of marketing for Phonak. "With the new products, 90% of our portfolio is now available on Quest. Following the successful launch of the platform 6 months ago, we now offer the most complete product portfolio in the market, covering all degrees of hearing loss, all form factors, and the entire price range."
In addition to the new product lines, Phonak has launched a new web page, www.phonakpro.com/evidence, which highlights studies and research related to its various product lines.
SOURCE: www.phonakpro.com