Minnesota-based Maico Diagnostics, a global manufacturer of hearing screening instruments since 1937, is introducing "touch technology" in the redesigned MI 24 touchTymp, a touch tympanometry solution for the middle ear.
According to Maico Diagnostics, the touchTymp combines a touchscreen interface with an icon structure for simplicity in handling. The large color display allows the user to easily change parameters with a maximum of 3 clicks, while probe light indications allow a patient-focused operation.
The touchTymp is designed to enable the user to stay focused on the patient rather than on the measurement, as the light bar on the ergonomic and responsive probe provides a real-time progression of the test. In addition, advanced light indicators show which ear is tested and the test result. The company says the touchTymp offers a simple improvement in every hearing care professional's daily workflow.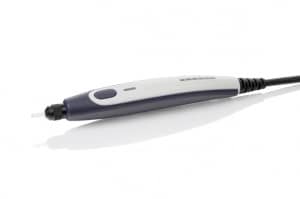 "I think the touch screen is easy to use and the functionality is very intuitive,"says D'Anne Rudden, AuD, Longmont Hearing & Tinnitus Center, Colo. "I honestly never looked at the instruction manual for guidance. It literally felt like, plug and play. The device was easy to use both for myself and for staff members, and I love that the optional printer is so quiet."
Customizable to meet individual needs, the touchTymp will soon be available in different versions and several configurations to meet the needs of all users. Having both screening and diagnostic testing options as well as multiple operating settings. For more information about touchTymp, visit the Maico Diagnositics website.
Source: Maico Diagnostics