Patient Care | September 2021 Hearing Review
Here's a quick audiological reference to the potential effects of the COVID-19 virus
By Robert M. DiSogra, AuD
It is still too early in the pandemic to make definitive statements about the full impact of the COVID-19 virus on the auditory/vestibular and central auditory systems. Certainly, hearing care professionals should revise their Case History forms and consider adding tests for auditory processing disorders and a cognitive screening in order to make the appropriate referral(s) for patients. Counseling will continue to be a major part of the patient's experience with hearing care clinicians.
This article presents a brief summary of what is already reported about COVID-19 and the impact it has had on the patients of hearing care professionals and our practices since the pandemic was first declared in 2020. Until more evidence-based research is published, this summary is designed to serve as a "first-look" at the recent literature for audiological understanding, management, and counseling of COVID-19 survivors.
As noted by Kelley and Bhattacharjee in this edition of Hearing Review (see p 14), there currently are no definitive links to auditory/vestibular complaints due to this specific coronavirus (SARS-CoV-2), although many hearing-related issues have presented in these patients. As with anything related to COVID-19, reliable updated information should be monitored, with a particular focus on data from the Centers for Disease Control and Prevention (CDC) at www.cdc.org. Additional COVID-19 information for audiologists can be found on the American Academy of Audiology's Coronavirus Resource page at: www.audiology.org/practice-management/covid-19-resources.
General Definitions and Information
Long-hauler. This is a term used to describe a person whose COVID-19 symptoms linger 8 weeks to 6 months post-diagnosis. There is no formal diagnostic label for a long-hauler. However, several published papers have offered more than 10 possible labels including "COVID-19 Syndrome" and "Post-COVID-19 Syndrome."1 Numerous long hauler Facebook support groups exist on social media and LinkedIn, including: Long Haul COVID Fighters, Long COVID Support, COVID-19 Information Center, and COVID-19 Long Haulers Outreach.
Brain fog is a non-medical term that describes the symptoms comparable to mild cognitive impairment (MCI) and/or an auditory processing disorder.2 Auditory processing testing is strongly recommended when such a patient is in your office. A cognitive screening is also recommended in order to make an appropriate referral. There are many overlapping behaviors of mild cognitive impairment, auditory processing disorder, and "brain fog" (see sidebar).
The Vaccine Adverse Event Reporting System (VAERS) collects information about any possible side effects from the COVID-19 vaccines. Co-monitored by the US Food and Drug Administration (FDA) and the CDC, it maintains a website at: https://vaers.hhs.gov. It also administers the smartphone V-safe app "After Vaccination Health Checker" at: www.cdc.gov/coronavirus/2019-ncov/vaccines/safety/vsafe.html, as well as the V-safe "COVID-19 Vaccine Pregnancy Registry" at: www.cdc.gov/coronavirus/2019-ncov/vaccines/safety/vsafepregnancyregistry.html.
Append Your Case History
A new set of questions that detail the COVID-19 experiences of the patient should be developed. This includes the specific dates of any hospitalization and medications prescribed related to the diagnosis of COVID-19, as well as the onset of any auditory/vestibular/cognitive complaints.
Be aware that comorbidities and prior COVID-19 medical management must be further evaluated because they can exacerbate a pre-existing condition.
The patient's pharmacist is a valuable resource to learn more about the patient's pharmaceutical history.
To obtain information on a particular drug's side effects the following resources are recommended:
• Contact the drug manufacturer.
Contact the patient's pharmacist.The patient may report significant communication complaints but have a normal pure-tone audiogram.
Presently, there appears to be no published information about the drugs used for COVID-19 intervention and any drug interactions with a patient's pre-COVID diagnosis drug regimen.
Outer Ear
Personal Protective Equipment (PPE) should be worn by the clinician at all times when removing cerumen (any procedure), and infection control protocols should always be followed.3
Otoscopy should still be part of the initial workup and all subsequent visits. Video otoscopy is strongly recommended to maintain a visual record of the status of the ear canal and tympanic membrane.
The COVID-19 virus can be transmitted in an airborne way through the secretions of the ear canal epithelium.4,5
Cerumen can be disposed of in the trash, drain, or toilet without any need for a biohazard bag; there is no risk of transmission of the virus to someone else.6
Middle Ear
The COVID-19 virus can colonize in the middle-ear and mastoid region.7
Middle-ear muscle reflexes may be absent because of peripheral hearing loss or brainstem involvement, although there is no published research on this test with COVID-19 patients.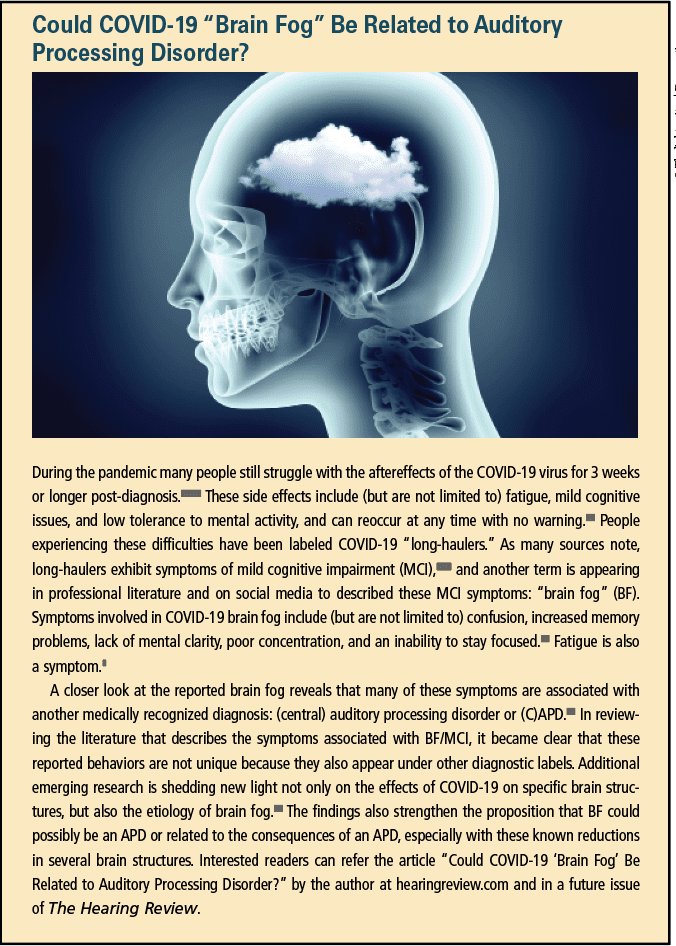 Inner Ear/Cochlea
Hearing loss is likely to occur at the peak of the infection, possibly due to the blood-labyrinth barrier being damaged/destroyed at this period. Sensorineural hearing loss (SNHL) usually occurs after the peak of the infection (downward slope of infection), but hearing loss could occur within four weeks of infection. It is not known if any fever associated with the virus could also contribute to the hearing loss. The hearing loss might not be immediately obvious to the patient if it is in the mild loss category.8
At least two studies9,10 involving COVID-19 patients suggest otoacoustic emission (OAE) test results (Distortion Product and Transient Evoked) may be abnormal with or without hearing loss on a pure-tone audiogram.
The most common type of COVID-19 hearing loss is bilateral SNHL in the high frequencies.9
If extended high-frequency audiometry is available, it should be added to the test battery. Although there is no published research about the use of high-frequency audiometry relative to COVID-19, like any virus, the loss might be more deleterious to the higher frequencies first—similar to drug ototoxicity.
Although there is no published data about word recognition scores (WRS) being affected by the virus, if the WRS is abnormal in the presence of normal pure-tone audiogram, then an auditory processing evaluation is strongly recommended.
Sudden Sensorineural Hearing Loss (SSNHL) has been reported after the vaccine, but the incidence was no different than for the general population.11 The researchers noted that there were only 40 reports of SSNHL in the VAERS during a 3-month period during which time more than 86.5 million dosages were administered. Onset (mean): 4 days (range:  0-21 days).
Auditory symptoms can fluctuate.12
There continues to be a need for research in this area.
Brainstem/Auditory Cortex
ABRs can be abnormal with no measurable waves after Wave I if the virus has affected the brainstem.13
Eight terms have been used to describe auditory pathway/primary auditory cortex dysfunctions which could also involve the virus:
Mild Cognitive Impairment (MCI). This term has been used interchangeably with "brain fog."14,15
Brain fog. Used interchangeably with MCI.16
Central Auditory Processing Disorder (CAPD) or Auditory Processing Disorder (APD).17
Obscure auditory dysfunction.18,19
Hidden hearing loss.20
Cochlear synaptopathy.21
Adverse drug reactions.12,22-24
There is also a possibility of an undiagnosed learning disability.
Tinnitus
Tinnitus is usually secondary to SNHL. However, if there is no pure-tone loss, then OAE data should confirm cochlear involvement.25
Comorbidities must be identified in the case history along with the patient's current medications.26
Tinnitus self-assessments are an effective counseling tool with tinnitus patients (ie, Tinnitus Handicap Inventory, Tinnitus Functional Index).
There continues to be a need for research in this area.
Vestibular System
There is no evidence-based research about auditory/vestibular-related symptom recovery, therefore recovery cannot be predicted.
Some reports suggest there is an approximate 20% risk of vestibular involvement.27
Again, there continues to be a need for research.
Considerations for Special Patient Populations Regarding COVID-19
Pediatric referrals. Over the next year, there could be more referrals by pediatricians for families of babies and toddlers who did not keep their initial follow-up appointment and/or where audiological services were limited or not available during the pandemic's peak.28 Re-establish yourself with all pediatricians in your area about your facility's pediatric services.
Diabetes (Types I and II). There is an increased risk of hearing loss, or an exacerbation of pre-existing hearing loss, in patients with diabetes according to the American Diabetes Association (www.diabetes.org).
Low vision/blindness. Patients who are blind or have low vision are more at risk for anxiety-related problems (ie, less independent).29
Adults with Down syndrome and/or developmental disabilities. Patients with Down syndrome are more at risk for anxiety-related problems (ie, confusion/altered consciousness).30 Patients with developmental disabilities also have higher risk of contracting COVID-19 because of their need for close contact from their caregivers.31
Dietary Supplements
There are no FDA-approved, over-the-counter (OTC) supplements or nutraceuticals for COVID-19 management (including supplements for other auditory/vestibular problems and tinnitus).32
Audiometric Testing Guidelines
No audiometric testing guidelines exist for COVID-19 management. Until specific testing and management guidelines are developed by the major hearing care associations for COVID-19 survivors with communication complaints, it is recommended that audiologists use the following two guidelines from the American Academy of Audiology: Position Statement and Clinical Practice Guidelines33 and Audiologist's Role in the Diagnosis and Treatment of Vestibular Disorders.34 As noted earlier, the AAA Coronavirus Resource webpage is also a good resource.
Communication strategies should be reviewed as needed for patients and their families whether hearing loss has been identified or an auditory processing disorder has been identified (see: https://drbobdisogra.com/communication-strategies). The use of Hearing Assistive Technologies (HAT) and/or hearing aids should also be addressed as needed.
In terms of special billing procedures for this patient population, there is only one new insurance billing code for COVID-19. The billing code 77902 is used for COVID-19-related supplies. (Note: There is no guarantee of payment. Covered expenses and reimbursement depend on the patient's contract.)
Conclusion
Obviously, more audiology evidence-based research is needed as we continue to study the virus and its impact on the auditory system and patient management for hearing care professionals. Certainly, a new Case History form needs to be developed because of the unusual circumstances around the pandemic and the emergence of patients who are still experiencing lingering medical issues.
Brain fog appears to be the trending term for mild cognitive impairment or possibly an auditory processing disorder. Diagnostic tests—supported by evidence-based research—can help quantify the impact that the virus has on the central auditory pathways. In my opinion, the term "brain fog" should be dropped from all future research papers when cognitive impairments are suspected with COVID-19 patients. Physicians and other healthcare professionals need to be educated on what an auditory processing disorder is and how the audiologist can quantify their test results with evidence-based research.
It is still too early in the pandemic to make definitive statements about the full impact of the COVID-19 virus on the auditory/vestibular and central auditory systems. Audiologists should consider adding a cognitive screening test to their practices in order to make the appropriate referral(s) for those patients whose auditory processing test results do not indicate that any processing issues are present. Counseling will continue to be a major part of the patient's experience with hearing care clinicians.
CORRESPONDENCE can be addressed to HR or Dr DiSogra at: [email protected]
Citation for this article: DiSogra R. COVID-19 and the hearing care professional: What we know so far. Hearing Review. 2021;28(9):18-21.
References