Making the case for including the devices as solutions to patients' needs.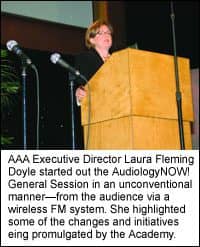 Assistive listening devices (ALDs) have struggled over the years to find their way into the hearts and offices of hearing health care professionals. Sometimes, they have been treated like the skeleton in the closet that no one wants to discuss. Right now, the light is shining on ALDs, and media attention has spurred many professionals to rescue them from the back room, the desk drawer, or the file cabinet.
It seems that ALDs are the best-kept secret in the industry, and we in the ALD market try to understand why. I think other ALD distributors will agree that we all ponder the same question: How can we inspire hearing health care professionals to offer ALDs?
I've given this question a lot of thought. My Christmas shopping adventure this past year really left an impression, and another way to approach ALDs crystallized.
I know a lot about ALDs, but I knew nothing about MP3 players until I went in search of an iPod for my teenage daughter for Christmas. After hitting a few stores trying to find one in stock, I finally found one. I was fortunate to have a salesperson who took the time to show me all of the accessories that were also available.
Wow! There were portable speakers so that she could share music with friends; an adapter cable to more conveniently charge the iPod; an armband so she could use it while exercising; eye-catching covers to protect the face of the iPod when she put it in her pocket; one of the many styles of headphones might be more comfortable. The total cost for the accessories was nearly as much as the iPod itself.
That iPod worked great once she charged it; she didn't need all the extra accessories to hear the music. But you know what? Those accessories made that iPod even more versatile and more comfortable to use, and enhanced her listening experience.
I found the iPod and the accessories at the same time, in one department. I didn't have to go online and order them from someone I didn't know or drive to another store. Not only that, I called two friends who were looking for the same products, and you can bet I told them which store had everything. I felt like I was sharing a great secret.
Would you agree that ALDs are similar to the accessories for the digital music player? It isn't a far stretch to consider ALDs as hearing accessories. They are actually convenient solutions, and it seems logical that they are available from hearing health care professionals.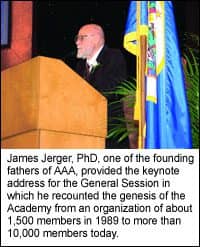 A Fresh Perspective
I was recently contracted to perform a communications evaluation for a client, whom I'll call John, referred by a vocational rehabilitation counselor. After completing the evaluation, I demonstrated the ALDs that would best meet his needs at work and at home.
John is a long-time hearing aid user with severe to profound hearing loss. He has worked with several hearing health care professionals over the years, and he was extremely pleased with his new hearing aids and amazed at how much clearer sound was with them.
He also shared that he had returned to the hearing health care professional's office several times to adjust the hearing aids, and was impressed with the level of care he received. He never felt rushed and always felt that his hearing health care professional was committed to caring for his needs.
John and I explored the communication demands of his job and where the hearing aids were and were not performing well. He was fascinated with the array of products that could help him, especially on the job. We discussed how these products were designed to maximize the power of his hearing aids.
I was concerned that John would not awaken to a smoke detector because he takes his aids out at night, and showed him a system that uses a bedshaker to alert him. As he realized that his safety had been compromised for years, a sudden chill filled the air and all the warm feelings and appreciation evaporated in the blink of an eye.
This scene has played out a thousand times, and that is why those of us who sell ALDs encourage hearing health care professionals to offer, demonstrate, and sell them. Your clients often feel betrayed and ask us why you, the hearing health care professional, kept ALDs a secret.
May I say that again? Your customers may have found an ALD distributor on the Internet or by chance. They were surprised to learn about all of the solutions readily available to them there because they expected you to meet all of their hearing needs.
A Minor Shift Of Focus
For years, many people have looked at ALDs as being in competition with hearing aids. They feel that ALDs undermine the confidence their customers place in them and in the hearing aids they recommend. Low profit margins make them unattractive.
Recently, Baby Boomers have been generating a lot of media attention. It is estimated that nearly half of the 76 million Boomers will experience hearing loss. These potential customers are not only beginning to deal with their own hearing loss, but they are also helping their parents maintain their independence and quality of life as well.
Perhaps now might be a good time to reconsider ALDs. If you could adjust your view of ALDs as competition and consider their benefit to your customers as hearing accessories, you may reap tangible and intangible rewards.
You now have the opportunity to double your outreach. Potential clients are looking for solutions to their own hearing loss, and they will recognize the potential of all hearing technology for their extended family as well. They have higher expectations of technology and professionals.
You could view ALDs as a marketing expense. Just like newspaper or Yellow Pages ads, ALDs give you another way to stand out and draw attention to your business. No single ALD or single ad will drive flocks of people to your door, but the consistent exposure over time is effective in establishing your unique services.
While there is no "right" way to offer ALDs, all distributors feel that you need a few demonstration products in your office. There are many choices, depending on the demographics of the customer base and the office design. You will not lose money if you are prudent in your choice of products; they can actually add another revenue stream.
Show Them, Don't Just Tell Them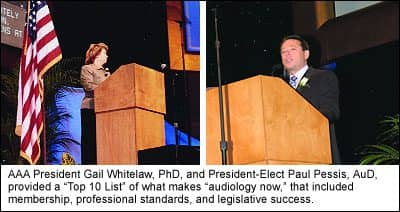 ALDs are no different than hearing aids when it comes to demonstrating their value. However, ALDs are very different in that each person's personal experience shapes their understanding of the product.
For example, when I say an alarm clock can vibrate the bed, you might be old enough to remember the 25-cent "Magic Fingers" vibrating bed. You will want to dispel these pictures from your clients' minds and establish common ground. You want your client to hold that bedshaker so they can experience the vibration and fully appreciate the benefits of a vibrating alarm clock.
Customers are enticed to learn more about ALDs when they are accessible and easy to try. You can't give them the same experience by using a brochure, even though that option is better than nothing. If your patient is happy with their hearing aids and doesn't need accessories now, they will automatically think of you when they talk to someone who is struggling.
What better place to find hearing accessories than at the hearing health care professional's office?
Everyone depends on a phone. Your state may offer free telephones as part of its distribution program, so you may think you don't need to carry a phone. But how many phones do you have in your own house? I'll bet there is more than one. Demonstrating a good telephone is money in the bank.
The amplified phone display offered by Beyond Hearing Aids (Figure 1), for example, uses an amplified phone with 40 dB gain. It features a cordless phone and a corded phone, and includes a small voice recording unit that begins playing when you pick up the handset of the phone. This display can sit on a counter or on a tabletop and only needs electric access. It demonstrates the phone independently. Simply pick up the handset, press an amplify button, and listen.
If you have a little more room than just for a display with telephones, an alarm clock and maybe a personal amplifier may work for you. We suggest you also have a cell phone accessory that uses either telecoil induction or direct audio input. You may even want to include books on coping with hearing loss (see Figure 2).
If you have active and dynamic senior groups in your area, you might want to offer more accessories from which patients can choose (Figure 3). The key to successful sales, if you have a display of this size, is to have a person on staff who is interested in ALDs to answer questions or provide guidance. A few offices open their larger ALD rooms to members of a Hearing Loss Association of America group, formerly known as Self Help for Hard of Hearing People. These members volunteer to staff the room on a very limited basis so that the public can come in and test equipment.

Keys To Success
Whether you carry one item or several, it is imperative that you understand how the product works so that you can confidently describe its benefits. Training on the device is as simple as studying the user's manual and personally using the product: Plug that phone into an outside line and try it yourself. Take the alarm clock home and use it one morning.
Attitude is everything, so carry only the ALDs that you believe in. People can tell the difference. If you nonchalantly mention products that may be helpful, your customers may take the lead from you and misjudge the potential value.
Embrace ALDs as great accessories to lessen stress at home or in the office. If your customers can sleep peacefully knowing that a smoke detector system will alert them to fire, and can wake up each morning because the alarm clock vibrates, you have given them the gift of a restful night.
If your client is a caregiver and they set up a doorbell and phone signaler so that their parents will know when they call, you lessen the stress of caring for family members. If you provide a quality amplified telephone, you have offset the stress of loneliness by helping people stay in touch with their friends and family.
Who knew how easy it was to enhance people's lives with simple, direct products for specific listening and alerting needs?
Whatever you do, don't send people to an electronics store to find such products. At the very minimum, give them a brochure and guide them to reputable ALD distributors.
Many distributors offer programs to meet your needs. Beyond Hearing Aids offers a program that provides a "virtual" ALD office with specialized staff who work directly with your patients, and you receive patient monitoring reports and profit sharing.
There is a great array of display ideas, programs, and services that will help you step out of your comfort zone and offer ALDs. ALD distributors want to support you every step of the way. We want you to be successful in providing hearing solutions and accessories to your clients.
Don't let ALDs remain the best-kept secret in town. Let your customers learn about ALDs from you, their hearing health care professional.
Becky Morris is president of Beyond Hearing Aids Inc, Florence, Ky, and is a frequent author and workshop presenter on ALDs to the hearing health care and rehabilitation fields.