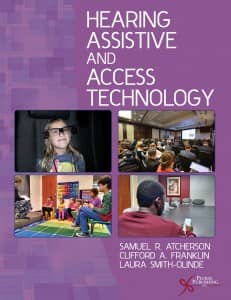 Plural Publishing, San Diego, has released the new book, Hearing Assistive and Access Technology, by audiologists Samuel R. Atcherson, PhD, Clifford A. Franklin, PhD, and Laura Smith-Olinde, PhD. Intended to be a resource for hearing care and related professionals, educators, and individuals with hearing loss and their families, the book is designed to provide both fundamental and current information on a variety of technologies for people with hearing loss.
According to Plural Publishing's announcement, many of the technologies covered in this new resource book can improve an individual's independence and overall quality of life: through smaller device size and improved portability, increased compatibility among technologies, as well as innovations in engineering, wireless, and mobile applications.
To help readers fully appreciate the impact of hearing problems and consider assistive technology for hearing loss and access solutions, the authors have included a review of acoustic issues, hearing aids, and implantable devices, an overview of legal information and needs assessment, case examples, many illustrations and product images, and a glossary of terms.
For more details about Hearing Assistive and Access Technology, visit the Plural Publishing website.
Source: Plural Publishing