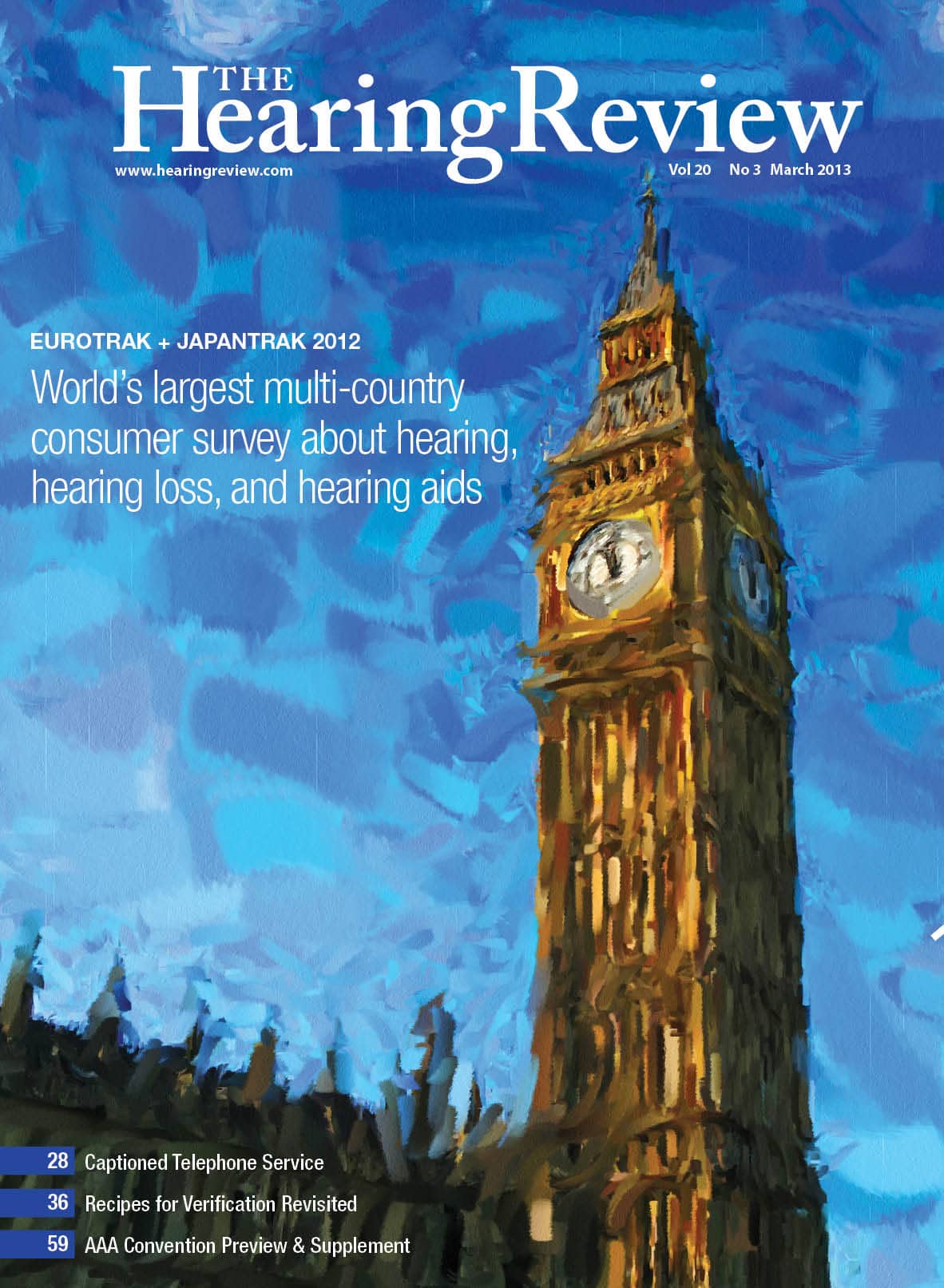 COVER STORY
EuroTrak + JapanTrak 2012: Societal and Personal Benefits of Hearing Rehabilitation with Hearing Aids
By Søren Hougaard, Stefan Ruf, and Christian Egger
The world's largest multi-country consumer survey about hearing, hearing loss, and hearing aids provides evidence that hearing rehabilitation with hearing aids leads to societal and personal benefits while revealing the factors that impact hearing aid adoption rates.
RESEARCH AND FITTING TIPS
The Importance of Captioned Telephone Service in Meeting the Communication Needs of People with Hearing Loss
By Sergei Kochkin, PhD
This study looks at captioned service telephones and their usefulness by consumers with all degrees of hearing loss—from mild to severe. It finds that captioned phones represent a valuable solution for many hearing aid users and non-users who are experiencing difficulty communicating on the telephone.
Recipes for Verification Success, Part 2
By Tammara Stender, AuD, and Astrid Haastrup, MA
Part 2 provides recipes for verifying environmental steering features for gain and noise reduction, as well as wind noise reduction functionality.
Designing Hearing Aid Technology to Support Benefits in Demanding Situations, Part 1
By Lars Baekgaard, MSc; Niels Ole Knudsen; Tayyib Arshad, MSc; and
Hanne Pernille Andersen, PhD
The A/D converter has always been an Achilles' heel in hearing aid design. Here's why, as well as details about a new hearing aid that is designed to tackle this problem.
A Marketing Perspective on Phonak's New Quest
HR interviews Maarten Barmentlo, group vice president of Sonova, about Phonak's latest hearing aid platform.
DEPARTMENTS
Staff Standpoint
A Few Take-home Points from EuroTrak + JapanTrak 2012
By Karl Strom
Blog Page
Beware of Unsavory Practices in Vestibular Testing
by Alan Desmond, AuD
Van Vliet's The Final Word
Moving Patients From "Loss of Control" to "Back in Their Element"
by Dennis Van Vliet, AuD
Looking Back
A Look Back 40 Years to Tumultuous 1973
By Karl Strom
You can also read this issue with The Hearing Review Interactive Print Edition. Click here.