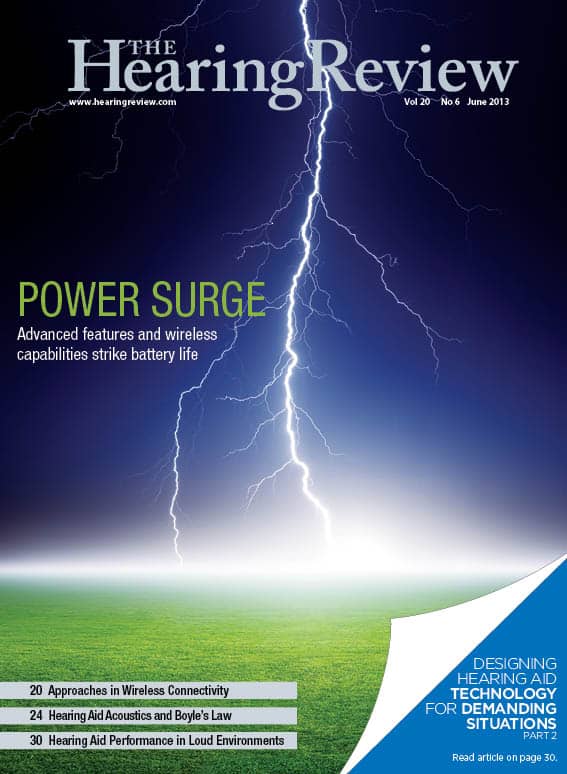 The Hearing Review June 2013 Table of Contents
STAFF STANDPOINT
Worldwide Hearing Aid Sales
by Karl Strom
COVER STORY
Hearing Aid Battery Consumption Issues: A Consumers' Guide
By Denis Carpenter and Ann Rule
With ever-increasing power demands due to wireless and advanced digital features, it is more important than ever to inform your patients about issues that affect hearing aid battery life. Here is a short description of the factors involved, as well as a 2-page consumer handout for use by your practice.

FEATURES
It's Sync or Stream! The Differences Between Wireless Hearing Aid Features
By Barbra Timmer, MAudSA, MBA
It is a common myth that wireless devices all share similar goals in terms of user benefits, or are similar in their functionality. Here are some of the user benefits from wireless technology that allow hearing aids to connect.
The Acoustics of Hearing Aids, Part 2: A Closer Look at Boyle's Law
By Marshall Chasin, AuD
Part 2 of this series looks at Boyle's law—both in the more conventional way of transmitting sound through a defined volume or space within the ear canal, as well as what happens in very deep-canal fittings relative to the equivalent volume of the outer ear.
Designing Hearing Aid Technology to Support Benefits in Demanding Situations, Part 2
By Lars Baekgaard, MSc, Steen Rose, and Hanne Pernille Andersen, PhD
Even though all levels of speech may be covered by a 0-96 dB dynamic range, other more intense inputs—such as live music or speech in the presence of loud noise—may be distorted because they exceed the upper limit of the A/D converter. This article looks at a new way to address this "Achilles heel" of hearing aids.
Sales Commission Structures: The Untold Story
By Granville Brady, AuD
Since good reliable employees are the heart and soul of any dispensing practice, employee compensation is one of the most important business decisions an owner can make to ensure the continuation of the business.

DEPARTMENTS
Blog Page: My Fair Lady
by Robert Martin, PhD
The Final Word: Don't Judge a Patient by His Prius
by Dennis Van Vliet, AuD