By Gyl A. Kasewurm, AuD
Industry experts predict that there will be a shortage of hearing healthcare providers in the next decade. This is not surprising considering the anticipated growth in potential patients with the entrance of Baby Boomers into the market and the expected retirement of many current practitioners.
So how are we going to fill the growing need for hearing healthcare services? The answer may be as simple as using assistants, a concept endorsed by every professional hearing healthcare organization for more than 40 years. After 30 years in practice with more than 25 of them using assistants, I can testify that the appropriate use of assistants can be an efficient and effective way to meet the expanding needs for patient care in a cost-effective manner, without compromising the quality of patient care.
A review of hearing healthcare today indicates that, while assistants are not used in the majority of practices, they are being successfully employed in a variety of practice settings, including the military, the Department of Veterans Affairs (VA), educational institutions, hospitals, industrial settings, and private practices. One place assistants have been fully integrated is within the VA, where the number of audiology assistants has grown exponentially in the past 10 years.
Staffing and Business Practicalities
I began using assistants many years ago when my practice was growing and I had difficulty recruiting an audiologist to my small community in Michigan. As the practice continued to flourish, it became evident that the use of an assistant improved productivity, service accessibility, quality of patient care, and patient satisfaction. When such minor but time-consuming tasks as analyzing hearing aids, cleaning hearing aids, instructing patients on the use and care of hearing aids, and completing paperwork were removed from my workload, I had more time to complete the tasks that required my education and expertise as an audiologist. However, I maintained the clinical authority and the legal responsibility for the assistant, which was crucial for preserving quality patient care.
Colleagues often inquire regarding the legality of using assistants in practice, and that is dictated by state licensure laws. In the state of Michigan, the Audiology licensure law does not regulate the use of assistants and defers to the audiologist to delegate tasks that they feel are appropriate and that support personnel are qualified to handle. Although many states do regulate the use of assistants, it has been my observation that many of the laws do not specify specific tasks that support personnel are qualified to perform but rather leave this decision up to the supervising licensed professional.
At the present time, I employ three assistants who provide support to two audiologists and one hearing instrument specialist. These support personnel complete scheduled appointments for hearing aid cleanings, annual hearing screenings, and warranty checks (Figures 1-3). They also staff designated walk-in hours devoted to providing on-the-spot service to patients. The assistants also complete paperwork for ordering and repairing hearing aids, call patients to inform them when repaired aids have been received, reset aids following repair, program loaner hearing aids, and pair wireless devices and instruct patients how to use them properly.
| | |
| --- | --- |
| | |
| Figure 1. An assistant cleaning a hearing aid. | Figure 2. An assistant works with a patient, counseling him on properly inserting the hearing aid. |
The role of the assistants is to handle some of the less technical activities at our clinic, thus enabling the professionals to devote more of their time to perform diagnostic, educational, and rehabilitative activities. In addition, patients can receive immediate assistance with minor repairs, which emphasizes the importance that is placed on providing exceptional customer service.
Patients who use amplification are routinely scheduled for service visits every 6 months, and these visits are scheduled with one of the assistants. When a patient purchases a hearing aid, they are informed that the service visits will be scheduled with a support person so there is no expectation that the patient will be seeing a professional for routine maintenance of their hearing aids.
However, patients are encouraged to call and schedule an appointment with a professional if they feel they are not understanding well or if they question whether their hearing ability has changed. Patients are also encouraged to take advantage of our "walk-in" hours to receive immediate attention for problems, such as dead hearing aids, minor irritation from a hearing aid, questions on use and care of an aid, or difficulty using assistive or wireless devices.

Figure 3. (Click to enlarge)
Promoting Quality Care—While Increasing Your Competitiveness
A focus on quality of care is maintained and emphasized in the practice, and consequently, the assistants receive monthly training on new procedures, software, and customer service. In addition, records of walk-in visits are analyzed each quarter to ensure that patient concerns are being handled in an appropriate manner and that the assistants are working within their scope of practice.
A policy has been established that requires patients who walk in for service and haven't had a hearing evaluation in the past 12 months be scheduled to see a professional for a re-evaluation. When a patient presents a hearing aid for repair that is more than 4 years old and they haven't been seen by a professional in the past 6 months, one of the professionals must be consulted before any repair is done to determine the most appropriate course of action for the patient.
In 2000, my doctoral project investigated the daily workload of an audiologist in 20 different practices, and found that the average audiologist spent almost half of their day completing tasks that did not require their education or expertise. I would estimate that it's about the same today.
In light of the reduction in reimbursement that hearing care professionals have been faced with—and competition from big-box retailers and the Internet—professionals simply cannot afford to spend the majority of their time cleaning hearing aids if they want to grow and maintain a profitable business. Reports in my practice have shown that the use of assistants is critical to maintaining exceptional customer service without sacrificing quality of patient care. As a result of the vital input of assistants, the hearing healthcare professionals have more time to see new patients or to perform counseling and hearing aid reprogramming—elements that are key to improving patients' success with amplification.
As an example, the assistants in my practice conducted more than 650 hearing aid orientations in 2012. The 30 minute or more orientation is used to illustrate how to insert and remove hearing aids, how to care for hearing aids, and types and use of batteries, and also includes information on our service policies and the manufacturer's warranty. Some elderly patients require repetition to become comfortable with the basic tasks required to successfully use hearing aids. When necessary, additional time can be scheduled with an assistant to review the important information until the patient feels comfortable as compared to a professional rushing through it because they have several patients waiting.
These orientations performed by well-qualified assistants represented a savings of more than 350 hours (ie, about 44 days or 2 months worth of 8-hour workdays) that the audiologists and hearing instrument specialist were able to use evaluating new patients, counseling patients, or conducting outcome measures to ensure hearing aids were providing the most appropriate benefit for the user.
A practice can utilize an assistant in a myriad of ways. During 2012, the three assistants I employ in my practice completed more than 6,000 patient visits in addition to accomplishing other important and valuable tasks that supported the two audiologists and one hearing instrument specialist. More than 90% of a patient's needs for service and repairs were met in the office within 12 minutes while the patient waited.
These key employees also generated revenue for the practice by referring hundreds of patients to the professionals to investigate obtaining new amplification. Assistants also produce revenue by demonstrating wireless and loop technology and encouraging patients to participate in our extended service program.
Potential Obstacles
While these numbers can create a compelling argument for the use of assistants, there are some potential obstacles to overcome. One of these can be training. I have heard colleagues complain that they want to hire an assistant but don't have the time to train one. It is true that there aren't a great deal of options for training, but the choices are increasing.
In my opinion, the leading training program for audiology assistants is the one at Nova Southeastern University. The 6-month course within the College of Allied Health and Nursing is entirely web-based. The program's site contains outlines, self-tests, and tutorials. There are also several 2-year college programs that offer the opportunity to become an audiology assistant. The Council for Accreditation on Occupational Hearing Conservation (CAOHC) can be another resource for initial training to provide the basics for an assistant. Hearing aid manufacturers usually welcome the opportunity to provide training on how to service and repair hearing aids. In addition, there is always the option of on-the-job training.
Serving Basic Needs VERY WELL
According to the many articles I have read over the years, patient satisfaction with hearing aids is often far more attributable to how a patient is treated than to how well they hear. It is a policy in my practice to send a follow-up survey of patient satisfaction 5 months after the purchase of hearing aids, and a patient reactivation specialist routinely contacts patients to investigate whether they are satisfied with the services we provide. Our patients overwhelmingly applaud our assistants. In addition, 97% of the respondents reported that they would recommend a hearing aid to a friend or relative and would encourage them to come to us for their services!
I believe that satisfaction reported in my practice is a testament to the value of using assistants. As hearing healthcare practices are faced with declining reimbursement, increased competition, and a declining workforce, I contend that the question isn't whether we should use assistants but rather "Can we afford NOT to use assistants in our practices?"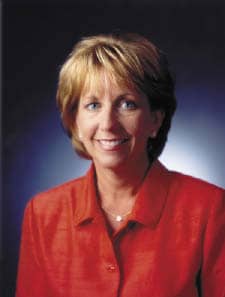 Gyl A. Kasewurm, AuD, is the owner of Professional Hearing Services, a private practice located in St Joseph, Mich. Dr Kasewurm has been in private practice for 30 years and her office, which employs 12 full-time staff members, has been profiled several times for its singular approach to patient care and the patient journey. CORRESPONDENCE can be addressed to Dr Kasewurm at: [email protected]