PRODUCT CATEGORIES
ASSISTIVE DEVICES
Audio Domino

Bellman & Symfon, Vastra Frolunda, Sweden, offers its Bellman Audio Domino, a personal hearing system that the company says uses digital state-of-the-art sound processing and wireless wideband technology to bring out speech in difficult listening situations. The assistive listening device reportedly delivers clear stereo sound while minimizing background noise and feedback, and can be used in a variety of situations and environments such as at work, school, and home, and in restaurants and vehicles. Fully digital, the Bellman Audio Domino features remote control of omni- and directional microphones, and all functions can be accessed using a single push of a button. Domino comes with a 2-year warranty.
+46 (0)31-682820
www.bellman.se
---

Integrated Connectivity
Somerset, NJ-based Oticon Inc's ConnectLine Bluetooth adaptors are plug and play, energy efficient, and part of Oticon's integrated connectivity protocol. The TV adaptor overcomes the latency issue experienced with Bluetooth; the phone adaptor turns existing landline phones into cordless Bluetooth phones. Streamer maintains an energy efficient system for hearing aids while streaming.
(800) 227-3921
www.oticonusa.com
---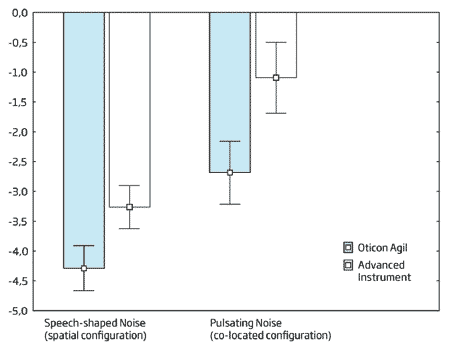 ADCO Offers Sennheiser 830-S
ADCO Hearing Products, Littleton, Colo, has the Sennheiser Set 830-S available. Using infrared transmission, the sound from a TV stereo system or radio can be wirelessly transmitted from the 830-S receiver to a hearing aid with a T-switch via the included induction loop. Alternatively, induction silhouette couplers or headphones can be connected to the lightweight clip-on receiver. System features of the Set 803-S include transmission frequencies of 2.3-2.8MHz with a range of up to 40 feet. Volume and balance controls with selectable hearing settings ensure ideal speech intelligibility.
(800) 726-0851
www.adcohearing.com
---
Phone Amplifier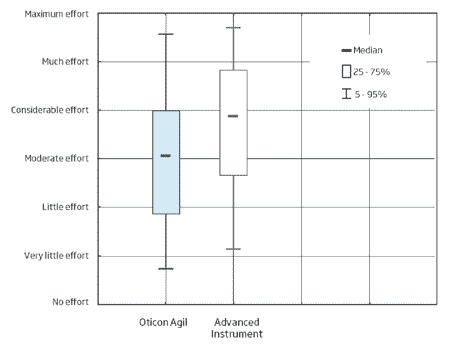 Harris Communications, Eden Prairie, Minn, offers Serene Innovations' UA-50 phone amplifier, for people who need extra amplification on their phone at work. The amplifier attaches to business phones for clear calls that are amplified up to 170 times louder on handsets or headsets. The device is available with the H141N DuoSet noise-cancelling headset with a RJ9 adapter, which is worn over the ear or over the head to enable users to multitask while keeping their hands free. Other headset options are available.
(800) 825-6758
www.harriscomm.com
---
Integrated Alerting System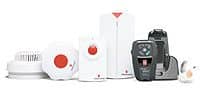 Unitron, Kitchener, Ontario, Canada (with US headquarters in Plymouth, Minn), introduces the Smart Alert System—an integrated hearing and alerting system—responding to a need of hearing care professionals and their clients for a fully integrated system that enables household alerts, such as the telephone, doorbell, or smoke alarm, to communicate directly with hearing instruments. The system, developed in partnership with Bellman & Symfon, which specializes in alerting technologies, brings together Unitron's remote control and advanced hearing instruments with home alerting detectors.
(800) 888-8882
www.unitron.com
---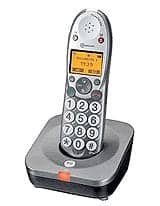 Amplicom Ramps Up the Amps
Amplicom USA, Wantagh, NY, has entered the North American market with the introduction of its PowerTel 500 amplified phone, suitable for consumers with varying degrees of hearing loss. The PowerTel series of corded and cordless amplified phones and related products offer noise and interference reduction for clear communication. They are compatible with hearing aids and cochlear implants and meet the TIA-1083 standard for compatibility. The phones feature multiple hearing profiles, allowing settings to be adjusted, remembered, and switched with the touch of a button for different members of a household; and state-of-the-art DECT (Digital Enhanced Cordless Telecommunications) 6.0 technology.
(866) 267-5426
www.amplicomusa.com
---
Remote Connect Adapter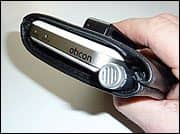 Pehratek Products, Chaska, Minn, offers the Remote Connect Adapter (RCA), which can be used with the Oticon ConnectLine TV transmitter to remotely pick up sounds at meetings, restaurants, and other places where a remote microphone can assist hearing ability. The RCA consists of a custom handheld pouch with built-in clothes clip to attach to car visor or pocket, long-lasting built-in lithium battery, and noise-canceling directional microphone that plugs into the Oticon ConnectLine TV unit, essentially turning the TV adapter into a portable wireless microphone.
(866) 470-3532
www.pehratek.com
---
There's No Place like Home

The UniVox DLS-50 from Oaktree Products Inc, St Louis, is a compact yet powerful home loop amplifier enabling wireless listening for t-coil equipped hearing instrument wearers. The amplifier can be connected to any stereo, TV, MP3, microphone, or audio device the user wishes to hear more clearly. The loop wire is installed around the perimeter of the room and will magnetically transmit sound directly to the t-coil of hearing instruments without the need for additional receivers or headsets. The UniVox amplifier system is also available with loop pad for placement on a chair or sofa.
(800) 347-1960
www.oaktreeproducts.com
EARMOLDS, EARPLUGS, AND IMPRESSION MATERIALS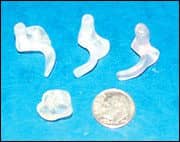 Thin-Tube/Open-Ear Fittings
Mid-States Laboratories, Wichita, Kan, offers a variety of thin-tube/open-ear fittings. Choose from a selection of styles to custom fit each client's hearing needs. When possible, Mid-States prefers to use its Apollo or Marveltex/vinyl materials, which allow for friction fit, an advantage when considering the need to retube.
(800) 247-3669
www.mid-stateslabs.com
---
Custom Earmolds, Earplugs
Hocks Hearing Healthcare Products, Portland, Ore, manufactures a wide variety of earplugs and custom earmolds for swimming, sleeping, and hearing protection, including the Hocks Noise Braker and Pikaso Plugs.
(800) 654-6257
www.hocksproducts.com
www.noisebrakers.com
---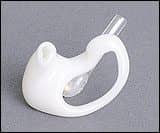 Reduces Skin Irritation
Microsonic, Ambridge, Pa, introduces Micro-Cera, a new product to address severe allergy problems. The new material is designed to be a solution for patients who have hypersensitivity to conventional acrylic molds. The company has added a process called Micro-Glaze, which helps reduce skin irritation by coating the entire earmold with an antibacterial and skin-friendly material.
(800) 523-7672
www.microsonic-inc.com
---
A Great First Impression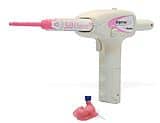 Westone, Colorado Springs, Colo, reintroduces the ImpressEar Cordless Cartridge Impression Gun, which is powered by a rechargeable nickel metal-hydride battery that recharges in 2 hours and will dispense as many as 30 cartridges of impression material on a single charge. Other features include flow and drip control and push button plunger retraction. Included with each gun is one cartridge of either SiliClone S-50 or SiliClone Firm impression material, four mixing tips, and a sample package of our PROS vented oto-dams.
(800) 525-5071
www.westone.com
HEARING INSTRUMENTS
Ocho Micro Open Fit BTE

Aurica USA, Longwood, Fla, offers the Ocho Micro Open Fit BTE, an eight-channel hearing aid that provides exceptional sound quality in a small and discreet package. The Ocho features third-generation adaptive feedback cancellation systems to enable added stable gain, eight channel WDRC compression, 12 band gain adjustment, and layered noise reduction, with a 17dB noise reduction setting available for extreme noise situations. Event Data Logging helps dispensers understand usage patterns to counsel new users.
(321) 972-3999
wwww.Auricausa.com
---
Crossover Hearing Instrument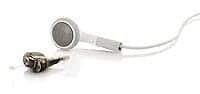 Unitron, Kitchener, Ontario, Canada, has introduced Fuse, the world's first crossover hearing instrument. Combining attributes of ultra-small BTEs and CICs, along with new purpose-driven innovations, Fuse is open fitting and fully featured, and can be fit during a single consultation. At 45% less than the volume of a typical CIC, Fuse is almost completely concealed inside the ear. In developing the new crossover category, Unitron introduced a number of purpose-driven innovations. A revolutionary articulating joint eliminates pressure points by adapting with the ear canal as it moves during speech and while chewing and swallowing. The articulating joint also improves retention. Fuse is available in a choice of technology levels, including Unitron's premium hearing instrument, Passport, and its most recent advanced introduction, Latitude, in the Latitude 16 and Latitude 8 product lines.
(800) 888-8882
www.unitron.com
---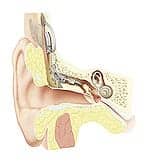 Fully Implantable Hearing System
Otologics, Boulder, Colo, has introduced Carina, a fully implantable hearing system that picks up sounds using a microphone implanted under the skin. Sounds are amplified according to the wearer's needs and converted into an electrical signal. The signal is sent down the lead and into the transducer, the top of which is in contact with the middle ear anatomy. The implant component consists of three primary parts: a capsule that houses the electronics, a microphone system, and the middle ear transducer. It consists of four primary components: the implant, the programming system, the charger, and the remote control.
(866) 390-5506
www.otologics.com
---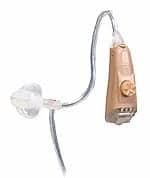 OTE Features Tinnitus Sound Generator
New Orleans-based General Hearing Instruments Inc has announced the release of its Tranquil Simplicity micropoly tube OTE featuring a broadband tinnitus sound generator. The device offers a secure fit for extended wear time, and since it is not custom fit, it allows for same-day fitting scenarios. If amplification is needed to accommodate a hearing loss, tinnitus combo devices are available that combine high-tech amplification circuits with a quality sound generator in a cost-effective, in-the-ear device. Tranquil Combo is available in an open-ear design or a closed shell with venting, depending on the hearing loss. Several amplification circuits are available, including digital, with one or two manual controls.
(800) 824-3021
www.generalhearing.com
---
Effective, Efficient Fitting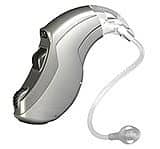 Ear Technology Corporation, Johnson City, Tenn, is now shipping its Clik open-fit BTE, an instrument that provides an innovative, efficient fitting protocol for patients with mild to moderate high-frequency hearing loss. Clik's processor is preloaded with a variety of algorithms, so instead of programming via traditional cable connections, the appropriate setting is selected with a fingertip. Clik features digital volume control, directional microphones, and two telecoils. Clik allows for 24-bit precision computing with up to 110dB of input dynamic range and eight channel wide dynamic range compression.
(888) 382-9327
www.clik-hearing.com
HEARING INSTRUMENT ACCESSORIES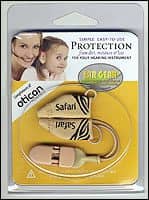 Ear Gear Goes on Safari
Ear Gear, Lake Country, British Columbia, Canada, has announced that its Mini Curved Corded model of hearing instrument protection has been chosen by Oticon Pediatrics to be included in all of their pediatric kits from birth to 18 years of age. Specifically created for Oticon, it includes a unique Safari graphic imprinted on the Ear Gear sleeve and features a lightweight plastic clip. The Ear Gear/Oticon Safari Mini Curved includes full color instructions specifically created for installation and use of this model by Oticon's clients.
(888) 766-1838
www.gearforears.com
---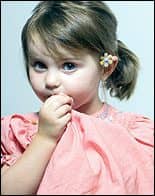 Styles for the Ears
Tube Riders, Nashville, Tenn, let kids decorate, individualize, and destigmatize their BTEs or CIs, and help children accept the aids faster by making them cool. Bright and colorful, they slip onto the tube portion of a BTE or onto the ear hook of a cochlear implant. One satisfied mother said Tube Riders changed her child from different into special and made kids love their BTEs.
(615) 335-3385
www.otocool.com
---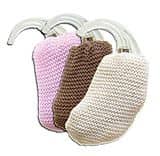 Maximum Moisture Protection
The Hearing Aid Sweat Band from VanB Enterprises, West Valley, NY, is made from a specially designed all-natural fabric that protects hearing aids from the damaging effects of moisture and dirt infiltration. The Hearing Aid Sweat Band material enables wearers to leave their hearing aid in place not only during high-perspiration sport activities, but at any time to defend from moisture, dust, and dirt. Available in nine sizes and 17 colors for all makes and models of BTE devices. Made in the USA.
(866) 644-2500
www.hearingaidsweatband.com
---
Moisture Guard
The Deflector hearing instrument moisture guard from Raycare Solutions, Lincoln, Neb, allows wearers to enjoy all of life's activities without the fear of moisture damaging such an important investment. The wearer of a BTE instrument can be involved in everything from strenuous activity to a walk in the rain. The simple, lightweight, clear plastic design deflects moisture away from the hearing instrument. The on-and-off application allows clients to use The Deflector when moisture occurs and remove it when not needed. It also helps in dusty situations, because dirt is not attracted to dry areas.
(877) 518-1171
www.raycaresolutions.com
---
Age-Appropriate Care Kits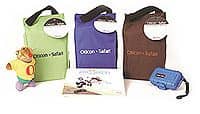 Oticon Pediatrics, Somerset, NJ, has introduced a series of children-friendly, age-appropriate Care Kits packaged with its Safari hearing aids to equip kids as they encounter the everyday adventures of childhood with their new hearing instruments. Color-coded by age, the kits contain a range of practical and fun accessories to meet the needs of youngsters, and their parents, from infancy through the high school years. Care Kits are available for three age groups: infancy to 4 years (apple green); school age children, 5 to 10 years (royal blue); and middle/high-schoolers, 11 to 18 years (espresso). Each kit also contains age-appropriate brochures, Safari-themed Ear Gear, listening tubes, and an OtiCare Clean and Dry Kit.
(800) 526-3921
www.oticonusa.com
HEARING INSTRUMENTS COMPONENTS AND PRODUCTION/REPAIR SUPPLIES
Hearing Aid Workstation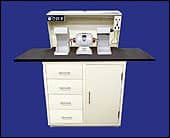 With its all steel construction and attractive powder coated cabinet, the Audio Repair Bench from Lightning Enterprises, Limington, Me, includes a two speed Model 26A Red Wing Lathe with Mod Tool Kit, Dual-Lite UV Cure Unit, VAC-1B Hearing Aid Cleaning System, VAC-1D Desiccator Chamber for hearing aid drying, two Model 550 dust collectors with splash hoods, and CM-3 Control Module, as well as extended sides to give the technician plenty of working room. The table top is designed to resist scratching and wear, and under-shelf fluorescent light illuminates the work area.
(877) 546-1797
www.l-ent.com
---
Jodi-Consumer Vacuum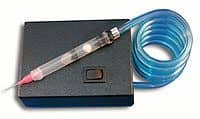 Jodi-vac LLC, Portland, Ore, is now offering its first vacuum system for consumers to help them protect their hearing aid investment. Jodi-Consumer is a compact, portable, and affordable hearing aid cleaning solution for home use that takes just a few minutes each night to ensure against wax build-up and reduce the need for professional cleanings. Jodi-Consumer comes with a 1-year warranty for personal use; 3-month warranty for professional use. The unit measures 4.5" x 7.25" x 3", and operates via a 12V DC power supply.
(866) 856-5634
www.jodivac.com
---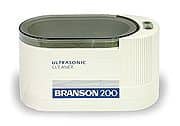 Ultrasonic Cleaner
Westone Laboratories, Colorado Springs, Colo, offers the Branson 200 Ultrasonic Cleaner. Ultrasonic energy (40kHz) creates millions of bubbles in the cleaning solution that work their way into the small crevices of clinical equipment and earmolds to loosen dirt debris. The compact (8.75" length x 4.5" width x 5" depth) cleaner weighs only 3 pounds and features a 15-ounce steel tank.
(800) 525-5071
www.westone.com
---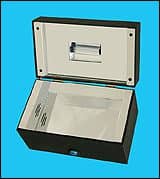 Universal Sanitizer Dryer
Hearing Technologies International Inc, Pinellas Park, Fla, now has available its brand-new Universal Sanitizer Dryer, designed to sanitize and remove harmful moisture from hearing aids. With US and international patents pending, the Universal Sanitizer Dryer's drying compartment can accommodate all types of hearing instruments, including body-worn, implants, microphones, headpieces, and speech processors, and operates anywhere in the world with a simple plug change. Weighing less than two pounds and measuring a compact 7.4" x 4.25" x 4.57", the unit has a drying cycle of about 8 hours, first utilizing a germicidal lamp that automatically shuts off after about the first 8 minutes. Then a fan circulates warm air through the drying compartment for the remainder of the cycle. The life of the UV-C lamp is at least 10,000 hours.
(800) 553-6003
www.hearingtech.com
MARKETING, PRACTICE MANAGEMENT, AND INFORMATION RESOURCES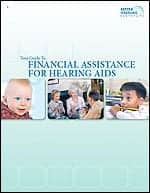 Hearing Aid Financial Assistance Guide
The Better Hearing Institute (BHI), Washington, DC, has published Your Guide to Financial Assistance for Hearing Aids—detailing how people can obtain financial assistance to purchase hearing aids. The publication provides a financial resource for people considering a hearing aid and allows them to quickly and easily identify charitable foundations, private organizations, insurance plans, corporate benefits, and government programs that help people access the hearing care they need.
(202) 449-1100
www.betterhearing.org
---
New Child-friendly Comic Book Series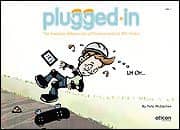 Thomas, the hero of the new Plugged In comic strip, is a typical, fun-loving boy who navigates the ups and downs of middle school with a sense of adventure—and a hearing loss. Oticon Pediatrics, Somerset, NJ, is bringing Thomas and his humorous antics to children with hearing loss through an exclusive arrangement with the comic's creator, cartoonist, and toy designer, Pete McEachen.
The first Plugged In book—a 61-page compilation of dozens of comic strips starring Thomas and his friends—will be included with all new Oticon Pediatrics hearing instruments for children, ages 5 to 18. In addition to providing the book as a gift with all new Oticon Pediatrics instruments, the company is making copies of the book available for a small fee.
(800) 526-3921
www.oticonusa.com/children
---
Ear Gear Creates Fit List
In response to many requests, Ear Gear, Lake Country, British Columbia, Canada, has assembled a fit list, containing more than 75 popular hearing instruments and the Ear Gear Model that the company recommends. The list is due to be updated on a regular basis, and is available for download from the Professional's page on the company's Web site.
(888) 766-1838
www.gearforears.com
---
Audigy Group Debuts New Online Portals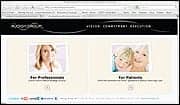 Audigy Group, Vancouver, Wash, has announced the release of two new digital assets for both corporate and consumer information. The first is a new corporate Web site that reflects the 4-year growth in member/owners, shared services, and support staff. The interactive site, which includes embedded interviews with private practitioners and their staff members, answers questions for membership/ownership inquiries, provides background for audiologists and other staff members Audigy recruits to fill open positions in member/owner locations, and general press information. The second digital asset, www.thehearingcareblog.com, is a destination for patients and consumers interested in hearing care topics, services, and products. The site will initially be supported by weekly articles written by member/owners on topics relevant to hearing care consumers/patients.
(866) 711-2026
www.audigygroup.com
---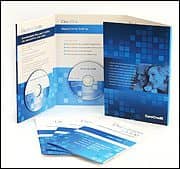 Telephone Skills Improvement Program
Costa Mesa, Calif-based CareCredit's Telephone Skills Improvement Program is designed to give hearing care professionals the tools, techniques, and scripts to turn phone inquiries into hearing aid sales, and is available free to CareCredit enrolled practices. It consists of three audio CDs, each containing three educational sessions. Each session is about 10 to 15 minutes long, and can be incorporated into a team lunch-and-learn or weekly training meeting, or as part of an ongoing staff development program.
(800) 859-9975
www.carecredit.com
---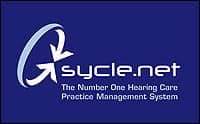 Sycle.net Expands Features
San Francisco-based Sycle.net has announced new features to its popular hearing care practice management system, including third party tracking, new and improved intake report, enhanced referral report, and new cancelled appointment report.
(888) 881-7925
www.sycle.net
---
Revamped Web Site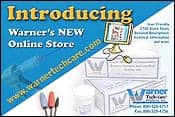 Warner Tech-care Products Inc, St Paul, Minn, has announced the debut of a new Web site and online store. A provider of a diverse range of hearing aid products and accessories since 1984, Warner Tech-care Products' revamped online store features a comprehensive product offering to audiologists, hearing aid dispensers, hearing aid manufacturers, earmold labs, and all-make repair labs. Warner offers several products that can be personalized to promote name recognition and increase office sales. The company's Tech-care line of personal care products for the hearing industry are key to ear hygiene and hearing aid maintenance.
(800) 328-4757
www.warnertechcare.com
---
Blueprint Solutions' Office Management System Comes to the US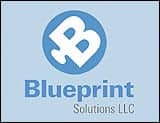 Blueprint Solutions LLC, Eden Prairie, Minn, has introduced its hearing care office management system (OMS) in the United States, after 5 years of successful implementation in hearing clinics in Canada. The system has been modified and enhanced to provide total business solutions: it manages patient data, hearing equipment, medical information, and billing, and provides a marketing and promotion module that helps business owners and managers stay in touch with their patient base. The Internet-based system is using advanced database and application tools to create an intuitive user interface that can be accessed from any computer with Internet access.
(877) 686-8410
www.blueprintsolutions.us
TESTING AND FITTING EQUIPMENT
Frye Introduces FONIX 8000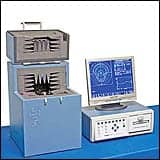 Frye Electronics Inc, Tigard, Ore, has introduced the FONIX 8000 Hearing Aid Test System, which helps clinicians verify a hearing aid's directional response pattern (its polar plot)—a measurement that has not typically been available in a clinical environment, according to the company. The technology, which has reportedly been in development for the past 3 years, may be a useful tool for hearing health professionals in light of the growing popularity of directional hearing aids. In the polar plot sound chamber, the hearing aid is mounted on a rotating spindle in front of the sound chamber speaker. During the test, the 8000 automatically rotates the hearing aid in a 360 degree circle, taking measurements at angles specified by the user. A special damping configuration is used within the sound chamber to minimize acoustic reflections and provide as much accuracy as possible within the small confines of the desktop chamber. Results are displayed in polar plot format on a screen, and can be printed and saved electronically for future reference.
(800) 547-8209
www.frye.com
---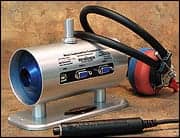 Computer-Controlled Audiometer
Micro Audiometrics, Murphy, NC, introduces Earscan 4, the newest addition to the Earscan family of audiometers. Earscan 4 is a computer-controlled audiometer, which includes audiometric testing software along with an integrated bioacoustic simulator and optional room monitor. It offers automatic and manual pure tone operation, dual station capability, USB connectivity, and audio capability. Multiple Earscans can be connected easily via USB hubs.
(866) 327-7226
www.microaud.com
---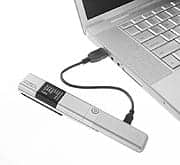 Cost-Effective and User-Friendly
Etymotic Research, Elk Grove Village, Ill, has taken the cost and complication out of noise dosimetry with a new programmable, data-logging version of their original Personal Noise Dosimeter. The ER-200 device is cost-effective, user-friendly, and lightweight. Normal mode measures noise dose for up to 16 hours. Data are reported in Excel and reports can be printed. QuickCheck mode measures for 2 minutes and displays estimated dose per hour. LEDs alert users when safe levels have been exceeded.
(888) 389-6684
www.etymotic.com
---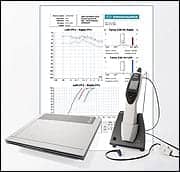 Equinox 2.0, Titan from Interacoustics
The Equinox 2.0 and Titan, from Assens, Denmark-based Interacoustics, offer ease of use and speed without compromising flexibility and reliability. With them, clinicians can now combine middle ear test data with audiometric results for a more comprehensive report. Reports can be individually customized to align to local requirements with regard to content and graphical layout. Data is automatically retrieved from OtoAccess or NOAH for a particular patient and sessions and placed in the associated template. Reports can be either printed or saved as a PDF document.
(800) 947-6334
www.interacoustics.com
---
Visual Reinforcement Audiometry System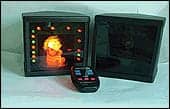 Pehratek Products, Chaska, Minn, offers the Wireless XM-1000 Visual Reinforcement Audiometry (VRA) system that combines motion with attention-getting multiple light patterns to successfully perform pediatric assessments. Each smoked Plexiglas box features a friendly cartoon character that lights up and quietly moves back and forth to attract attention. Additionally, 20 brightly colored LED lights flash in a wave or in a marquee pattern to create an ever-changing attractive display for reinforcing responses. This user-installable system features a RF remote control to activate the system from inside or outside the test booth to over 50 feet.
(866) 470-3532
www.pehratek.com
---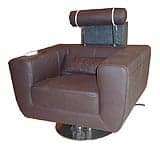 Have a Seat
Pehratek Products, Chaska, Minn, announces the first chair designed for the hearing professional. The Sound Seat contains testing headphones/bone vibrator/insert earphones/otoscope, and replacement tips in a hidden compartment behind the patient's head. When a patient sits in the chair, a row of LED lights will illuminate the head area automatically. The cords retract back into the compartment when not in use. All cords are concealed and are routed back to the sound room jack panel by a single umbilical cord.
(866) 470-3532
www.pehratek.com
---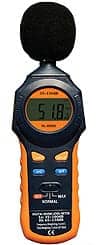 Vivosonic Unveils Aurix Screener
Vivosonic Inc, Toronto, has introduced the Aurix newborn hearing screening system. Aurix uses the same Kalman weighted algorithm as Vivosonic Integrity, the company's flagship product. The fully automated auditory brainstem response (ABR) system can obtain reliable results, in even the most difficult screening situations. User-friendly, the Aurix conducts infant hearing screenings in three steps: Create a record, perform the test, and then print the result. The administrative area housed within the software package allows program managers to tailor the system to their individual program needs, and it is fully compatible with industry database software such as Oz Systems and HiTrack.
(877) 255-7685
www.vivosonic.com
---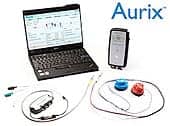 A Sound Investment
Hearing Technologies International Inc, Pinellas Park, Fla, offers a new handheld SL-8850 Digital Sound Level Meter. The meter, designed according to IEC651 Type 2 and ANSI S1.4 specifications, offers +/- 1.5dB accuracy and features a four-digit LCD display as well as two sound level ranges: 35-100dB and 65-130dB. A nylon carrying bag is included.
(800) 553-6003
www.hearingtech.com
---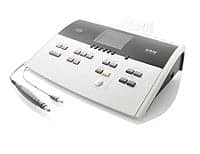 Analyze This!
Interacoustics, Eden Prairie, Minn, is releasing the new and improved line of AT235 series clinical middle ear analyzers and the AA222 combo clinical audiometer/impedance instruments. The new design incorporates the power supply, provides built-in calibration cavities, and has updated USB interfaces. In combination with the newly introduced Diagnostic Suite software, all Interacoustics instruments are moving toward full integration for combined audio/tympanometry reports.
(800) 947-6334
www.interacoustics-us.com
---
Portable OAE System
From Sherrills Ford, NC-based Otodynamics Ltd comes the Otoport Screener from the company's Otoport family of handheld OAE devices. Fully customizable protocols and a large database make the Otoport Screener ideal for coordinated universal newborn hearing screening programs with quality control procedures. The Otoport Screener uses the TEOAE Quickscreen method of testing, popular with many major and national screening programs since 1990. Features include an illuminated keypad, long battery life, wireless printing option, and four screening modes.
(828) 478-9880
www.otodynamics.com
---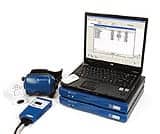 Integrated Testing Solution
The ICS Chartr EP 200 is a new system for evoked potential (EP) testing from GN Otometrics, Schaumburg, Ill. The system builds on Otometrics' ICS Chartr line offering comprehensive EP testing. The Chartr EP 200 can be combined with Otometrics' VNG/ENG system, the ICS Chartr 200, creating a state-of-the-art solution. Install both Chartr EP and Chartr VNG/ENG software on the same computer and benefit from a complete test battery and a shared database.
(800) 289-2150
www.otometrics.com/chartrep
---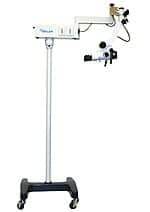 Operating Microscopes
Oaktree Products Inc, Chesterfield, Mo, introduces affordable operating microscopes. The binocular magnification can make procedures like cerumen removal and the placement of extended wear hearing instruments much easier. Oaktree provides Seiler microscopes, one of the oldest names in the surgical magnification business. High-quality Seiler scopes use precision German lenses.
(800) 347-1960
www.oaktreeproducts.com
---
Sound Level Meter Kit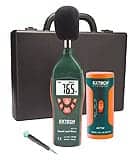 Extech Instruments, Waltham, Mass, offers its Model 407732-Kit, a new Low/High Range Sound Level Meter Kit, featuring ranges measuring 35 to 100dB (low) and 65 to 130dB (high). The included Model 407722 sound calibrator features ±5% accuracy, allowing for the kit to meet both ANSI and IEC 651 Type 2 standards. A backlit LCD display allows for viewing in dimly lit areas, and features data hold and max hold functions. The kit includes the 407732 sound meter, a microphone wind screen, a calibration screw driver, a 9V battery, and the 407722 sound calibrator with an additional 9V battery. The included hard-plastic carrying case provides protection and organization for the meter and calibrator kit.
(781) 890-7440
www.extech.com
---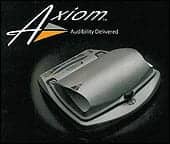 Audioscan Introduces Axiom
Audioscan, Dorchester, Ontario, Canada, lifted the covers off its latest creation, Axiom, in San Diego at AudiologyNOW! 2010 in April, showcasing the sleek new hearing instrument fitting system, which offers a large and easy-to-use test chamber, dual HDMI monitor display capability, and a unique stand that combines speaker and probe microphone management. Key features include speechmap and text box, user-friendly operation, patient-friendly visuals, and accurate fittings focused on speech audibility.
(800) 265-2093
www.audioscan.com
---
Otovation Releases OTOPod M2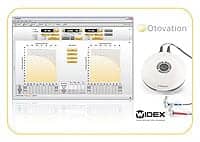 Audioscan, Dorchester, Ontario, Canada, lifted the covers off its latest creation, Axiom, in San Diego at AudiologyNOW! 2010 in April, showcasing the sleek new hearing instrument fitting system, which offers a large and easy-to-use test chamber, dual HDMI monitor display capability, and a unique stand that combines speaker and probe microphone management. Key features include speechmap and text box, user-friendly operation, patient-friendly visuals, and accurate fittings focused on speech audibility.
(800) 265-2093
www.otovation.com
---
MedRx Offers AVANT REM Speech+ and A2D+
MedRx Inc, Largo, Fla, offers two new systems: The AVANT REM Speech+ Real Ear and Live Speech Mapping System, and the AVANT A2D+ diagnostic audiometer, both featuring an advanced ergonomic design. New features of the REM Speech+ include the Sure Probe microphone system with lighted visual cues and an adjustable loop design that will fit any ear. Also new is a selectable dual probe measurement option that allows the user to do live speech mapping on both ears simultaneously. The AVANT A2D+ is a two-channel, air, bone, and speech audiometer with a new integrated Quick SIN testing feature. The A2D+ audiometer comes standard with insert ear phones and custom carrying case. Both systems weigh less than a half pound each, connect to a USB port, and are NOAH System 3 and TIMS compatible.
(888) 392-1234
www.medrx-usa.com
TINNITUS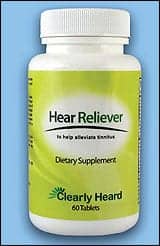 Tinnitus Help
Hear Reliever from Clearly Heard Inc, Glendale, Calif, is a supplement the company says is formulated to assist patients with the symptoms associated with ringing or buzzing in the ear. Hearing supplements have reportedly been shown to be effective in reducing and/or eliminating tinnitus in some patients. Hear Reliever's formula includes glutathione (a key element in reportedly helping to prevent free radical damage), CoQ10 (an antioxidant said to promote cellular energy), and NAC (an amino acid shown to repair damaged hair cells of the inner ear). Health Care Professional discounts and affiliate programs are available.
(800) 677-2616
www.clearlyheard.com
---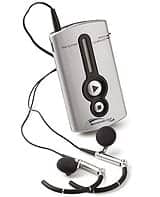 An Oasis of Relief
Neuromonics' noninvasive, FDA-cleared Oasis device is customized to the patient's unique hearing and tinnitus profile, says the company. Delivering a customized stimulus that promotes neural changes, Oasis allows the brain to filter out the disturbing tinnitus sound. This stimulus is delivered within spectrally modified, customized music, which engages the brain's emotional response center and the limbic system, reportedly reducing tinnitus-related disturbance.
(866) 606-3876
www.neuromonics.com