By Karl Strom, Editor in Chief

Karl Strom, Hearing Review Editor-In-ChiefThird-quarter net unit sales of hearing aids in the United States were essentially flat, according to statistics generated by the Hearing Industries Association (HIA), Washington, DC (Figure 1). In the third quarter, overall sales increased by 1.0% compared to the same period last year, with the
Department of Veterans Affairs experiencing a 3.8% unit volume increase and private sector sales equalling (0.31%) those of last year. For reference, Q3 2011 sales were similarly unremarkable compared to 2010: 0.27% and 1.1% increases for the VA and private sector, respectively, and a 0.94% increase overall.
While the new statistics are nothing to celebrate, the good news is that hearing aid sales remain stable and fairly predictable. More than anything else, they may be reflective of consumers' (and particularly seniors') overall uncertainty concerning the macro-economy in the United States and Europe; the elections, which will have been concluded (barring any hanging chads) by the time most readers receive the print version of this magazine; as well as what the new Congress may or may not do about the so-called "fiscal cliff" of tax increases and government cuts scheduled to kick in on January 1 as the result of the Budget Control Act of 2011.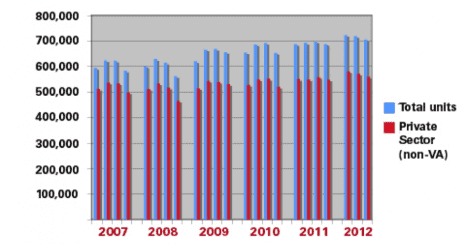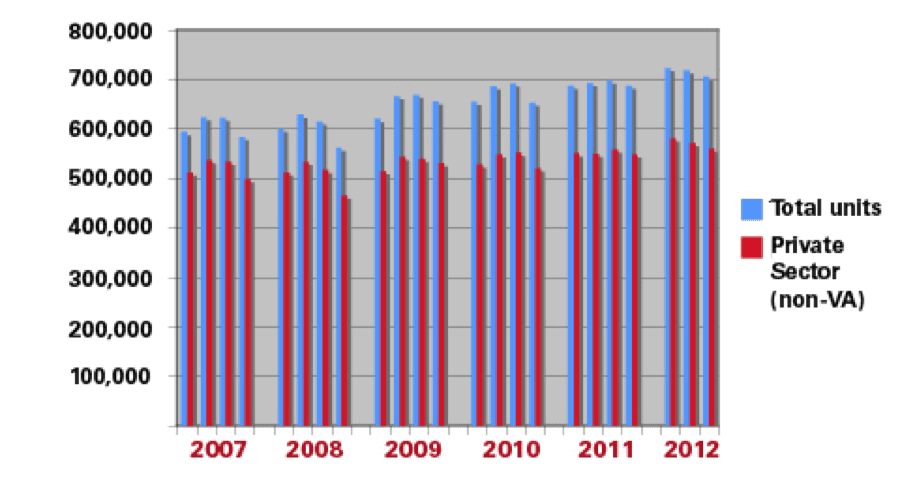 Figure 1. Quarterly net units of hearing aids sold in the United States. Although the private sector experienced flat unit growth in the third quarter, overall unit sales are up by 3.0% for this year, suggesting that 2012 will end up at or just short of the industry's "typical" 3% to 4% growth figure.
For the total year, hearing aid unit volume is up by 3.05%, buoyed by strong sales growth (5.3%) in Q1 and average sales growth (2.9%) in Q2. Given that last year saw fairly strong sales increases (5.1%) in the fourth quarter, HR estimates that overall 2012 sales will end up about 2% to 3% over 2011 sales—or just over 2.82 million hearing aids. So, unless the Q4 brings a surprise, the summary of 2012 will be "Not great, but not terrible."
Of greater concern for dispensing professionals is evidence that average sales prices (ASPs) of hearing aids are gradually declining and that more consumers are migrating to the mid- and economy-level lines. Industry leaders point to the fact that recent product launches have concentrated on the lower-end products, and a number of manufacturers have just launched (at the German EUHA Congress) or will soon be launching premium lines that should positively impact ASPs. However, pricing pressures from fast-growing big-box retailers and aggressive marketing from chain networks are also placing a downward pressure on ASPs.
The market growth trend for BTEs has shown signs of topping out; however, RICs and RITEs continue to make gains. In the third quarter, BTEs constituted 70.4% of all hearing aids dispensed, compared to 64.1% in 2009, 66.9% in 2010, and 69.9% in 2011. BTEs with external receivers (eg, RICs and RITEs) continue to eat into the traditional BTE market share. In 2011, the percentage of BTEs dispensed with external receivers was 49.3%, or 34.1% of all hearing aids dispensed. In the third quarter of 2012, these aids made up 64.3% of all BTEs, or 45.3% of all hearing aids sold.