The Hearing Review recently convened a Knowledge Summit Roundtable in conjunction with "12 Hours of Sebring," an annual motorsports race held in Sebring, Fla, that kicks off what might be thought of as the "Grand Slam" of the 2013 American Le Mans Series (ALMS) endurance racing season.
The roundtable, moderated by HR Editor-in-chief Karl Strom, featured Siemens Hearing Instruments Vice President of Audiology Thomas Powers, PhD, and five Florida-based audiologists and hearing instrument specialists, including Mike Arpasi, BC-HIS; Cecilia Camacho, AuD; Roseanne Kiefer, BC-HIS; Andrea Livingston, AuD; and Chuck Oliver, BC-HIS.
The discussion initially addressed questions related to noise-induced hearing loss and tinnitus, then moved onto other pressing issues confronting audiologists and hearing instrument specialists. Specific noise-related questions included:
What kinds of advice do hearing care professionals give to patients attending loud events like motorsports racing?
What audiograms are more likely to result from noise-induced hearing loss?
How are tinnitus and hyperacousis implicated in noise-induced losses, and what is typically prescribed for these conditions?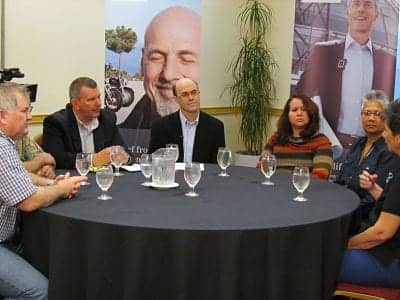 The Knowledge Summit Roundtable 
included (l to r) Mike Arpasi, BC-HIS; Chuck Oliver, BC-HIS; Tom Powers, 
PhD; Karl Strom; Cecilia Comacho, AuD; Andrea Livingston, 
AuD; and Roseanne Kiefer, BC-HIS.
The roundtable of seasoned dispensing professionals—several of whom have owned or worked in hearing care practices for over 20 years—provided numerous real-life cases to illustrate their answers. Additionally, they offered comments about the many issues that face hearing care professionals today, including marketing and referral-building, the increasing use of BTE and open-fit devices, practice management strategies, and Internet hearing aids.
"The hearing professionals attending were engaged and were very positive in their comments about the wide range of topics discussed," said Powers.
Powers noted the presence of a toddler attending the racing portion of the day, who was wearing a headset to protect his ears. He also spotted an audiologist at the entrance of the VIP tent area making custom earplugs for attendees. "It was a nice surprise to see they were making an attempt to protect their hearing," Powers said. "This is, after all, a 12-hour straight Le Mans race, which is very noisy and can contribute to noise-induced hearing loss and tinnitus."
Strom agreed. "This is an extremely noisy all-day event that drives home the need for hearing awareness and hearing protection," he said. "At the Knowledge Roundtable, I was very thankful for such a wonderful group of audiologists and hearing care professionals who shared their years of experience and expertise. And, at the race, I was extremely thankful for the earplugs that were provided to us!"
The Knowledge Summit Roundtable was videotaped and can be viewed by clicking here.