Hearing Health & Technology Matters (HHTM)—an organization dedicated to bridging the knowledge gaps in treating hearing loss by providing timely information and insights—announced the release of a new book, by author Brian Taylor, AuD: Interpersonal Audiology: Essential Communication Skills in the Era of Consumer-Driven Hearing Healthcare.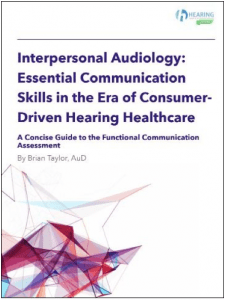 In the "New Age" of patient autonomy—as persons with hearing loss increasingly have the ability to direct their care by self-testing and purchasing hearing devices over-the-counter—counseling and customization are components that still require a human element and at the heart of this human element is Interpersonal Audiology. According to HHTM, hearing care professionals must become more proficient at providing care that cannot be duplicated by computer-driven algorithms or AI-based systems.
"This volume is true brilliance in clinical treatment of today's patients seeking hearing healthcare," said HHTM colleague and audiology consultant, Dr Robert Traynor. "In my 45+ years of clinical practice I have not seen a more complete or well-organized discussion of the real fundamentals of providing clinical treatment to 21st century patients as people, not just a hearing loss.
"Dr Taylor offers sound, personality-based, interactive methods that truly build individual relationships and repeat customers in a time when there are many alternatives for hearing healthcare. His concepts of how to survive in a market where there are so many choices for patients by adjusting service types is nothing short of brilliant.  This will become a permanent addition to my library and I will recommend it heartily to my colleagues and use it in my practice management courses."
According to HHTM's announcement, the tips and tactics included in Dr Taylor's new book represent nearly 30 years of experience working face-to-face with hearing-impaired adults, teaching graduate-level audiology courses, training audiologists and hearing instrument dispensers, and interacting with business managers across the globe. Each of these groups has a different vested interest in the patient-provider relationship, but all of them share a common goal: cost-effective, time-efficient, high-quality clinical outcomes are imperative to long-term success. By focusing on the five principles outlined in the book's introduction and its remaining five chapters of practical, results-based content, this book will help providers differentiate their service provisions from direct-to-consumer competitors.
The book is now exclusively available at the HHTM bookstore.
Source: HHTM
Images: HHTM