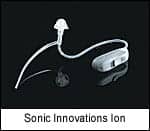 Ion, from Sonic Innovations, offers advanced design in both cosmetics and technology. Don't let the incredibly small size of Ion fool you—Ion is extremely powerful, fitting a wide range of hearing loss, including severe, high frequency losses.
Ion overcomes many ob­jections first-time users have to wearing hearing aids by providing enhanced cosmetics, comfort, and clarity. The incredibly small design of Ion offers patients an ex­tremely discreet hearing solution. Ion is also lightweight, which makes it comfortable to wear throughout the entire day. Being an open-ear product, Ion allows both natural and amplified sounds to enter the ear, giving users a more natural listening experience.
In addition to the benefits offered by Ion, it is also easy to program with the EXPRESSfit 5.3 Fitting System. Simply follow these steps: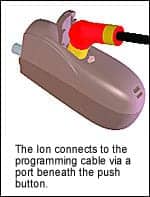 Step 1. Connect Ion to the CS44 programming cable. The CS44 port is cleverly concealed beneath the push button.
Step 2. Launch the EXPRESSfit Fitting Software and navigate to the "Fit Hearing Aid" screen.
Step 3. Adjust the overall volume level using the "Fitting Level" feature. Fitting Levels, located between the fitting graphs, make it easy to adjust the predicted fitting based on the patient's volume preferences. Start with Level 1 and increase the level if the patient desires more amplification.
Step 4. If additional fine-tuning is necessary, use the suite of fitting tools to make adjustments. EXPRESSfit offers several tools and managers that make fitting Ion simple:
Feedback Manager: Configures the Feedback Canceller, if necessary.
Fitting Assistant: Contains solutions to common fitting complaints.
Voice Manager: Adjusts the sound quality of the patient's own voice.
Binaural Balance: Equalizes volume levels in binaural fittings.
Step 5. Close the fitting session by navigating to the "Finish Session" screen. You can also adjust hearing aid options, like SmartTones and Power On Delay, on the "Finish Session" screen.
For information, contact:
Sonic InnovationsSalt Lake City, Utah, (888) 423-7834 www.sonici.com