With all the surprising national and world news that grabbed our attention in 2016, you could be forgiven for missing a few headlines in our industry. Here are 25 news story headlines and summaries from the hearing healthcare field that Hearing Review Editor Karl Strom thinks you shouldn't have missed (listed in chronological order).
FDA Approves First OTC Hearing Test, January 4, 2016
iHear Medical announced that it received FDA clearance for the iHearTest, the first hearing test approved for over-the-counter (OTC) sales. The iHearTest is intended to profile hearing ability based on WHO guidelines, targeting adults who suspect they have hearing loss, or those reluctant to seek professional evaluation for a basic hearing assessment. Later in December, iHear announced a partnership with the insurance company Ameritas, an insurance provider for more than 6.4 million people nationwide including one of the largest dental networks.
Joint IHS/ADA Unison Summit Scuttled; Separate 2016 Conventions Announced, January 4, 2016
The 2016 Unison Hearing Health Global Summit, which would have for the first time joined the International Hearing Society (IHS) and the Academy of Doctors of Audiology (ADA) conventions into a single venue with separate programs, was cancelled, and each organization held their own separate conventions in 2016. A whirlwind of contentious issues soured the two organizations' relationship, including the ADA's EarVenture hearing aid and IHS's Fit to Serve initiative and Certification for new National Guidelines for Apprenticeship Standards.
Starkey Partners with Bragi on New Hearable Technology, January 22, 2016
Starkey Hearing Technologies announced it is joining forces with Bragi, maker of The Dash, to transform hearable and wearable technology. Starkey announced strategic partnerships with Bragi and Satjiv Chahil, Silicon Valley marketing pioneer, at the 2016 Hearing Innovation Expo, Jan. 20-24.

Sonova to Purchase AudioNova, Europe's Second Largest Hearing Aid Retailer, May 4, 2016
Sonova Holding AG—the world's largest hearing aid manufacturer and parent company of Phonak, Unitron, and Advanced Bionics—announced its intention to purchase AudioNova, Europe's second-largest hearing aid retailer for US$952 million. The deal was completed in September.
Brain Plasticity Study Provides Clues to Single-sided Deafness, May 12, 2016
I included this headline as a representative of a large number of profoundly important discoveries that have to do with hearing and the brain. In this study, new research points to some biomarkers for targeted drug therapies for people with single-sided deafness (SSD), paving the way for the development of brain stimulation therapies to restore normal auditory processing. Also see Doug Beck's interview with Anu Sharma about her research on brain elasticity, as well as the work of Nina Kraus and Samira Anderson.
GN ReSound Announces Plans to Purchase Audigy Group, May 16, 2016
GN ReSound announced that it signed a long-term supply agreement with Audigy Group and also entered into a contingent agreement to acquire the company for up to $151 million. The deal was completed in July.
Samsung Previews New Gear IconX Wireless Earbuds, May 19, 2016
The technology giant has been rumored for years to be entering the hearing industry, and reportedly placed a $13.9 million order for amplifiers intended for hearing aids. In May, technology watch websites VentureBeat and Engadget both reported on Samsung's preparations to launch Gear IconX, its wireless Bluetooth earbuds. Are these poised to shake up the hearables market?
NAS/IOM Committee Recommends New OTC Hearing Aid Class, End to Waiver System, and Unbundling of Hearing Aid Prices, June 3, 2016
If you want to understand what's happening in the hearing care market and potential future changes, please read this. Among a dozen recommendations, the Committee on Accessible and Affordable Hearing Health Care for Adults would like to see the FDA establish an over-the-counter class of hearing devices, an end to the "waiver system," hearing aids that have open programming, undbundled pricing, and portability of consumers' audiograms and hearing aid programming information.
Undiagnosed Hearing Loss in Seniors Means More Isolation, Study Finds, June 30, 2016
I include this as a "representative study" showing how hearing loss impacts (directly or indirectly) the quality of life and health of seniors. This study finds that for every 10 dB drop in hearing sensitivity, the odds of social isolation increase by 52%. A survey sample of seniors also revealed that a 10 dB reduction in hearing was associated with cognitive declines equivalent to almost 4 years of aging.
Oticon President Peer Lauritsen Announces Retirement, July 8, 2016
After more than 40 years of service to the industry, hearing industry executive and Oticon President Peer Lauritsen stepped down from day-to-day responsibilities in July 2016. Oticon has appointed Gary Rosenblum as its new president.
Diagnosis of Dementia Affected by Hearing Loss, July 16, 2016
Dementia and hearing loss continue to be a hot topic, and this will continue. This research shows that reduced audibility significantly reduces scores on the MMSE—the most popular tool for physicians and psychiatrists for assessing cognitive status—resulting in greater apparent cognitive deficits and possible misdiagnosis of dementia.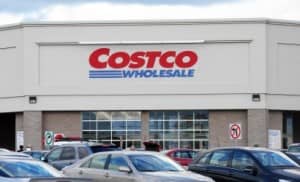 GN Reports Strong Growth in Q2 2016; Loses Costco Kirkland Contract, August 12, 2016
GN Hearing reported 12% revenue growth in Q2 2016, despite the loss of its supply agreement with Costco to produce the Kirkland Signature brand.
Study Indicates Tinnitus Patients Need Our Help, August 16, 2016
A recent JAMA Otolaryngology Head & Neck Surgery study, published online July 21, indicated that tinnitus affects nearly 10% of the US adult population, and more than half of individuals with tinnitus do not discuss it with their doctor. In this article, Brian Taylor, AuD, covers the implications of the study for hearing healthcare providers.

HIMSA to Release Noahlink Wireless for Bluetooth-enabled Aids, August 31, 2016
HIMSA announced the upcoming release of Noahlink Wireless, a new programming device for Bluetooth Low Energy (BLE) enabled hearing instruments that provides a wireless interface between the fitting computer and a patient's BLE-enabled hearing aids.
'Fit to Serve' Bill (HR 3471) Passes with Revised Language Advocated by Audiology Organizations, September 13, 2016
Although HR 3471—the centerpiece of the International Hearing Society's 'Fit to Serve' campaign—has passed in the US House of Representatives, revisions were made to limit the role of hearing aid dispensers in the VA to that of the fitting and dispensing of hearing aids only.
Five Indicted for $20 Million Fraud Against Starkey, September 21, 2016
Five prominent hearing industry executives were indicted for conspiring to steal more than $20 million from Starkey Hearing Technologies, including former Starkey executives Jerry Ruzicka, Scott Nelson, and Larry Miller, as well as former Sonion President Jeff Taylor and Micro-Tech Founder Larry Hagen. All have pleaded not guilty, and a trial is expected in 2017.
Detecting Hearing Loss, Vertigo Through Blood Tests, August 25, 2016
A new blood test traces prestin, a protein released by injured inner ear cells. The test detects inner ear damage, and quantifies the extent of hearing loss through prestin levels. Another blood test detects positional vertigo.
GN Otometrics to be Sold to Natus Medical, September 26, 2016
GN Hearing sold GN Otometrics to Natus Medical for $145 million. The combination of Natus and Otometrics creates a global leader in hearing assessment, hearing screening, and balance assessment, says Natus President and CEO Jim Hawkins.
Tribute: Earl Harford, PhD, Educator and Innovator in Audiology, October 4, 2016
Earl Harford, PhD, a renowned educator, clinician, and innovator in the field of audiology and hearing healthcare, died on September 24, 2016 at his home in Tucson, Ariz. He was 86. A true pioneer in audiology, Dr Harford's efforts helped shape the profession for the past 65 years.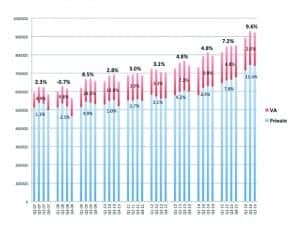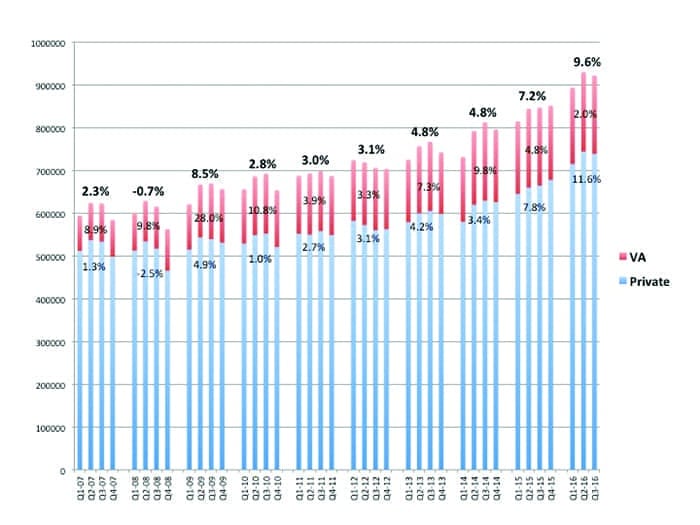 Hearing Aid Unit Sales Remain Strong in Q3 2016, October 11, 2016
In 2016, hearing aid sales tracked at about 10% higher than in 2015, according to statistics from the Hearing Industries Association (HIA). However, it's uncertain how much Costco is playing a role in this growth, along with larger national dispensing chains and non-traditional dispensing channels. Average selling prices (ASPs) also continue to decline, particularly in the economy lines.
Costco Quietly Launches Kirkland 7.0 Premium Hearing Aids–at Even Lower Price Point, October 20, 2016
In September, Costco quietly rolled out the latest iteration of its Kirkland Signature branded hearing aids in stores across the US.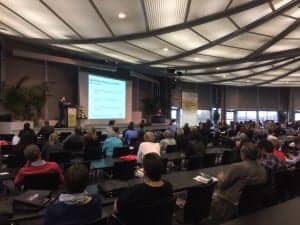 EUHA 2016 Brings New Technology and Excitement for the Future of Hearing Care, October 26, 2016
Approximately 8,000 acousticians and industry experts attended EUHA 2016 in Hannover, Germany. Hot topics at this year's event included rechargeable hearing aids, new wireless connectivity and app options, remote programming, and tinnitus remediation.
ADA Files Lawsuit to Block IHS Tinnitus Care Provider Certificate, November 2, 2016
The Academy of Doctors of Audiology (ADA) filed a lawsuit against the International Hearing Society (IHS) seeking an injunction against the IHS "Tinnitus Care Provider Certificate."
Senators Warren, Grassley Introduce OTC Hearing Aid Act of 2016, November 8, 2016
US Senators Warren and Grassley will introduce the Over-the-Counter Hearing Aid Act of 2016, which would make certain hearing aids available over the counter (OTC), removing "unnecessary" barriers for many consumers who could benefit from "simpler" devices.
AuDacity 2016 Convention "Dares to Succeed" in Era of Disruptive Change, November 16, 2016
The ADA's AuDacity 2016 Convention focused on the disruptive changes occurring in hearing healthcare and how audiologists can use the forces of "creative disruption" to their advantage and the benefit of their patients.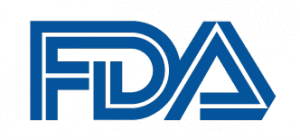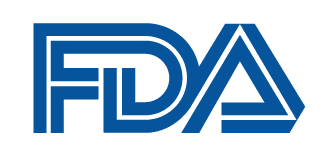 FDA Eliminates 'Physician Waiver' System in Hearing Aid Dispensing, December 7, 2016
The FDA issued a press release and guidance document explaining that it does not intend to enforce the requirement that individuals 18 and older receive a medical evaluation or sign a waiver prior to purchasing most hearing aids. The action addresses one of the key controversial points brought up in the recent NAS and PCAST sets of recommendations for improving accessibility to hearing aids. The FDA also announced its commitment to consider creating an OTC hearing aid category.
What did we miss? Chime in below in the comments section.