Blog Page | March 2016 Hearing Review
This is an abridged version of Robert Traynor's February 1, 2016 blog at his Hearing International column at HearingHealthMatters.org.
This marks the "Final Chapter" in this story about the development of the TTY. Our story's beginning focused on Robert Weitbrecht's invention of the acoustic coupler, a collaboration with Dr James Marstens and Andrew Saks (see Part I, Part II, and Part III of this series at hearinghealthmatters.com). These pioneers of the TTY became known as the "trio" who formed a research and development company called Applied Communications (APCOM) Inc, the main purpose of which was to develop practical telecommunication equipment for use by people who were deaf and hard of hearing. The trio invested their own money in the company and marketed the "Phonetype" modem—as Weitbrecht's acoustic telephone coupler was known. Marstens then embarked on a nationwide tour as the company's spokesperson, praising the TTY's effectiveness and stressing the need for everyday safety. He urged deaf people, hospitals, and fire departments to install the machines for emergency calls.
Another significant pioneer in the history of the TTY is Dr Paul L. Taylor III of the Rochester Institute of Technology/National Institute for the Deaf (RIT/NID). Having viewed the video phone in the mid-1960s at a World's Fair, Taylor become interested in Weitbrecht's invention. Weitbrecht sent Taylor a coupler which he tuned to old Western Union Teletype machines, and became intimately involved in the TTY movement. He then distributed these early (extremely non-portable!) devices to the homes of many in the deaf community in St Louis.1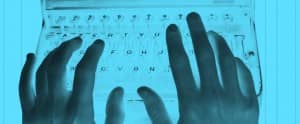 Taylor worked with others to establish and launch a local telephone wake-up service in the early 1970s, which then expanded to a statewide system. Beginning in the St Louis area and later throughout Missouri, Taylor's TTYs were used in programs to teach deaf people to communicate with each other. While these successes were on a relatively small scale at first, the engineers at RIT/NID learned of his program and asked him to join their faculty. One of his passions was the establishment of relay networks for people who are deaf, offering them independence in connecting with others for appointments, business interactions, and other important communications.
These conversations had previously been cumbersome—or even nonexistent. Here's a short sample of conversation with a TTY (GA means "Go ahead" and SK means "Goodbye").
Caller A HI, THIS IS JOHN, CAN I ASK WHO IS CALLING? GA
Caller B HI JOHN, ITS FRED, I AM WONDERING WHERE YOU ARE, ITS GETTING LATE TO GO TO THE PUB GA
Caller A HI FRED, SORRY I DONT THINK I CAN GO GA
Caller B OK NO WORRIES SEE YOU SOON! BYE BYE SK GA
Caller A SKSK (THE PARTY HAS HUNG UP)
Relay systems were also popular in which the operator would provide voice translation to the hearing person, and type out the speaker's spoken message for the deaf person to read.
Noticed for his work in the relay and with telecommunications, Taylor eventually became chair of the Engineering Support Team at the National Technical Institute for the Deaf in 1975 where he remained for 30 years, continuing to innovate and advocate for telecommunications for the deaf. His devices and relay systems were the beginnings of a movement that would be essential to communication accessibility in the ensuing decades.
There were a number of others who significantly contributed to the development of the TTY, later called the Telephone Device for the Deaf (TDD), refining the technology to be smaller, less cumbersome, and more accessible through phone company subsidies for equipment and services.2,3
Americans With Disabilities Act of 1990. The ADA profoundly changed how society views and accommodates US citizens with disabilities. The ADA has helped create a society where curbs, ramps, lifts on buses, as well as telecommunications for the deaf are increasingly accessible for everyone.
Companies such as CaptionCall and CapTel now make special phones for the deaf that are free-of-charge from the US government to facilitate their communication. These phones provide text as well as auditory communication so that, if anything is missed in the conversation, it can be read. For those who are deaf, the entire conversation can be read on both ends of the conversation—but with a 21st Century device.4 Both of these companies now offer no-cost smartphone applications, as well. The devices are easily obtained and are designed to make phone use by people who are deaf or hard of hearing easy and seamless.
While televisions have had captions for many years, Dr Taylor's miracle of the video phone is only available for the average person through the use of special phones. More recently, apps are available for most smartphones through FaceTime, Skype, and others that allow viewing of the person that is being called, facilitating the use of sign language by phone. Hearing aid manufacturers have also gotten the message by offering devices that allow for phone connections with land lines and  cell phones. Over the past several years, smartphones that directly connect the phone to hearing aids greatly facilitate communication and reduce stigma for people with hearing impairment.
For more details, see Dr Harry Lang's excellent history of the TTY3 (Gallaudet Univ Press, 2000) that includes its development, and the brilliant contributions of deaf engineers, business professionals, researchers, and others who turned their frustrations into a communications system that is increasingly accessible for all.
References
Robert Traynor, EdD, MBA, is CEO at Audiology Associates Inc in Greeley, Colo. His recent book, coauthored with Robert Glaser, PhD, Strategic Practice Management, is now in its 2nd edition (Plural Publishing 2013) and is widely used in college programs.
Correspondence to Dr Traynor at: [email protected]
Original citation for this article: Traynor R. Blog Page: Historical Development of the TTY. Hearing Review. 2016;23(3):10.?
Image credits: Robert Traynor; © Dan Talson | Dreamstime.com