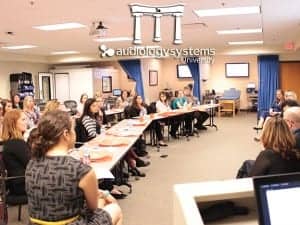 Audiology Systems, an Illinois-based, full-service US distributor of GN Otometrics products such as AURICAL®, MADSEN®, ICS® and GENIE, recently hosted its 2016 Audiology Systems University. The exclusive 2-day course, introduced in 2015, is designed specifically for second- and third-year students who are currently enrolled and completing courses towards their doctorate in audiology (AuD).
The workshop took place March 31 to April 1, 2016 at the Audiology Systems corporate headquarters in Schaumburg, Ill. The event included 19 students from five universities across the Midwest: Northern Illinois University, Northwestern University, University of Wisconsin Madison/Stevens Point, Central Michigan University, and Ball State University.
According to Audiology Systems, the company's educational offerings are developed in close collaboration with audiologists who collectively have more than 100 years of clinical experience. Audiology Systems University is designed to allow students to network, learn about other audiology career paths – aside from the clinical practice – and receive hands-on training in head video, head impulse, and probe microphone measurement (real ear).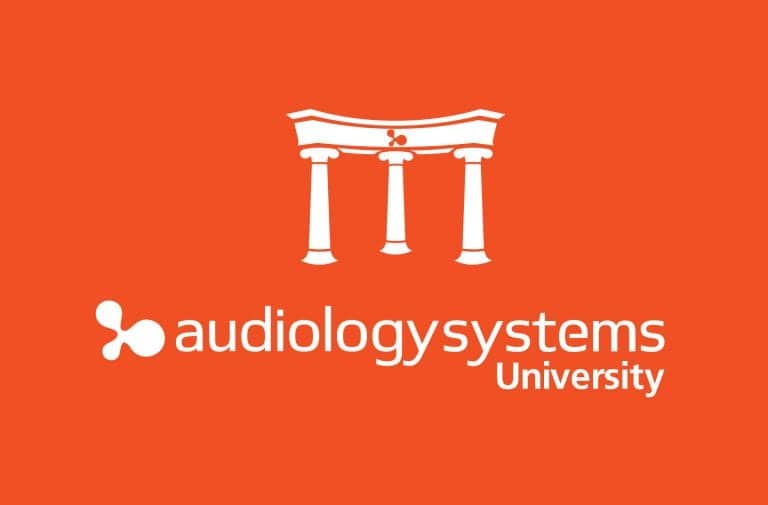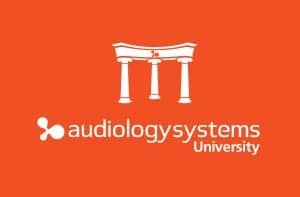 "We had three main goals for this event: to make ourselves as accessible as possible to the students, give attendees insight into the manufacturing side of the industry, and address the state of hearing healthcare today," said Brianna Young, AuD, clinical support audiology supervisor at Audiology Systems and coordinator for the event. "In addition, we discussed topics like humanitarian audiology, the process of how to release a product to market, as well as leading edge hearing care technologies. We believe this course and future courses will serve as a valuable resource for increased industry knowledge and learning for audiology students."
Students had the opportunity to ask questions and hear first-hand about career paths from a panel of audiologists. The Audiology Systems panel featured Mona Dworsack-Dodge, AuD, director of audiology and market management; Kathleen Hill AuD, Wendy Switalski, AuD, field development audiology manager; Jack Scott, PhD, field development audiologist; and clinical support audiologists: Keeley Moore, MA, Maggie Boorazanes, AuD, Brianna Young, AuD. It also featured Otometrics product manager, Dana Helmink, AuD, as well as Erica Kohler, global audiology with GN ReSound.
Audiology Systems invited a guest speaker to present her background and journey in the audiology profession, as well as present a three lecture and hands on about video head impulse testing. Kristen Janky, PhD, is the director of vestibular services at Boystown National Research Hospital. Janky facilitated a three-part presentation on why and how she obtained her PhD, how to diagnose vestibular disorders with the ICS Impulse®, and a hands-on session on video head impulse testing (vHIT).
For more information about Audiology Systems course offerings for audiologists and hearing care professionals, including courses approved for Tier 1 AAA CEUs, visit the Audiology Systems website.
Source: Audiology Systems