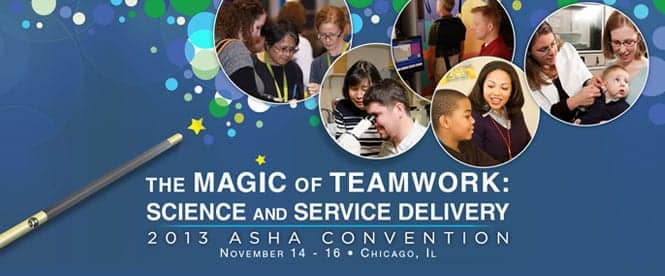 The latest research and evidence-based clinical interventions offering promise for the 40 million Americans who experience a communication disorder will be presented at the American Speech-Language-Hearing Association (ASHA) 2013 Convention, November 14-16, at McCormick Place in Chicago. According to ASHA, more than 13,000 attendees will convene for this premier event for speech-language pathologists, audiologists, and speech and hearing scientists.
With a record number of papers submitted for consideration, this year's research and clinical sessions feature some of the latest discoveries and innovations in the field. One highlight is the Katharine G. Butler Symposium in Child Language—Fragile X Syndrome (FXS): Genetics, Neurobiology, Treatment, and Language Profile. The symposium will explore major advances in understanding neurobiology treatments and other breakthroughs for FXS, the most common known inherited cause of intellectual disability, learning disability, and autism spectrum disorder. Other highlights include new clues in early identification of autism and additional support of a treatment for Parkinson's patients suffering voice difficulties—a topic that has garnered recent attention with news of singer Linda Ronstadt's diagnosis.
Sessions include:
Infant Vocal Development: The Search for Early Identification of Disorders (Nov. 14, 10:30 am CT)—In their first months, infants display vocal capabilities that are precursors for later communication success. Failure to show certain vocal skills is an indicator of a potential disorder. Typically developing infants start canonical babbling, that is, producing well-formed syllables, by the second half of their first year. While late-onset canonical babbling has previously been linked to hearing impairment, Down syndrome, and other disorders, the researchers will present the first evidence of late onset in infants with autism. Rate of vocalization or "volubility" will also be reported for the first time to be depressed in infants with autism. In another key finding, researchers will present new information on differing patterns of interaction for young children with autism and their parents compared with parent-child interactions for children who are not autistic. These findings may help facilitate earlier identification and treatment—shown to improve outcomes for children with autism.
The Predictive Value of Preschool Language Assessment on Academic Achievement & Experience in Compulsory Schools (Nov. 16, 9:30 am CT)—A child's language knowledge by age 5 is a reliable predictor of later academic and social success, according to a longitudinal study of 221 children in Iceland. Researchers will show that a child's language measurement at 5 is strongly correlated with their performance on national educational tests in Grades 4, 7, and 10. Additionally, language knowledge at age 5 is associated with a child's overall satisfaction throughout their school career. Iceland's limited population provided a unique opportunity for researchers to follow a large cohort of children from age 5 to 18 or 19. The results support the importance of fostering language skills in preschool and home settings prior to school entry—and the need to identify at-risk children and provide intervention to increase the odds of academic and social success.
If God Can Hear Your Most Inner Thoughts, Why Are Praise Bands So Loud? (Nov. 14, 6:30 pm CT) and Noise Levels in Nightlife Venues With Live Music (Nov. 14, 12 pm)—In two sessions exploring noise levels in vastly different settings, researchers recorded consistently unsafe noise levels that put individuals at risk for noise-induced hearing loss. Increased prevalence of noise-induced hearing loss has been well documented—in part due to increasing use of personal audio technology. Noise levels in public settings are also problematic, including an unexpected place. In the first known study of noise levels in church settings in the United States, researchers measured noise in three Protestant churches in Nebraska. Contemporary "praise band" church services, which are increasingly popular, feature more music and longer durations of continuous music than traditional services. Noise levels recorded on multiple Sundays consistently exceeded 90 decibels and topped 100 decibels at times—putting clergy, band members, and parishioners (including children and babies) at risk. In a separate study on noise levels in four live music venues in Arkansas, researchers again found noise levels consistently exceeding Occupational Safety and Health Administration (OSHA) regulations—concluding employees in particular are put at risk for hearing loss.
Source: ASHA