The 1990s profoundly shaped the United States market for hearing instruments. Technological advancements, manufacturer consolidation and the increasing influence of audiologists in the hearing industry permanently changed it. In the coming decade, these changes and many others are likely to dramatically influence the market, which is becoming ripe with opportunity as the U.S. population grows older and Baby Boomers reach late adulthood.
Popularity of Programmables Swells Market Revenues
In 2000, the U.S. hearing instrument industry was estimated to have generated $2.5-$3.0 billion in revenues at the dispensing level, and 68% of those revenues were estimated to have come from programmable instruments.1 Since 1997, the percentage of total market revenues contributed by non-programmable instruments has dropped by more than half, as increasing numbers of new units dispensed incorporate programmable analog and digital signal processing (DSP) technologies.
The higher prices of these programmable instruments combined with their increasing popularity are likely to continue to fuel the rapidly increasing size of the market in terms of revenues. Frost & Sullivan research estimates that total U.S. market revenues will reach more than $5 billion in 2007, when programmable and DSP instruments are likely to account for 90% of all market revenues. Nearly every manufacturer and dispensing professional already understands the significant potential for growth that programmables can bring their businesses, so future manufacturer challenges will be based on how to differentiate their products from competitors without having to resort to price discounting.
It is expected that much of this competition will be waged through branding efforts focused at dispensers and patients. Both dispensers and manufacturers will also need to reconsider where non-programmable instruments fit into their business objectives in the United States, if they fit at all.

Table 1
. Population forecasts (by age) for the U.S., 2000-2007. Source: U.S. Bureau of the Census.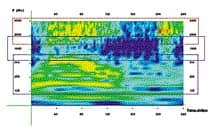 Table 2.
Estimate of the hearing-impaired population (by degree of hearing loss) in the United States, 2000-2007. Source: MarkeTrak V3, U.S. Bureau of the Census and Frost & Sullivan.
Manufacturer and Dispenser Consolidation
Since the mid-1990s, there has been a dramatic shift toward consolidation among manufacturers within the hearing instrument industry. Stagnant market growth encouraged manufacturers who could afford it to buy smaller competitors in order to supplement their existing client bases. A wider distribution base opens up the potential for increased volume sales, and these associated revenues can be used to pay for rising research and development costs, as well as the cost of distributing the instruments on a global scale. As major manufacturers refine their marketing and management structures, they gain the ability to help fuel growth in the market because their budgets are larger, their customer bases wider and their R&D projects more diverse and innovative. These added capabilities are likely to help fuel increased unit sales and market penetration for the industry as a whole.
While the vast majority of the U.S. hearing instrument market is controlled by six top manufacturers, the hearing instrument dispenser level of the industry has traditionally been much more fragmented. The majority of hearing instrument dispensers in the U.S. are still independently owned, but hearing health care networks like Sonus, AHAA and HEARx/Helix (Hear USA) are increasing the number of members under their umbrellas. For example, Sonus currently has more than 1300 dispensing professionals working in offices that are either owned by the company or affiliated with its Sonus Network.
Manufacturers can significantly benefit from this increased consolidation on the dispenser level because it decreases the costs associated with maintaining relationships with each and every individual dispenser. Sales volumes are larger and more predictable, allowing manufacturers to better plan production processes. Once support has been won from the network's management, manufacturers also have an easier (and faster) time launching new products to member dispensers because of the cooperation gained from the network.
There is still a strong entrepreneurial spirit among dispensing professionals. In such a competitive retail marketplace, many are likely to join hearing health organizations that promise them autonomy, while at the same time provide them with cooperative marketing programs, discount purchasing, private labeled products, human resources support and more patient referrals. After consolidating under a network, dispensers can benefit from national and regional advertising and the established relationships that networks have with physicians, manufacturers and government entities.
Since most marketing efforts will be run by the network's parent organization and not the dispensing professional, these efforts are likely to be more coordinated and effective, freeing dispensers to focus more on their patients. This division of labor is expected to increase the effectiveness of the entire hearing instrument dispensing system. As more dispensers affiliate themselves with hearing health care networks, the potential for improved market penetration and higher unit sales will increase as these organizations use their collective power to develop more effective marketing and business strategies. Likewise, it is reasonable to assume that competition between the networks will become even greater in the future.
Various types of affiliations and unions between the dispensing networks and hearing instrument manufacturers have developed in the past year, and this type of forward integration is expected to continue. For example, in 2001, Sonus struck an agreement to acquire a $20 million line of credit from GN ReSound in order to make strategic acquisitions. GN ReSound is now a major supplier of instruments to Sonus offices and is well-positioned to provide a large portion of the network's product offering. Many other manufacturers have followed a similar strategy and, to various degrees, provide special offers to similar networks so they will have the opportunity to develop major buying relationships with those retail chains and thereby increase their distributor base. Some of the agreements reached between dispensing networks and manufacturers include:
William Demant purchasing minority shares of AVADA and AHAA.
Siemens providing funding for the HEARx/Helix merged company.
Starkey acquiring several substantial hearing care offices.
This activity is not limited to the U.S., as similar agreements and affiliations have been occurring in Europe.
Increased Use of Information Technology
A number of major manufacturers have already established some form of on-line ordering system to allow dispensing professionals to place orders, track their processing and receive shipping information via the Internet. However, it is thought that relatively few dispensing professionals currently use these types of order features.
While about 83% of dispensers use computers to test and fit hearing instruments and more than 70% use computers to store patient records and do their bookkeeping, only around 20% use the Internet for purchasing hearing care products.2 Among those dispensers using the Internet and email, most used it for gathering product or clinical information and for communicating with colleagues. It is likely that, as the average older American becomes more technologically savvy, dispensing professionals will be more inclined to use the Internet and email to interact with them, but as of 2000, only slightly more than one-quarter of all dispensers corresponded with patients electronically.
As dispensers increasingly use the Internet and email, manufacturers are likely to expand their e-commerce capabilities and encourage dispensers to order and pay for products electronically. By reducing the number of paper transactions required in the ordering process, manufacturers will be able to reduce administrative costs, increase accuracy, shorten turnaround time and achieve greater customer satisfaction.
In an increasingly competitive and fast-paced world, dispensing professionals and patients value a quick turnaround time. In the future, manufacturers will continue to review their order-processing and manufacturing systems and integrate information technology into their delivery systems in order to achieve greater efficiency and cost reductions.
U.S. Hearing Care Market Snapshot
In 2001, Frost & Sullivan, an international marketing and training firm, compiled information on the U.S. hearing instrument and ABR/OAE test instrument markets. The following statistics and predictions are a sample of what is contained within the company's report:

HEARING INSTRUMENT MARKET
Scope: There are more than 20 hearing instrument manufacturers that offer over 300 different hearing aid products, all vying for the total potential market of 28 million hearing-impaired consumers.
Hearing Aids Sold and Retail Value: In 2000, there was a total of 1.9 million hearing instruments sold in the U.S., accounting for $2.6 billion at the dispenser level.
Bullish Retail Revenue Growth Rate: Largely due to the continuing popularity of programmable and DSP hearing instruments, Frost & Sullivan forecasts an 11.5% annual revenue growth rate at the dispenser level from 2000-2007.
Six-Year Revenue Picture: It is predicted that there will be 2.9 million units sold in 2007, with estimated revenues of $5.6 billion at the dispenser level.
Market Concentration: About one-half (51%) of all hearing instruments purchased in the U.S. come from the top three manufacturers.
OAE & ABR DIAGNOSTIC AND SCREENING EQUIPMENT MARKET
Scope: There were a total of 4,008,083 births in the United States in 2000. About 42.9% of these births occured in facilities that offer newborn hearing screening.
Potential Customers: The OAE/ABR equipment market includes 6,102 hospitals (including 750 NICUs) as well as more than 13,000 audiologists.
Competition: There are 13 companies that, combined, offer more than 36 ABR and OAE devices.
Estimated Market Value: The total value of the OAE/ABR equipment market is estimated to be $28.8 million for the year 2000. It is estimated that there were 1,369 screening units sold for a value of $9.4 million and 1,942 diagnostic units sold for a value of $19.4 million.
Industry Prepares for Entrance of Boomers
Most people wait an average of seven years (until their hearing impairment is moderate to severe) before actively pursuing the purchase of a hearing instrument. In the past, most people with age-related hearing loss have not purchased a hearing instrument until they were in their late 50s to early 60s.
Most Baby Boomers—those Americans born between 1946 and 1964—are still too young to be within that age group of people seriously considering a hearing instrument purchase. Although many are already suffering from hearing impairment, the hearing industry will not realize the full impact of this generation until late in this decade, if their buying behavior is similar to that of previous generations.
For the hearing industry to capitalize on this growing market, competitors will need to improve their understanding of Boomer purchasing behavior. The values and motivations of Baby Boomers are likely to be different than from previous generations, and dispensers and manufacturers will need to tailor their products and business practices to meet the particular demands of these patients.
As Baby Boomers grow older and develop an increased need for hearing instruments, manufacturers and dispensers are likely to experience growing sales of all types of instruments. However, Boomers are more affluent, educated and favorably disposed to technology than any previous generation, making them ideal prospects for programmable analog and DSP instruments. Some social psychologists have also noted that Boomers appear to be more interested that previous generations in the pursuit of youth and may therefore be less inclined to purchase hearing instruments which make them "look old." Consequently, manufacturers can expect to see sales of their in-the-canal (ITC) and completely-in-the-canal (CIC) products grow in coming years.
Boomers are also very health-conscious and less willing to compromise their own health in order to save money, as long as the health care product is of high quality and the benefits are readily apparent. Since most Boomers are still in fairly good health, they will also not have to face the dilemma of choosing between paying for hearing instruments and the treatment of expensive, long-term chronic diseases that frequently affect older Americans. Media watchers have also noted that Boomers came of age during the golden age of mass consumer advertising, and that they are, more than any other group of Americans, particularly brand conscious. Manufacturers and dispensers will likely devote more attention to building their brands in the next decade, especially as the industry becomes more consolidated. Dispensers will also need to ensure excellent customer service and flexible office hours in order to meet the needs of Boomers.
Boomers are younger and more likely to still be in the workforce, which may influence their purchasing decisions. They may be more concerned with stigma and also face a number of technological difficulties, such as frequent telephone use or participation in noisy work environments. Targeting Boomers at work through employers, insurers or government agencies could prove to be an excellent way of increasing a dispenser or manufacturer's share of this market. At the very least, dispensing professionals should be aware of Boomer patients' expectations of and feelings about the use of hearing instruments in workplace environments.
According to the Knowles Electronics MarkeTrak V study3, more than half of all hearing-impaired people who are employed full-time do not own a hearing instrument. Even when assuming that these people are likely younger and suffering from milder forms of hearing impairment than their older retired counterparts, this percentage is still too high. People still in the workforce are likely to be more concerned with the stigma associated with hearing instruments.
As the working population grows older, more workers will be identified as hearing impaired, and companies will need to address this issue in order to maximize the efficiency of their employees. Manufacturers and dispensers might consider developing cooperative programs with employers and insurers to include hearing health benefits in the compensation plans of more working Americans.
The introduction of disposable and starter hearing instruments in recent years has been partly driven by increased interest in boosting market penetration among Boomers and mildly hearing- impaired Americans. Only about 21% of hearing-impaired Americans own a hearing instrument, and penetration among Boomers is less than 10%. There are currently more than 80 million Americans between the ages of 35 and 55. If manufacturers and dispensers are able to convince more hearing-impaired Boomers to try disposable and starter hearing aids, then they might be able to capture an important segment of the growing U.S. hearing instrument market.
Conclusion
The first decade of the new millennium holds a great deal of opportunity for players in the U.S. hearing instrument industry. Manufacturers and dispensers are likely to further consolidate in order to compete more efficiently in the highly competitive marketplace. Programmable analog and DSP hearing instruments are also expected to become the dominant technology in the market. Instruments incorporating directional technology and noise reduction, as well as FM assistive listening devices (ALDs), are likely to become an increasingly important source of revenues for manufacturers, especially those tapping the pediatric market.
Manufacturers and dispensers are expected to increase the amount of transactions they conduct electronically, just as dispensing professionals further take advantage of the abilities that the Internet and email give them to better communicate with patients. While Boomers are not currently a major source of revenues for the industry, they are the most important market of the future. The industry is likely to continue to transform itself in terms of product design, product delivery and public perceptions in order to cater to the needs of this important population segment.

Charlie Whelan is a medical devices industry analyst with Frost & Sullivan,
an international marketing consulting and training firm with headquarters in San Jose, CA. He recently completed an in-depth study of the hearing instrument and ABR/OAE analyzer markets.
The report summarized here is available for sale to interested parties. Information can be obtained from Frost & Sullivan at www.frost.com or by contacting the author. Correspondence can be addressed to HR or Charlie Whelan, Industry Analyst, Healthcare, Frost & Sullivan, 7550 IH 10 West, Suite 910, San Antonio, TX 78229; email: [email protected].
References
1. Strom KE: An industry in transformation: Technology & consolidation lead the field into a new millennium. Hearing Review 2000; 8 (3): 28-44, 87.
2. Strom KE: The HR 2000 dispenser survey. Hearing Review 2001; 8(6): 20-42.
3. Kochkin S: MarkeTrak V: Baby boomers spur growth in market, but penetration rate declines. Hear Jour 1999; 52(1): 33-48.