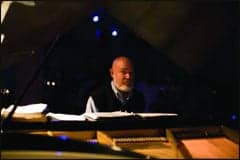 Piano Man: Etymotic's Mead Killion gets set to tickle the ivories at the Widex party during the American Academy of Audiology convention in 2006.
Robyn Cox, PhD, professor of audiology at the University of Memphis, did a Google search on Mead Killion, PhD, president of Etymotic Research Inc, and found 1,700 pages.
"They are all about him—even the ones in French, Chinese, Swedish, and other languages," Cox told Etymotic Research.
That's 25 pages of links regarding one of the hearing industry's most innovative leaders. Among those pages are Killion's extensive background and many accomplishments, not the least of which is the company he founded: Etymotic. It holds nearly 100 patents and numerous firsts that have guided development in hearing aids and protection. Hearing Products Report takes a look at the man, his company, and their legacies.
"Who else do you know that carries a noise meter in his shirt pocket? Mead Killion lives and breathes acoustic science, and the world is a better place because of it."

—Karl E. Strom, editor, The Hearing Review, and Marjorie D. Skafte, editor emeritus of The Hearing Review and Hearing Instruments
---
A Killion anecdote recorded by Etymotic Research compares the noise meter Killion carries in his shirt pocket to the engineer's pocket protector. Perhaps not surprisingly, Killion has engineering in his background.
Killion completed his education at Wabash College in Crawfordsville, Ind, where he received his bachelor's in mathematics; the Illinois Institute of Technology in Chicago, at which he completed his master's degree in mathematics; and Northwestern University, also in Chicago, which awarded him a doctorate in audiology. He also holds an honorary doctor of science (ScD) degree from Wabash College.
While completing his audiology doctorate, Killion worked for Knowles Electronics in Itasca, Ill, starting as a junior engineer and working his way up to design over more than 20 years. He eventually left Knowles to found Etymotic Research Inc, which celebrates its 25th anniversary this year.
"We have been extremely fortunate that Knowles Electronics has granted us the development rights to three important new products on which I worked. We hope to bring the first one out early in 1984."

—Mead Killion in a 1983 press release announcing the foundation of Etymotic Research.
---
Etymotic, pronounced et-im-OH-tik, was coined by Professor R.V. Schoder, a classic scholar at Loyola University, as a "new ancient Greek word" meaning "true to the ear." The meaning mirrors the company's mission.
Killion founded Etymotic Research to develop high-fidelity products for hearing measurement, improvement, and protection. These devices would have modest development costs, target marketplace needs, and generate profits that could be reinvested in research and development.
"Naturally, we hoped to make enough money to stay in business—which was a serious question for the first few years," says Ed DeVilbiss, MBA, who was brought on board as vice president with the responsibilities of the director of sales, marketing, and finance. In 1984, Killion and DeVilbiss paid others first and took a combined salary of $37,000.
"Early in his company's development, [Killion] obtained government funding to develop the K-AMP. But unlike many others who accept support and do not give back, Mead made a commitment to fund audiology researchers in government settings such as the Veterans Administration, and provide small grants to researchers with potentially important ideas that are unlikely to apply for or receive funding."

—Wayne Staab, PhD, executive director of the American Auditory Society
---
In addition to his business ventures, Killion has worked as an educator. He teaches an advanced course in hearing aid electroacoustics as an adjunct professor at Northwestern University and a visiting professor at Rush University in Chicago. He is also an adjunct professor at City University of New York Graduate School, where he directed graduate research. He has given many invited lectures spanning 19 countries.
Killion is a Fellow of the Acoustical Society of America and the Audio Engineering Society; one of 12 founders of the Independent Hearing Aid Fitting Forum (IHAFF); and past president of the Chicago Acoustical and Audio Group (1968), the Midwest Acoustics Conference (1980), and the American Auditory Society (1996). His contributions to advances in hearing science and care have earned him awards that include the Hearing Conservationist Award from the National Hearing Conservation Association (2003).
Killion's passion for sound science goes so far as to making pleasant sounds for the ear himself: Killion is an accomplished choir director, jazz pianist, and violinist. He has sung and/or played the piano, fiddle, and other instruments at hundreds of audiology meetings and conferences around the world.
"Even symphony musicians are at mild risk from the sound levels on stage, according to a recent study of Chicago Symphony Orchestra [CSO] musicians. And there are more articles about hearing damage in rock drummers than any other musicians. Rock musicians often blow their ears out. I personally talked to one who completely blew out his left ear in one concert. Do you know Pete Townshend of The Who?"

—Killion as "Dr Abonso," his pen name for a column that ran in 2003 in the Daily Herald that was meant to educate the "Suspicious Consumer"
---
In the late 1980s, Killion consulted with the Chicago Symphony Orchestra, work that led to the realization that flat attenuation earplugs could provide useful protection for the ears of musicians. Musicians Earplugs were developed from an idea by Elmer Carlson, Killion's mentor, and patented through Knowles Electronics. Etymotic Research licensed Carlson's patent from Knowles with the intention of turning the technology into a commercial product.
Killion recalls to Chicago Jazz earlier this year that Carlson's high-fidelity earplug had not seemed commercially practical given the advertising costs. "I made a pair of his earplugs for a couple of CSO members, and they started using them. Soon the management of the symphony bought them for any full-time orchestra member who was interested. This was a great opportunity, because with the members of the Chicago Symphony using the earplugs, it got the word out, and we didn't have to run an ad in the New York Times," Killion told the magazine.
"Those little foam E-A-R plugs are unequaled for maximum protection, but for music he needs what many Chicago Symphony Orchestra musicians and drummers such as Rick Van Horn use: ER-15 Musicians Earplugs. Unlike most earplugs, they don't muffle the high-pitched sounds; they just reduce the level. Or your daughter might enjoy the less expensive ER-20 HiFi Earplugs. I have a pair, and I wouldn't go to a Bulls or Blackhawks game without them."

—Dr Abonso, the last name being an acronym coined by Killion that stands for Automatic Brain-Operated Noise Suppressor Option
---
Carlson's device mimicked the natural response of the human ear canal, meaning that sounds were heard with the same quality using the earplugs as hearing without them. A resonance of 2,700 Hz, matching the human ear, is produced through a combination of a patented filter with the specific acoustics of a custom earmold. The result is smooth, flat attenuation. Musical subtleties are preserved and not simply muffled.
The ER-15 was the first model in the line, offering uniform 15 dB sound reduction across all frequencies. It was joined by the ER-25, which provides 25 dB of relatively flat attenuation across frequencies, and the ER-9, with 9 dB flat sound reduction in the mid-range and 15 dB sound reduction in the high frequencies.
By 1992, the same year the ER-25s were introduced, Musicians Earplug sales increased to nearly 6,000 pairs. In 2000, a technological advance (the design of the "nickel damper") permitted the development of lower cost ear protection in the form of ETY-Plugs (ER-20 High Fidelity Earplugs).
The one-size-fits-most, low-cost fidelity earplug brought sophisticated ear protection to students and music fans, providing 20 dB of sound reduction (across all frequencies). In 2001, a year after their introduction, sales of ER-20s increased 150%. In 2006, BabyBlues brought that protection to 10% of smaller users for whom the ER-20s were too big and could not fit.
Earplugs may seem a logical choice for ear protection, but Killion has taken it one step further: he would like to see a personal noise meter in everyone's pocket. Subsequently, in 2005, Etymotic Research introduced the ER-200 Personal Noise Dosimeter.
The device was intended to provide users with a way to measure their noise exposure and be alerted to dangerous levels at a low cost. It operates in two modes: Normal Mode, which measures and displays noise dose continuously for up to 16 hours, and Quick Check, which provides an estimated dose per hour based on the noise over a 2-minute period.
"[Killion] is that rare individual who constantly questions why things are done the way they are and wonders if there might not be a better way."

—James Jerger, PhD, editor of the Journal of the American Academy of Audiology, Dallas
---
The Musicians Earplugs were the first high-fidelity earplugs used as protection in practice and performance by professional and amateur musicians. Other notable firsts include: high-fidelity in-ear earphones with noise isolation; in-ear Bluetooth wireless stereo earphones; high-fidelity Class D amplifiers for use in hearing aids; and handheld infant hearing screeners.
This list is not complete. Etymotic Research holds nearly 100 patents, applied for, issued, or pending. They cover circuitry and devices for audiometry, infant hearing screening, otoacoustic emissions, auditory brainstem response and real-ear measurement, hearing aids, directional and array microphones, and sound-level meters.
Killion's name is on all but 17 of those patents, but he is credited with always being willing to share credit. He has been heard to say of his mentor Carlson, the inventor of the Musicians Earplug design, "Whenever Elmer joins an engineering meeting, the average IQ goes up 10 points." The same could be said about Killion.
"[Killion] has provided innovative thinking that has translated into practical products that audiologists use every day. But perhaps even more importantly, with his scientific rigor, encouragement of out-of-the-box thinking, generosity of his intellectual prowess and curiosity, and unselfishness in sharing credit with others, Mead Killion has set a great example for other scientists and audiologists to follow."

—Robert Sweetow, PhD, University of California at San Francisco Medical Center
---
The company's famous K-AMP chip has the initials of Killion and nine others who assisted in its development engraved on it along with Killion's recognizable handlebar mustache. This generosity of spirit has led to a unique company atmosphere—many employees have 15 years or more of experience at Etymotic. Celebrations occur for the large and small: a new company sign, a 1-million-dollar month, or a milestone product mark (shipping 100 ERO-SCANS, for example).
Etymotic has had much to celebrate. The company started within one small section of a building at its current location, where it shared the space with businesses that included an aromatic bakery. Over the years, the company has expanded, adding a completely shielded semiconductor test room, a 12- x 12-foot anechoic chamber, and 3,000 square feet of space adjacent to its building. In 1997, Etymotic purchased the building.
The company has received multiple awards and industry recognition for its innovation, and sales have increased over the years. Killion likens starting and sustaining a business to a roller coaster, telling a company archivist that there are "many highs and many lows, but you are strapped in and might as well enjoy the ride." In 2005, the company reported nearly $20 million in overall revenues.
Under Killion's guidance, Etymotic has transitioned from development of clinically based products to those for the consumer electronics market, while still evolving classic products such as the Musicians Earplugs.
In 2003, Killion was awarded the American Academy of Audiology's first Samuel F. Lybarger Award for Achievements in Industry, recognizing him as a "modern-day Renaissance Man who was one of the first to create a bridge between engineering, physiology, and audiology." The award states, "Time and time again, Killion generates ideas and invents products and methods that have fundamentally reshaped the hearing industry."
---
Renee Diiulio is a contributing writer for Hearing Products Report. For more information, contact [email protected].