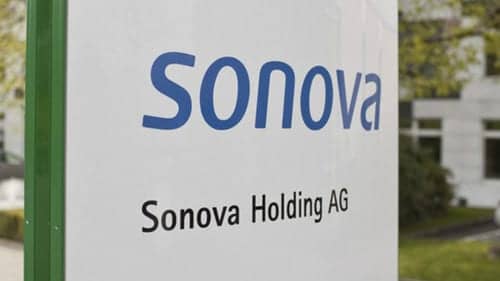 Sonova Holding AG, Stäfa, Switzerland, the world's largest hearing aid manufacturer and parent company of Phonak, Unitron, and Advanced Bionics, has announced its intention to purchase AudioNova International BV (AudioNova), one of Europe's largest hearing aid retailers. Sonova reports that it has reached an agreement to acquire AudioNova from HAL Investments BV (HAL). The purchase consideration will be paid in cash, and values AudioNova at EUR 830 million (US$952 million). The closing of the transaction is subject to regulatory approval, and expected in the second half of 2016.
AudioNova is the second largest hearing aid retailer in Europe, after Amplifon, and has expanded its store network by about 30% over the past 5 years. It now has a network of more than 1,300 stores in 8 countries (Germany, The Netherlands, Italy, Belgium, Poland, Denmark, France, and Portugal) employing 1600 acousticians, and runs a portfolio of established local and international brands: Geers, Schoonenberg, Minisom, and AudioNova. It holds top positions in all of its key markets.
As noted in the February 9 Hearing Review online news, Audionova was put up for sale early this year with interested potential bidders reportedly being Amplifon (owners of Miracle Ear), William Demant Holding (Oticon/Bernafon/Sonic), Sonova (Phonak/Unitron/ConnectHearing/AB), and EQT Partners (the owners of Sivantos/Siemens hearing brand). Sonova and William Demant were the primary hearing aid suppliers to Audionova.
The sale signals a continuance of global forward consolidation in the industry. In September 2015, William Demant Holding purchased Audika, the largest dispensing chain in France, after Audika sold its 55 Italian retail hearing centers for 7.1 million euros (US$8.1 million) in April 2015 to hearing aid retail giant Amplifon, which is headquartered in Italy.
According to Sonova, the transaction is an excellent fit with the company's strategy towards professional service and retail, a cornerstone of the overall Group strategy. Adding the strong AudioNova retail platform to the Sonova Group will create one of the broadest hearing aid retail service networks in Europe, with over 2,580 stores in 12 countries and over 3,300 stores worldwide.
"The acquisition of AudioNova is a significant step in further advancing our strategy of offering a full range of hearing solutions along with the professional audiological services which are instrumental to achieve the optimal result for our customers," says Sonova CEO Lukas Braunschweiler. "I am convinced that the combination of our well established and complementary retail networks represents a strong base for future growth."
The purchase will be subject to approval by the European regulatory approval process and anti-trust authorities.
Synergies for the companies. In its press release, Sonova described the acquisition as a unique opportunity to significantly expand its business in the European hearing aid retail market. The combination of AudioNova and Sonova will create one of the broadest hearing aid retail service networks in Europe with attractive market positions and critical mass. Both companies have a complementary footprint that creates an optimal basis to further leverage the strengths of the combined business. Furthermore, the high quality retail platform of AudioNova is an excellent fit with Sonova's professional service and retail go-to-market strategy.

"Becoming part of a financially strong and very well established player in the hearing aid market will help us to achieve our goals," says AudioNova CEO Frank van der Vis. "It provides us with both the knowledge of and access to state-of-the-art technologies and the financial strength to realize our potential. This move makes sense for our customers, our people and our partners — I'm therefore looking very much forward to complete this transaction."
Sonova expects multi-fold synergies on top and bottom line from leveraging best practices, best brands, and product sourcing. By adding AudioNova's over 1,300 stores in 8 countries to the Group's retail business, Sonova is moreover able to gain closer proximity to its end customers and at the same time optimize its products to customers' needs.
Purchase and investment details. In 2016, the acquired group is expected to generate sales of approximately EUR 360 million (US$413 million) and an EBITDA margin of around 16%. The transaction will be reportedly financed with cash and debt resulting in a pro forma Net debt/EBITA ratio of around 1.2x. The combination is expected to generate sustainable and substantial synergies after some initial integration costs. Sonova expects the transaction to make a positive contribution to the earnings per share from financial year 2017/18 onwards.
Sonova expects the transaction to close in the second half of 2016 after obtaining the relevant regulatory approvals. With the announcement, Sonova suspended its share buyback program announced on November 17, 2014 until further notice.
More about AudioNova. AudioNova is the second largest hearing aid distributor in Europe and probably the fifth or sixth largest distributor in the world. According to its website, AudioNova dates back to 1926 when it started as a humble optic, photographic, and hearing aid corner store in Rotterdam which then expanded to 23 outlets under the guidance of the founder's son. In 1985, the chain was purchased by Groeneveld Winkelbedrijven (Groeneveld), the owner of 100 optical stores (20 became hearing aid outlets) in the country. AudioNova was incorporated in 2006 after a successful buy-and-build strategy to support international distribution and expansions into Germany, Belgium, France, Denmark, and Italy. It subsequently purchased Minisom in Portugal in 2008 and GEERS Hörakustik in 2010 (expanding into Switzerland, Poland, Russia, and Hungary). As noted above, Audionova was put up for sale early this year.