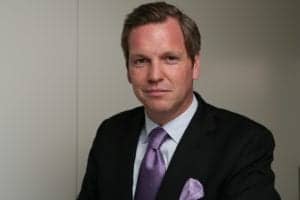 Sonova Holding AG, Stäfa, Switzerland, has announced the appointment of Martin Grieder to the position of group vice president for Phonak.
In this newly created role, Grieder will oversee Phonak's business worldwide, along with profit and loss (P&L) responsibility. He will join Sonova's management board and report directly to Sonova CEO Lukas Braunschweiler.
Sonova says it created this new role to further drive and grow the Phonak business globally, including P&L responsibility. Previously P&L was under CEO supervision. "We are very pleased Mr Grieder has agreed to join Sonova," says Braunschweiler. "Drawing on his impressive track record in the FMCG (Fast Moving Consumer Goods) sector, he will be extremely valuable in helping us to achieve our business goals and provide innovative perspectives to Sonova's sustainable growth strategy."
As Greider assumes his new role, effective August 1, 2014, Maarten Barmentlo, currently group vice president of marketing, will take over responsibility for Sonova's business-to-consumer marketing activities, including e-business and demand generation.
According to the Sonova press announcement, Grieder, who is a Swiss and British citizen, was previously at Nestlé, where he started in 1992. Most recently he was in charge of commercializing BabyNes, reportedly the first "super premium nutrition system" for infants and toddlers worldwide. He brings more than 20 years of experience in senior management roles within the company. His diversified cross-functional work experience in 18 countries ranges from leading the Nespresso Professional Division globally with annual sales of CHF 200 MM (Swiss franc) in 30+ countries to managing the entire operations of Nestlé Nespresso North America.
Greider's other senior roles at Nestlé include vice president, head of finance for the Americas and head of Nestlé Group Audit, as well as research and development (R&D) head for food & beverage systems solutions for the entire Nestlé Group. Grieder earned a Master of Business Administration from IMD-Switzerland and has a Bachelor in business and economics from the University of Applied Sciences in Basel, Switzerland.
"The unique combination of Sonova's rich and innovative R&D pipeline, strongly aligned to consumer needs make it really exciting for me to join the company," says Grieder. "The hearing care industry has enormous growth potential and I am looking forward to become part of a great team that has one common goal: allowing people with hearing loss to live better lives."
Source: Sonova